The Bosporus Strait was closed to maritime transit traffic after a 225-meter-long Malta-flagged bulk carrier crashed into a historic waterfront mansion in the Anadoluhisarı area on Saturday after its rudder got stuck, causing substantial damage.
The accident happened after the ship's rudder failed and it smashed into the historical Hekimbaşı Salih Efendi mansion around 4 p.m. The mansion was built in the 18th century and has been used to host weddings and concerts, according to the mansion's website.
Footage captured inside a restaurant beside the waterfront mansion showed the moment of Malta-flagged ship's crash, where staff panicked and ran to save their lives.
The vessel named Vitaspirit was heading to Saudi Arabia from Russia. No injuries or environmental threats have been reported from the accident.
The scene of the accident was under the Fatih Sultan Mehmet Bridge on Istanbul's Asian side, the coast of which is dotted with posh mansions dating back to Ottoman times. Accidents involving ships crashing into those mansions are rare, with vessels escaping the impact at the last minute occasionally.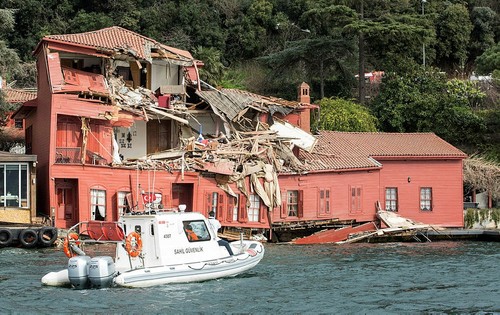 Turkey's straits are among the most at-risk waterways in the world, according to experts. Over 50,000 vessels, including tankers carrying highly flammable oil, pass through the Bosporus, an S-shaped channel with sharp turns and changing currents that pose challenges for vessels and sailors every year.
The deadliest accident was when a Romanian tanker and a Greek freighter collided and exploded in November 1979, killing 42 crew members aboard the Romanian tanker. The last major accident in the strait was in 2003 when a Georgian-flagged vessel ran aground, resulting in a spill of 480 tons of oil.