Getting a hold of lost luggage after hours spent on a long flight can be a headache for many travelers, but the owner of a Russia-bound luggage failed to collect his belongings at the final destination of his flight, resulting in a shock for customs officials who found out nine different types of animals inside.
According to reports, the passenger identified as Valeeva E. was heading to Russia from Vietnam and had a transfer flight in Istanbul, but did not collect her luggage. Russian officials then reportedly sent the luggage back to Istanbul's Atatürk Airport, where customs officials put it through an X-ray device for security purposes before storing it in the lost luggage storage. They discovered nine different types of animals, including turtles, frogs, snakes, scorpions and lizards.
The snake identified as Python molurus, Vietnamese frog and other animals discovered in the luggage were stored in small containers and special sacks, reports said.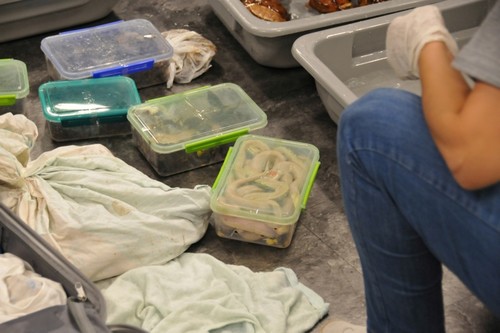 The customs officials handed the animals to teams from the agriculture directorate.
Reports noted the animals were about to die from lack of oxygen but were saved by officials.