A Bosporus mansion destroyed by a freight ship earlier this year is undergoing restoration, with the project concealed behind a photograph of the building in its original undamaged state.
The Hekimbaşı Salih Efendi Mansion in Istanbul's Anadoluhisarı area was damaged on April 7, when a 225-meter Maltese bulk carrier crashed into the historic waterfront building.
The accident happened after the ship's rudder failed and it smashed into the mansion around 4 p.m. The mansion was built in the 18th century and has been used to host weddings and concerts, according to its website.
The vessel named Vitaspirit was heading to Saudi Arabia from Russia. No injuries or environmental threats were reported from the accident.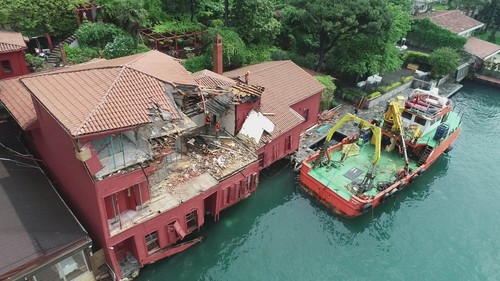 The mansion that was damaged (above) on April 7 earlier this year is currently under renovation. The work is hidden behind the scaffold carrying the photograph of the mansion before the accident. (below)
The scene of the accident was under the Fatih Sultan Mehmet Bridge on Istanbul's Asian side, where the coast is dotted with posh mansions dating back to Ottoman times. Accidents involving ships crashing into these building are rare, with vessels sometimes escaping the impact at the last minute.
Turkey's straits are among the most at-risk waterways in the world, according to experts. Over 50,000 vessels, including tankers carrying highly flammable oil, pass through the Bosporus, an S-shaped channel with sharp turns and changing currents that pose major challenges for vessels and sailors. The deadliest accident in the strait took place in November 1979 when a Romanian tanker and a Greek freighter collided and exploded, killing 42 crew members aboard the Romanian tanker.
The last major accident in Bosporus took place in 2003 as a Georgian-flagged vessel ran aground, resulting in a spill of 480 tons of oil.
The recent accident once again underlined the importance of the government's ambitious Kanal Istanbul project, a channel through Istanbul's European side.
The project, originally announced by President Recep Tayyip Erdoğan in 2011, aims to reduce shipping traffic on the busy Bosporus Strait, minimizing the risks and dangers particularly associated with tankers.
Turkey counts on Kanal Istanbul to prevent more crashes by offering an alternative crossing point for ships through the city's European side. Dubbed a "crazy project" for its sheer breadth and scope, a bidding process for Kanal Istanbul should be completed later this year.
The canal will have the capacity to handle 160 vessels every day and is scheduled to be completed by 2023, the centenary of the Republic of Turkey.