The General Directorate of Meteorology has issued a warning that Istanbul and the northwestern Turkey should expect severe storms and hail on Tuesday.
Officials have warned residents to expect strong thunder, heavy rainfall and a possible hail during the late afternoon.
Insurance agencies also warned Istanbul drivers to park in garages rather than streets in order to avoid any possible damages.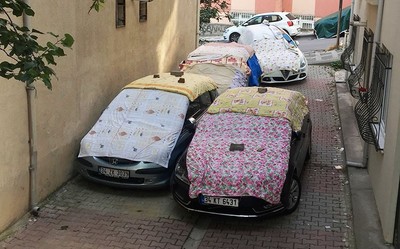 It seems Istanbulites are responding to the warning, as many public garages in the city were reported to be at full capacity as early as 8 a.m. on Tuesday. Car dealerships in Istanbul also tried to protect the cars in their lots with makeshift solutions, such as covering the vehicles with blankets, rugs and bubble wraps.
Last July, an unexpected hail storm hit Istanbul, damaging hundreds of thousands of cars and overwhelming insurance agencies with around 150,000 claims.