Heavy rainfall and hail hit Istanbul late Wednesday, flooding some streets and causing disruption to public transportation.
The wind-driven rain especially affected the districts of Esenler, Eyüp, Güngören, Ümraniye, Kartal, Maltepe, Silivri, Beykoz, Tuzla, Sultangazi, Üsküdar, Ataşehir, Bakırköy and Silivri, Turkish media reported. Some flights were also canceled at Atatürk Airport as freak lightning storms multiplied by the minute.
Heavy, wind-driven rain soaks Istanbul, causing local flooding and disruptions to transportation amid freak thunder stormshttps://t.co/wuf87QTzkspic.twitter.com/g8otsS1Qdz

— DAILY SABAH (@DailySabah) June 27, 2018
Drivers had difficulties reaching their destination due to numerous waterholes caused by the heavy rainfall, while Istanbul residents took precautions for any sudden floods, blocking their homes and offices with sandbags.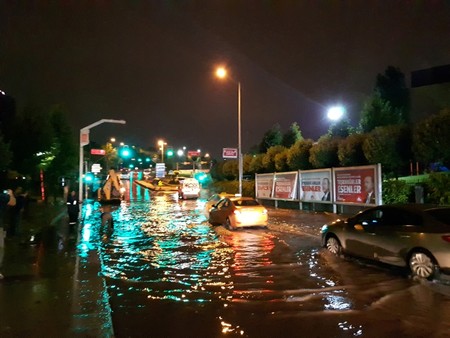 DHA Photo
The Istanbul fire brigade, on the other hand, rushed to the help of those reporting floods all around the city.
The Disaster Coordination Center (AKOM) of Istanbul Metropolitan Municipality issued fresh warning on Tuesday for heavy rainfall to be effective in Kartal, Maltepe, Kadıköy, Fatih and Beşiktaş districts near the Marmara Sea until the evening.
The General Directorate of Meteorology previously issued a warning for Tuesday that Istanbul and the northwestern Turkey should expect severe storms and hail, however, the forecast failed for that day.
Insurance agencies also warned Istanbul drivers to park in garages rather than streets in order to avoid any possible damages.
Last July, an unexpected hail storm hit Istanbul, damaging hundreds of thousands of cars and overwhelming insurance agencies with around 150,000 claims.