The only female ambulance driver in Turkey's most crowded city Istanbul, Birgül Kuyucuoğlu has managed to overcome obstacles she faces as a young woman in order to reach her career goals and save lives.
In her interview with Anadolu Agency (AA), 23-year-old Kuyucuoğlu said it was her childhood dream to become an ambulance driver and a paramedic despite her father's protests. After moving to Istanbul, she quickly adapted to the city's traffic and finally managed to make her dreams come true three years ago when she was accepted to 112 Medical Emergency hotline's Kartal First Aid Station.
Being an ambulance driver is stressful anywhere, as it comes with the pressure of saving human lives, but being one in a city of 15 million is even more intense.
And, Kuyucuoğlu faces additional challenges due to the male-dominant culture of her profession and the sexism she often faces.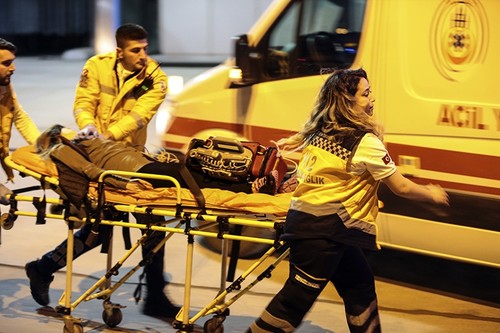 On a normal day she waits at the station, which she calls her second home, ready to be dispatched within 90 seconds if a call comes in. For her, daytime is fine. It's the nighttime that problems begin.
"We are scared of patients' relatives from time to time," she said, claiming that paramedics are often subjected to violence from angry relatives. According to her, relatives of the patients often act in a threatening manner against them, accusing them of being late even when they arrive within minutes. This issue is even worse when the paramedic team is composed of all women, which happens regularly. Officials are sometimes forced to resort to having police escorting the paramedic team.
Sometimes the teams face patient-specific challenges, such as very heavy patients who cannot be lifted by three paramedics alone.
"When we ask the relatives for help they tell us things like 'Did you come as 3 women? Was there no one else, who is going to drive? Which one of you is the doctor and which one of you is the driver?'" she said.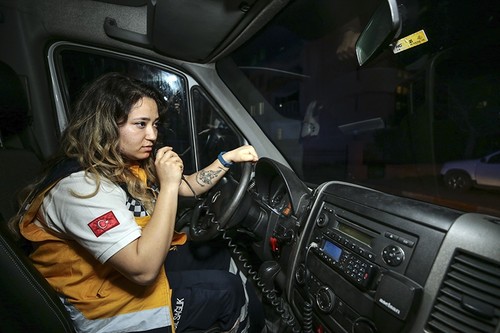 "You don't know what you will find. You don't know if someone will greet you with a gun, walk up to you, swear to you or be nice to you. We try to be cautious. We usually work with the police." Kuyucuoğlu said.
It is not only the relatives who cause headaches for Kuyucuoğlu. Being a female driver, especially a female ambulance driver in Istanbul is hard work. She said the city's male drivers harass female drivers and act even worse when they see her at the wheel due to prejudice against female drivers.
"They are scared," she said of the male drivers.
"Our job is to save lives. They (male drivers) make it difficult not only for the patient but for us as well. We can have an accident with another vehicle when they make a bad move."
Kuyucuoğlu also called out the people who abuse the emergency hotline. She said some patients abuse the system by faking symptoms and having themselves driven to the hospital where they have an appointment.
"While I'm losing time, someone is dying somewhere. We can't help that person. This can be someone's mother, father, child or brother," she explained.