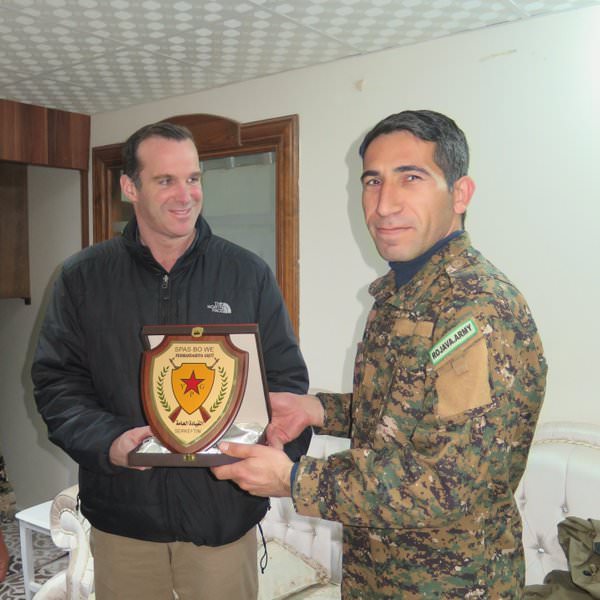 New photographs surfaced on social media showing the U.S. delegation headed by President Barack Obama's special envoy for the Global Coalition to Counter DAESH, Brett McGurk (L), meeting former PKK fighters in Syria over the weekend. Polat Can (R), known as the spokesman and one of the founders of the PKK's Syrian branch People's Protection Units (YPG), shared a photo on his Twitter account showing him presenting a placate to McGurk. Subsequently social media accounts, including prominent Syria expert Charles Lister, published YPG commander Polat Can's old and undated photographs taken when he was in the ranks of the PKK, an organization designated as a terrorist group by the U.S. and EU.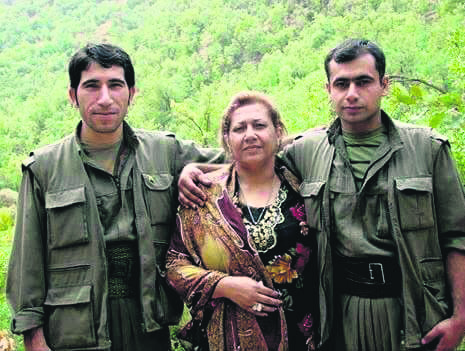 One of the photographs (above) includes Ciwan İbrahim (R), the leader of the YPG's internal security force, Asayish. Both men, with an unidentified woman, appear in the recognizable PKK uniform.
Democratic Union Party (PYD) Co-Chair Salih Muslim said three weeks ago to Al-Quds Al-Arabi that hundreds of PKK fighters were in the PYD's armed YPG ranks. He defended the existence of Kurdish militants, saying: "It is quite natural for a Kurd who was formerly one of the [PKK] fighters in the mountains to defend his home."
In response to a question regarding the issue, U.S. State Department spokesman John Kirby in January said that he does not have the identification cards of everybody in the YPG.
"That's not new. We've made clear our concerns about this group," he said, first dismissing the question as old news. He then defended himself: "I haven't seen Muslim's comments."
Turkey has repeatedly voiced its concern over the PYD's affiliation with the PKK terrorist group and the sharing of logistical information and weaponry between them. Prime Minister Ahmet Davutoğlu has repeatedly said that Turkey has no problem with the Kurds in Syria but the PYD will not be considered a legitimate party or representative of the Syrian Kurds due to its relations with the PKK.