Deputy Prime Minister Nurettin Canikli said that the constitutional reform proposal submitted to Parliament on Saturday is crucial for Turkey's future and will make the discussions on instability obsolete. Daily Sabah sat with Canikli to discuss the constitutional amendments and the new economy package that was announced on Thursday. Regarding the proposed presidential system, Canikli said that with this system, all of the existing ambiguity in the distribution of power between the executives will be resolved. Commenting on the new economy package, he said they aim to prevent the negative effects from fluctuations in the real economy and decreases in production and employment. He further added that the economic package will provide flexible financial help to production and export companies, which are in need of support, and aims to create 600,000 jobs in private sector.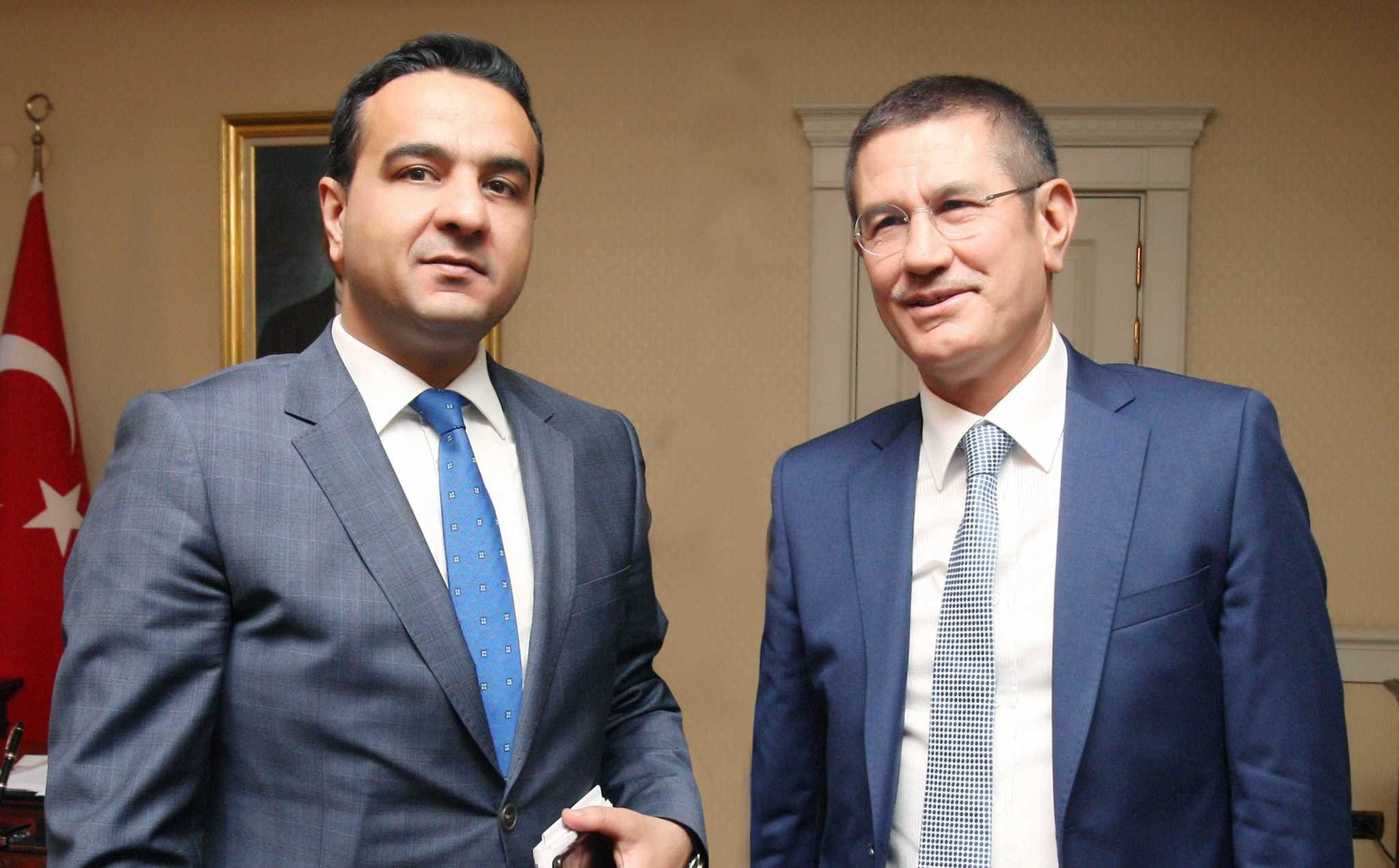 Deputy PM Nurettin Canikli (R) and Daily Sabah's Ali Ünal
Daily Sabah: The constitutional reform package that will instate a presidential system in Turkey was submitted to Parliament on Saturday. How do you evaluate this transformation?
Nurettin Canikli:
This proposal and the change it entails are crucial for Turkey's future and this will make the discussions on instability obsolete. With this system, all of the existing ambiguity in the distribution of power between the executives will be resolved. This is vital; when there are uncertainties in politics and administration, and both citizens and investors are unable to make reliable predictions about the future of the country, this ambiguity becomes a risk factor, especially for the economy. Therefore, the presidential system will resolve the deadlocks of the existing system and will move Turkey forward, while also instating a structure which will provide stability and spread this stability to all spheres of life.
DS: Will there be a transitional process? For instance, will the prime ministry be abolished and will the president start to utilize the newly acquired authority right after the referendum?
NC:
The existing system will be maintained until 2019 and there will not be any elections for this until that year. Everyone knows that we are punctual in holding elections, as people arrange both their political and social lives according to the elections. For this reason, if the reform package passes the referendum the system will not be changed immediately. Moreover, Turkey will go through a transitional period until 2019, as the presidential system requires extensive change in infrastructure and legislation. I believe that everything required will be accomplished by 2019 and we will have both the presidential and parliamentary elections in the same year.
DS: When will the referendum be held?
NC:
It is a little too early to talk about dates. We first need to discuss the reform package at the general assembly and it has to be approved by Parliament. Nevertheless, it seems that it will probably be held by April.
DS: To take this reform package to referendum, 330 votes are needed in Parliament. Numerically this does not seem like an issue, as the Justice and Development Party (AK Party) and the Nationalist Movement Party (MHP) have 316 and 40 seats, respectively. However, do you expect any turnarounds?
As the AK Party, we are not expecting any turnovers and we are certain about this. MHP Chairman Bahçeli has also made a statement on this issue. Therefore, we know that they will stand by their words, as they have always done before.
DS: Nevertheless, there are approximately five oppositional MPs within the MHP who may not support this package.
Bahçeli and the MHP have more knowledge about this issue, but still, we believe there will not be a swing to threaten the passing of the package. Moreover, the MPs are enthusiastic as it is a crucial change.
On the other hand, since the foundation of the Republic of Turkey, many former party chairmen, such as Özal, Erbakan, Demirel and Türkeş have expressed that this transition to a presidential system was necessary to prevent political instability, which has mired Turkey for many decades. In a sense, these MPs will now have the chance to realize the will of all the political leaders of the past.
DS: After the Economic Coordination Committee's meeting, a new economic package was announced on Thursday. What does this package foresee and when will we see its effects in the economy?
Essentially, it aims to prevent negative effects from fluctuations in the real economy, decreases in production and employment. Currently, the whole world is going through a period of fluctuation. The production economy or the real economy might be affected negatively and companies may suffer a decrease in sales and revenue or they may have issues with finances due to the shifting exchange rates. This may happen even if you have a healthy production structure; it has happened in the past to many countries, including Turkey.
Even though we do not expect any serious effects, we are taking measures for the worst case scenario. Therefore, we are taking steps that will eliminate the possibility of the real economy, production and employment being affected negatively by economic developments. Prime Minister Yıldırım announced the most extensive finance package of the recent past, which amounts to TL 250 bn. We will provide flexible financial help to production and export companies, which are in need of support.
DS:When will this package be implemented?
A capital increase to the Credit Guarantee Fund is needed and this action requires a change in the law. However, we will hopefully realize this change within a short period of time. Nevertheless, we can implement the system without the change as well. The issue here is that when these companies try to acquire finances through the banks, they are asked for a warrant, which it is not easy to provide. For this reason, we are providing finance to these companies directly through the Credit Guarantee Fund of the Treasury.
Export credits will be given with a 100 percent guarantee, while SMEs and the others are to be provided with 90 percent and 85 percent guarantees, respectively, in credits. Therefore, companies will not have to provide a warrant. We are also considering the risks to the Treasury. According to our estimates, the economy package will cost TL 17.5 billion to our Treasury over the course of three years, in the worst case scenario. This is the maximum risk, which is calculated by assuming that all the credits are used for three years and there are some shifts.
We are always modeling the system according to the worst case scenario, especially in the economy, as we deem financial discipline vital.
DS: However, companies with bad credit records will not be able to use credit. Will there be a credit record amnesty?
We are currently working on this and will be making an announcement soon. However, the said package aims to support and boost the finances of robust companies, which have suffered some backlashes. In this sense, it does not target the bankrupted companies that cannot be revitalized even with the help we can provide.
There were bailout attempts in many countries during the 2008 crisis. For instance, the US spent a large sum to rescue the banks. In this sense, if you are late to boost your companies, the cost of bailout increases. If unpredicted changes in indicators, expenditure and the budget balance emerge, then all the other macroeconomic indicators will affect the economy negatively. Thus, we are implementing rational preventative measures to minimize the risks. With this package the continuance of the real economy is guaranteed for the years to come.
DS: How do you evaluate the fluctuation of exchange rates? Do you suspect certain manipulative initiatives are behind it?
It is highly possible and there are some indications that this is the case. For instance, Fitch changed the standing of Turkish banks from neutral to negative last week. This is another example of a decision about the Turkish economy which is not based on a rational basis.
It is a fact that Turkey's financial system, especially the banking sector, has a strong and solid structure; this has been acknowledged by various international institutions. We have a financial system that did not even budge during the major economic fluctuations of the recent years. The capital adequacy ratio is currently 16 percent and the Turkish banking system consists of quality and non-speculative values. Therefore, our banking system is positively different than the world banking system. Despite this fact, Fitch changed the standing of our banks without any justification. It is not possible to consider Fitch's decision as a rational take on how the economy works.
DS: For how long will this fluctuation continue?
Fluctuations are part and parcel of the economy. Look at any basic textbook on economics and you will see that fluctuations are described as a usual phenomenon. The crucial part is not to pressurize the exchange rates. According to the market rules, you have to allow the process without intervention. If you do not intervene, the floating rate policy will gradually depressurize. This is why crises are not possible within this kind of system, as the system instantly adapts.
There can be speculative attacks without any rational basis. This can be done by groups that are interested in making a profit, but also by groups that have certain political interests. Currently, we are seeing some strong indications that there are other factors, speculative factors, besides the usual economic fluctuations. However, I can happily say that despite these speculative efforts, all elements of the economy are standing tall and strong. Of course, this is not just a coincidence; as President Erdoğan also remarked, our economic policies, decisions and stable administrations throughout the last 14 years contributed to the current strength of Turkey's economy. For instance, when the AK Party came to government in 2002, the average ratio of bad debt was over 24 percent. Today it is only 3.3 percent, which is below the world average.
DS: Economic data shows that there is a slight decline in demand and growth. What measures have you taken?
There is a slight decline in demand, meaning that people are spending a little less. To compensate for this, we will be providing support to the private sector to raise a minimum of 500,000 jobs in a short period of time. Moreover, we will implement a project that will employ 100,000 people for the benefit of society.
DS: You are aiming to create 600,000 jobs.
Definitely, these are additional jobs. Moreover, we have another project comprised of 280,000 jobs. According to this project, the state will subsidize some portion of the wages of women, the disabled; disadvantaged segments of society who are to be employed by the private sector. This will help the private sector to reduce employment costs.
DS: Prime Minister Binali Yıldırım said that there will be public savings while announcing this package. Could you elaborate on this?
From the 2017 budget onwards, ineffective and unproductive expenditures that do not cater to investment will be cut severely. The TL 17.5-billion fund that I had mentioned before will be created by cutting unnecessary expenditure. For 2017, the worst case scenario is that there will be a TL 4.38-billion withdrawal from the Treasury. This was the most effective way to create a source without instating additional taxes. The employment projects I have mentioned earlier will be supported by the unemployment fund, and there is therefore a fund for everything. We will realize all of these without relinquishing our financial discipline and without distorting the balance of the budget.
As I have said before, these are all worst case scenarios. Our midterm program is to have a budget deficit which is 1.9 percent of Turkey's gross domestic product (GDP) and we will implement this model while staying within this range.
DS: Last week, Energy Minister Berat Albayrak said that the Turkish lira start to be used in energy transactions. What is your take on this issue?
We are trying to spread the use of the Turkish lira in every sector, especially in the energy sector. The increase of demand in the Turkish lira would mean decreasing demand for other currencies, thus letting off some pressure on these currencies. As you know, with President Erdoğan's instruction, we are working on increasing the usage and influence of the Turkish lira. The Public Procurement Authority will be holding tenders in Turkish lira, while the Saving Deposit Insurance Fund has exchanged the currency of debt owed to the Turkish lira. This corresponds to providing a $10-billion fund to the markets within a period of 12 months, which means the Turkish lira will become even more widespread.
Similarly, we have significant trade relations with countries such as Iran, Russia and China. There is a will to use domestic currencies during these trades; meetings were held and it was accepted by all parties. We have large trade volumes with the said countries and also have grate potential. Now, we are working on implementing these decisions.
As this is a highly arduous and technical issue, the central banks of the respective countries are doing their best to realize it. Our Central Bank is working on protecting the interests of everyone, as the fluctuation of currencies may favor the scale for one or another at a time. Therefore, they are trying to overcome possible negative effects.
DS: How will this affect the current deficit?

Current deficit is the difference between a country's foreign currency revenue and expenditure and it is calculated in U.S. dollars. If you decrease your need for the U.S. dollar, the current deficit will also follow. Using the Turkish lira instead of the dollar will have a positive effect on decreasing current deficit. However, this also assumes that trade volumes will increase, as it will become easier to do it.
DS: Do you estimate that trade will increase if domestic currencies are used instead of the U.S. dollar?

It will, definitely. For instance, Turkish companies or businesspeople trading with Russia will be able to directly use the ruble, making trade much easier. This is also true for Russian companies and businesspeople. It will encourage and increase trade. Moreover, Turkey is a country that produces goods and services that are in demand and its economy is highly flexible. Therefore, this will contribute to all economies participating in trade with domestic currencies, but it will be especially advantageous for Turkey. It is a win-win policy.