Kamala Rasaili, a reporter with Nepal's state-run Radio Nepal, thought she had found the perfect room for her and her brother to rent in a residential area of the capital Kathmandu.
It was not very far from her office in central Kathmandu, and the landlady initially appeared happy to rent the room for 3,000 Nepali rupees ($30). When Rasaili visited it the following day, the room was being painted and she put down a month's advance rent.
But as the 25-year-old prepared to leave, the landlady asked her to write her name in a register for tenants. Naturally, the landlady was curious about the journalist's surname. When Rasaili explained that she was a member of the Dalit community or untouchables, which many judge from a surname, there was an awkward silence. The next day, the landlady's husband called Rasaili, refusing to rent her the room and asking to take the money back. "He said he had an old mother, who worshiped at home daily, telling me that he was not comfortable with renting a room to a Dalit," Rasaili told Anadolu Agency.
Hindu-majority Nepal, alongside neighboring India, practices the rigid class system known as caste that has been described by rights group Human Rights Watch as a "hidden apartheid," even though Nepal outlawed caste-based discrimination five decades ago.
Prejudice against Dalits, who also follow the Hindu religion, is deeply ingrained. They are banished from sharing public spaces, particularly in rural regions; they are neither allowed to pray in the same temples used by upper-caste Hindus nor can they use the communal tap.
Still, people like Rasaili, who have left their rural villages rife with social ostracization in search of a better future in cities and towns, continue to face abuse from the well-educated and wealthy city denizens. Rasaili received compensation of 10,000 Nepali rupees after filing a complaint against the landlord with the local police but says discrimination has not ceased. Upon hearing a group of women speaking derogatorily about Dalits in a local beauty parlor she frequented, Rasaili told the parlor owner her surname was Risal, which signifies an upper caste.
Rasaili said all her relatives - her aunts, uncles - who live in Kathmandu have lied about their surnames in order to get accommodation. Even one of her colleagues at Radio Nepal humiliates her for being Dalit, she said.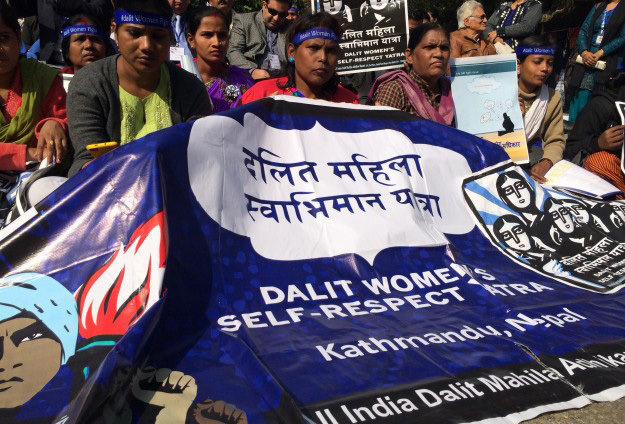 "We face discrimination from well educated people in the cities. My friends are happy to eat together with me at our office canteen or in restaurants, but they would never take me to their home," she said.
They say that allowing her inside their homes would antagonize one of the family members, usually an elderly mother, according to Rasaili.
In Butwal, a thriving town about 100 miles southwest of Kathmandu, a landlady refused to rent a room to Gita Sunar after learning that she was a Dalit. Sunar, whose husband is a migrant worker in a foreign country, had approached Shanta Aryal, the upper caste landlady, while the cement and concrete house was under construction. She was, however, told to retrieve her belongings as soon as Aryal came to know about her caste, Lumbini Times, an online newspaper reported on June 29.
Rem Bishwakarma, president of the Jagaran Media Center, a Kathmandu-based group fighting for Dalit rights, said that despite reforms the caste system was still deeply rooted in Nepali society. "Our community has been suffering for hundreds of years. We have been denied rights and cheated by the past regimes. The dominant Hindu religion excluded us in a systematic manner. Being Dalit made us poor and poverty ensured that we were forever subjugated," Bishwakarma told Anadolu Agency. He said unlike in the past, when caste-based discriminations were overt, the practice has become more subtle. "In the past few years, social workers have organized campaigns across the country in which Dalits eat together with upper caste people," he said. "Everyone seems fine as long as it's in a public domain. When it comes to sharing private spaces with Dalits, it's a taboo."
Dalit leaders such as Bishwakarma argue that inter-caste marriages, despite numbers increasing in recent years, may not be the solution. "If a Dalit man marries an upper caste woman, she would be treated with respect and dignity. But if a Dalit girl marries an upper caste man, then she is most likely to be mistreated," he said.
The caste system in Nepal predated its founding, but the state-sanctioned victimization began in 1853, when a dictator whose hereditary rule lasted more than 100 years, introduced the National Civil Code that legalized caste-based discrimination.
Pioneering Dalit leaders began to fight for their rights in the wake of the end of the century-old autocracy in 1951. Their persistent campaign did bear some fruit; on Sept. 5, 1963, for the first time, Nepal legally abolished caste-based discrimination.
Over the decades, while the state has introduced more stringent laws against the practice, the conditions of Dalits have only worsened.
Dalits, who make up 13 percent of the country's population, figure at the bottom of every social and human development indicator, with half of the population living below the poverty line.
Dalits in the hills and plains account for the highest percentage of the population in poverty with 43 and 38 percent, respectively, according to the Nepal Living Standard Survey of 2011.
Dinesh Prasad Harijan, a member of the Chamars, the most deprived and discriminated Dalit community from the country's south-central and southeastern plains, recalled his expulsion from 10th grade school examinations in the winter of 2005. Dhruba Narayan Tripathi, an upper caste Madhesi who was the center's chief supervisor, expelled Harijan after he touched Tripathi's hands. Harijan was allowed to sit for the exam only after he spoke about it with local journalists who then put a spotlight on the case.
"When I recall the incident, I feel hatred because this supposedly educated and intellectual person behaved with me in such a harsh manner," Harijan said.