While the privileged enjoy the benefits of proper health care, many around the world suffer from poverty, substandard health care, war, droughts and epidemics. Doctors Worldwide is a Turkish nongovernmental organization (NGO) that was founded back in 2000 by doctors who believed everyone deserves basic medical care and health services regardless of race, age, nationality and religion. The organization has been heavily involved in the Syrian crisis, while delivering basic health care to more than 40 countries in need. Daily Sabah, sat down with the chairman of Doctors Worldwide, Dr. Kerem Kınık, to discuss the organization's aim and future projects.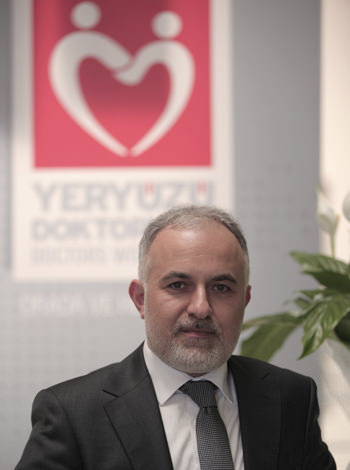 "The health care projects we have provided in times of emergencies in Gaza, Syria and the Central African Republic are some of the most difficult and risky missions of us," Dr. Kerem Kınık said.


Daily Sabah: Can you tell us how Doctors Worldwide came to be and how it functions?
Kerem Kınık:
Doctors Worldwide was founded in 2000 by a group of doctors who were in professional solidarity with each other and believed everyone deserves basic health care. In those years, there were very few NGOs who were focusing on health care in our country and region, and various natural disasters and wars were increasing the need for all kinds of humanitarian aid. At the beginning, our organization mainly focused on what was going on in Bosnia and Kosovo as a result of the disintegration of Yugoslavia. Doctors Worldwide is currently an advisory member of many economic and social councils of the United Nations and is also a member of various social Networks including the Organization of Islamic Cooperation (OIC) and various international organizations. We have a board of directors that consists of members who have been elected by our general assembly and who are also volunteers. Doctors Worldwide currently has more than 200 professionals working at its headquarters and program offices. Along with Turkey, we also have offices in the Palestinian territories, Pakistan, the U.K., the Democratic Republic of the Congo, Somalia and Kenya.
DS: You have a few collaborative projects with the Health Ministry. Do you receive support from the related ministries for your projects abroad?
KK:
Doctors Worldwide cooperates with local, national and international stakeholders while conducting its projects. Especially for projects we will perform in the field, we cooperate and coordinate with local ministries of health. We cooperate with the local health authorities by finding out which patients need help and they support us in tracking the patients who have undergone surgery.
DS: As it is one of the nearest and the most crucial crises, can you explain what kind of assistance you have provided to the Syrian refugees and those who suffered from the war in Syria?
KK:
Our efforts to help Syria still continue in Syria, Lebanon and Turkey. First, we tried to determine the need for medicine, medical equipment, medical devices and physical capacity in Syria due to the civil war. Until now, we have shipped medicine worth $15 million and distributed about 20,000 first-aid kids. Also, we have transported millions of water cleaning tablets and industrial water purification systems. Currently, the construction of an extension for a hospital in Latakia in Syria is ongoing. Our program to financially support doctors working in Syria is also ongoing, and we have local health centers in Yayladağı, Suruç, Batman, Diyarbakır and Şırnak in Turkey for refugees from Syria. Moreover, we are also running a psychosocial support group for child refugees.
DS: How do you determine where you need to deliver aid and the extent of the aid required in a specific location?
KK:
We use two methods to determine where to deliver aid. First, we evaluate project offers we receive from the field, and then we direct our professional team, analyze the requirements and develop projects in case of natural disasters or needs. We also receive regular reports from certain organizations and NGOs. The extent of the aid we can provide depends on the donations and funds we can procure through the projects and programs we develop.
DS: What kind of support do you get from the U.N. and other similar nongovernmental organizations? How do joint projects come to fruition?

KK:
Doctors Worldwide is always in close contact and cooperation with funders. In this respect, we have developed various joint projects with the European Union, the U.N., the OIC and various national development agencies. We either apply to open calls that are appropriate for our policies and plans or funding organizations apply to us to support our projects.
DS: You have delivered aid to more than 40 countries. Among all the disasters and countries you have helped, which one was the hardest for you in terms of both delivering the aid and dealing with the conditions in that area?
KK:
All works we have undertaken until today have their unique risks and difficulties; however, when delivering aid especially after natural disasters, the logistics, health and safety of the employees are at stake. In this respect, I can cite the health care projects we have provided in times of emergencies in Gaza, Syria and the Central African Republic as an example of some of the most difficult.
DS: How is the reaction and support of the local community in places where you provide aid?
KK:
Humanitarian aid has always been welcomed with kindness and gratitude by those who are especially in need of medical care. However, especially in regions in which Turkey has historical or cultural connections, reproach is added to these emotions. We have been asked why we were there so late or accused of forgetting or dismissing our kin.
DS: Do you have any upcoming campaigns or projects?
KK:
We are cooperating with Bezmialem University in Istanbul and have developed a new medical health care model for Syrian refugees. This model is based on keeping the current health care services for Syrians open through a second shift. Bezmialem University's Fatih District Polyclinic will provide free medical services and health care to refugees from 5:00 p.m. to 9:00 p.m. for 14 months, and all medical examinations will be provided free of charge. This Project is also being supported by the EU and International Organization for Migration (IOM).