"What type of world do I want to live in by 2030?" asked Mert Fırat, a Turkish actor best known for his role in the award-winning movie, "Kelebeğin Rüyası" (The Butterfly's Dream), while introducing his innovative project, "İhtiyaç Haritası" (The Map of Needs), at the U.N. 2015 Social Good Summit Istanbul.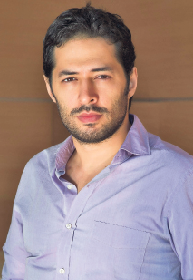 Mert Fırat

Under the theme "#2030Now," the U.N.'s October meeting gathered a handful of speakers from Turkey and Europe as well as the Commonwealth of Independent States (CIS). The summit brought together national leaders, new media and technology experts, grassroots activists and voices from around the world to share creative ideas and solutions with regard to the use of new media and technology for social good. Among the participants, there were pianist Gülsin Onay and singer-songwriter Harun Tekin.
Mert Fırat, a key speaker at the one-day conference, recently launched the Map of Needs, an online platform connecting people in need of something with those who can help them around the country. The main point of the project is that you can request any type of help from veterinary services to school materials and volunteers for a social project.

Imagine that you have some books that you do not need any more or are willing to volunteer during your spare time. If this is you, you would check out the platform - although the only platform language is Turkish at the moment - where you can easily become a member and submit a need request or select any of the available means to offer support. The non-commercial platform is safe to use as its web editors regularly check all requests prior to their release. The system is also easy to understand and very user-friendly. A big map of Turkey pops up on the home page with numbers on different cities, indicating how many need requests have been submitted for that area. Basically, the platform has three different sections - "İhtiyaç Gir," (Enter a request) "Gönüllü Ol" (Become a volunteer) and "Destek Ol" (Support others).
The Map of Needs specifies some categories for users before they enter a request. The editors do not approve direct money demands, personal or food requests. Instead, you can ask for things like school materials or sports equipment. They also post requests for people with disabilities in need of electric-powered wheelchairs or handicap ramps. You can send animal food or give free veterinary support. Speaking at the conference, Fırat said, "The Map of Needs is a meeting point where users create their own account, send a need or campaign request and find a source." What makes the platform distinct from other social responsibility projects is that all requests are collected and centralized in one location, allowing users to quickly find and meet their needs. Fırat said that the platform collaborates with NGOs, district and provincial governorships as well as village heads. In his statement to a local TV channel, Fırat stated that the project is not motivated by financial needs, but by humanity's needs. More than 600 volunteers have already contributed to the recently opened platform and more than 100 need requests have been fulfilled. An Istanbul-based art school for Romani children was one of the first users asking for books through the platform. There are remote village schools from the eastern and southeastern parts of Turkey, like Diyarbakır and Van, still in need of books to establish a library.
Also opening a culture center, "Art Mahal," in the western Bursa province last month, Ankara native Mert Fırat studied radio and television in Sweden as well as taking acting courses at Ankara University following his return. He is the scriptwriter of two movies: İlksen Başarır, "Başka Dilde Aşk" (Love in Another Language) and "Atlıkarınca" (Carrousel). Fırat is now continuing his career in both cinema and theatrical productions.
Those who want to take part in Fırat's platform or receive more details, check the website "www.ihtiyacharitasi.org" or connect via e-mail to "info@ihtiyacharitasi.org."