It's been said that laughter is the best medicine. That laughter can be used as a tool to heal, educate, and make people ponder things and ideas that they wouldn't have come up with on their own.
At Take Me Up the Bosphorus English (TMUTB) stand-up comedy nights in Istanbul, laughter stands for so much more – an international mix of people from various cultures and backgrounds sharing and recognizing one another's passions, personalities, and terribly personal stories.
On any given night, the audience can enjoy performances by comedians from all over the globe: Turkey, Yemen, England, Iran, Australia and America, to name a few. The international, mainly expat, crowd offers a comfortable and supportive environment for amateur comedians to practice their material and gives the performer a chance to see what works with a culturally diverse audience. After all, not everybody present is a native English speaker, so overcoming the language barrier can often overshadow the simple act of performing on stage. The theme of monthly TMUTB open-mic nights: the only real failure is the failure to try.
Aslı Akbay, the woman responsible for creating this unique comedy experience in Istanbul, founded Take Me Up the Bosporus and hosts two different kinds of comedy shows a month: a paid stand-up show featuring a professional comedian, and another, more casual free-for-all open mic night.
Last month, Akbay hosted English stand-up comedian Trevor Lock for three nights in different venues on both continents. The show opened with performances by a handful of local stand-up comedians with varying levels of experience and skill, which gave the audience a taste of what to expect from the local talent.
Lock gave an outstanding performance with a unique style of stand-up comedy, improvising his entire act with voluntary participation from the audience. The lights were turned on and the show was purely interactive as Trevor called on members of the crowd to influence his next line. The results were hilarious and no doubt inspiring for the amateur comedians in the audience. These are the types of shows Akbay hopes to bring to Istanbul at least once a month.
Akbay hails from England, where she began performing stand-up in London in 2008 and has performed at the Edinburgh Festival Fringe. She moved to Istanbul in the fall of 2014, and immediately started Komikrofon, a Turkish open mic night for people who wanted to try stand-up for the first time, hosted at Old City Comedy Club. Take Me Up the Bosphorus began in October 2015 simply because an English stand-up show hadn't yet existed, and people, most notably a Polish comedian, approached her about starting one.The difference between TMUTB shows and the other stand-up shows in Istanbul is two-fold: the authenticity of open mic, and the allotted time slots.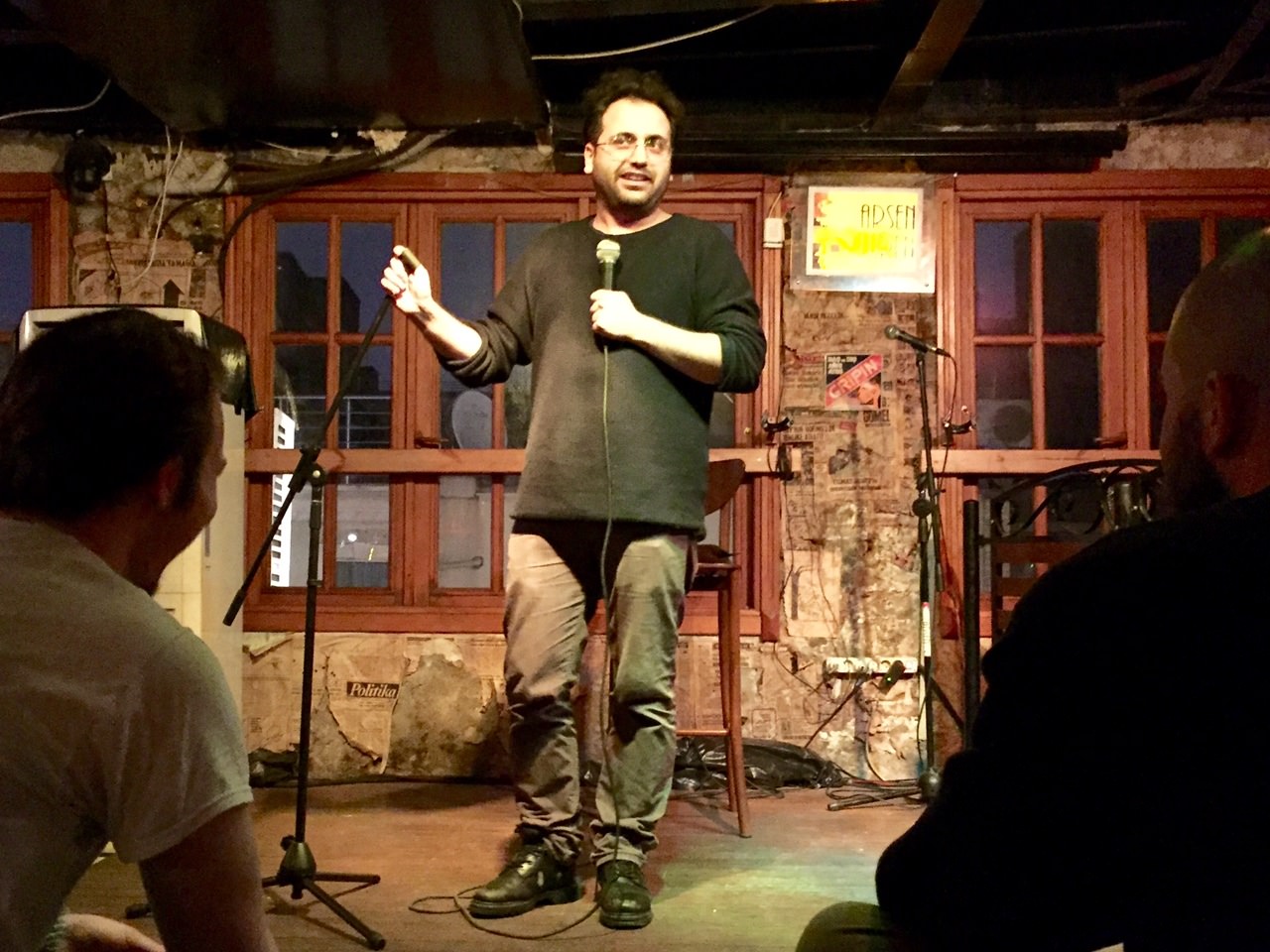 Enes Uysal

The other few self-defined "open mic" nights in Istanbul are actually planned beforehand; which comedians will take the stage and when. In order to ensure everyone is treated equally, Akbay collects the names of all those wishing to perform and pulls their names out of a hat. The selection is random, which keeps performers on their toes and audience members in their seats.
Also, the other shows in Istanbul give comedians 10 minutes to perform. "Coming from a U.K. background in stand-up comedy, I have learned that 10 minutes is a long time to listen to an amateur do comedy," Akbay says. She started the comedy nights on the principle of five-minute time slots, which allows the comedian just enough time to develop a few bits, but not enough time to lose the attention of their audience.
Winning over your audience is a struggle for any amateur comedian, especially when you're not performing in your native language. Emre Günsal, a Turkish stand-up comedian in Istanbul, usually performs stand-up in Turkish, but brings his English set to TMUTB shows. Unlike other Turkish stand-up comedians, he doesn't allow the language barrier to prevent him from performing, and takes the opportunity to try out new material with an international audience.
Günsal recently celebrated his first year of doing stand-up comedy, and at only 19 years old he is a crowd favorite. His jokes are witty and his presentation resembles that of someone with much more experience. "Anyone can do comedy – telling jokes is the easy part," he says. "The more challenging aspect of performing is using your observational skills, paying attention to the reaction from the audience, and adjusting your dialogue."
Just translating his jokes from Turkish to English isn't enough. "At least half of my material I write in English, not only because some expressions in Turkish cannot be translated but also due to the political and religious views of the audience members," Emre noted. "An English-speaking, international crowd is definitely more open-minded."
Humor allows people to approach sensitive issues and discuss topics that are considered taboo in our respective cultures. English stand-up comedy nights provide an open-minded atmosphere for expats and natives alike to share ideas and feelings across cultural borders.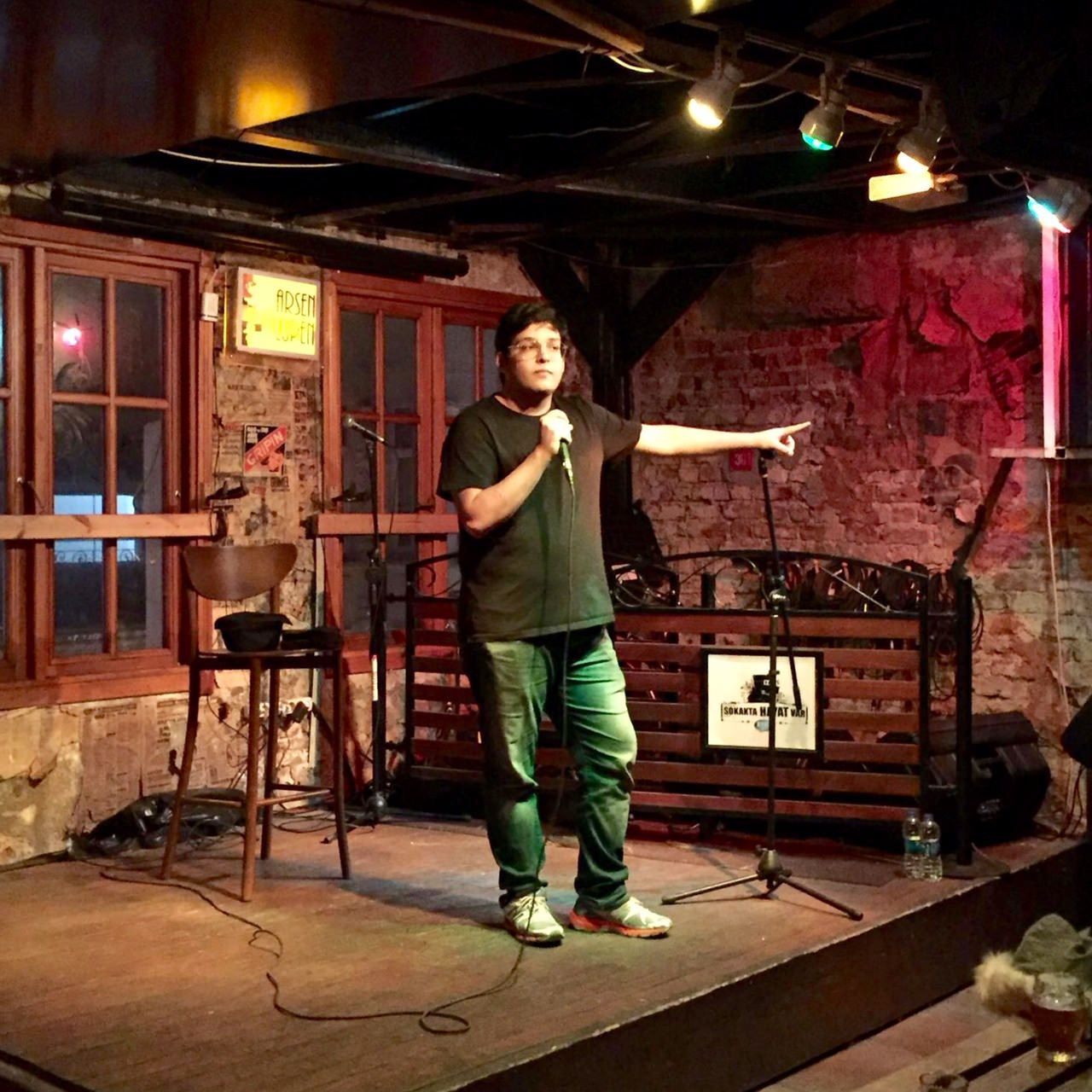 Emre Günsal

"I believe that comedy is and should always be a completely free medium in which people should be allowed to address otherwise taboo subjects, with a humorous approach," says Akbay. "Everything can always be taken too seriously and although some issues should, there is never any harm in seeing the lighter side of things."
Akbay plans to host a professional comedian from the U.K. once a month, and headline two or three shows with them. Local comedians, who she believes are ready to perform in a paid comedy show, will also perform these nights. The venues to be expected are Bahane Lounge in Kadıköy, Old City Comedy Club in Cihangir, and Hard Rock Café in Beyoğlu and you can expect to pay TL 20 ($6.7) to get in. The next show will debut in early March.
Stand-up open mic nights are for anyone that wants to try out stand-up comedy in English, and will be held twice a month at Arsen Lupen in Beyoğlu, where you can sign up upon arrival. The next stand-up open mic night is on Feb. 9 at 8:30 p.m.
Akbay invites you to get involved if you want to try comedy. "Or come and watch as an audience member – it's fun!" Check the Facebook page for upcoming shows: facebook.com/takemeupthebosphorus/.