Turkey's humanitarian aid organization, the Turkish Red Crescent (Kızılay), has entered a period of renewal with its newly elected president, Dr. Kerem Kınık. Eyeing the presidency of the International Federation of Red Cross and Red Crescent Societies (IFRC) in 2017, the Turkish Red Crescent aims to turn into an order-setting humanitarian aid organization in international platforms in order to highlight humanitarian crises in areas such as Palestine, Somalia, Syria, Pakistan and the Horn of Africa.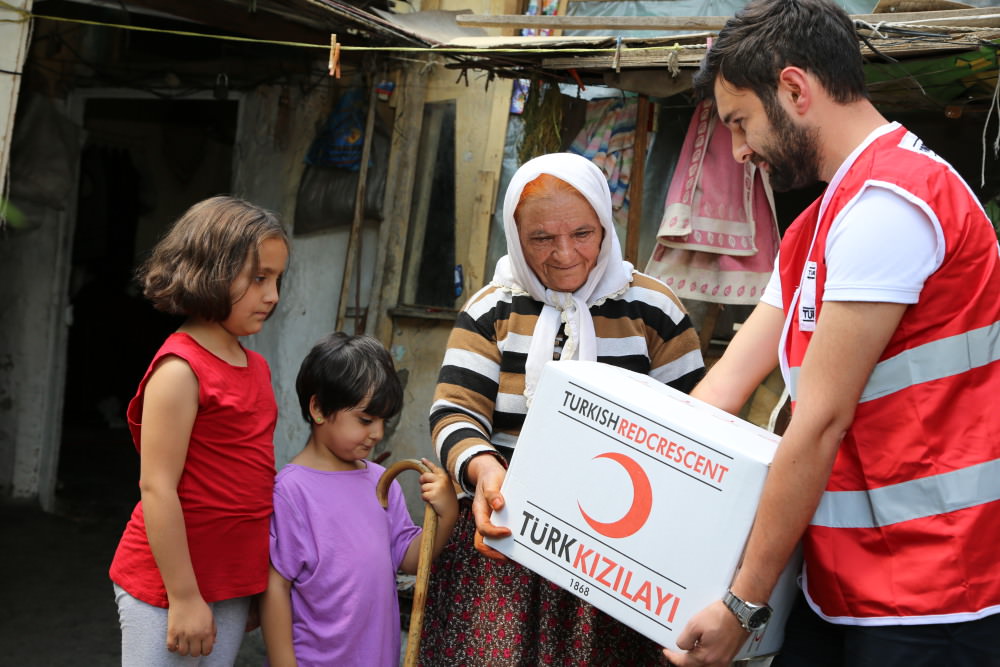 In an exclusive interview with Daily Sabah, Kınık underscored the Turkish Red Crescent's IFRC presidency goal and its effects in international platforms. Also touching on the organization's humanitarian aid in Turkey and abroad, Kınık said the Turkish Red Crescent will develop its terms of reference with many projects such as integrating migrants into society; preventing poverty; increasing intervention capacity in natural disasters and regional development in the southeast; international peacemaking and reconciliation of conflict areas for 2016 to 2020. Having blood donation as its mission since it was first established, the Turkish Red Crescent also aims to provide 100 percent of blood donations in Turkey with many incentive projects in the upcoming years.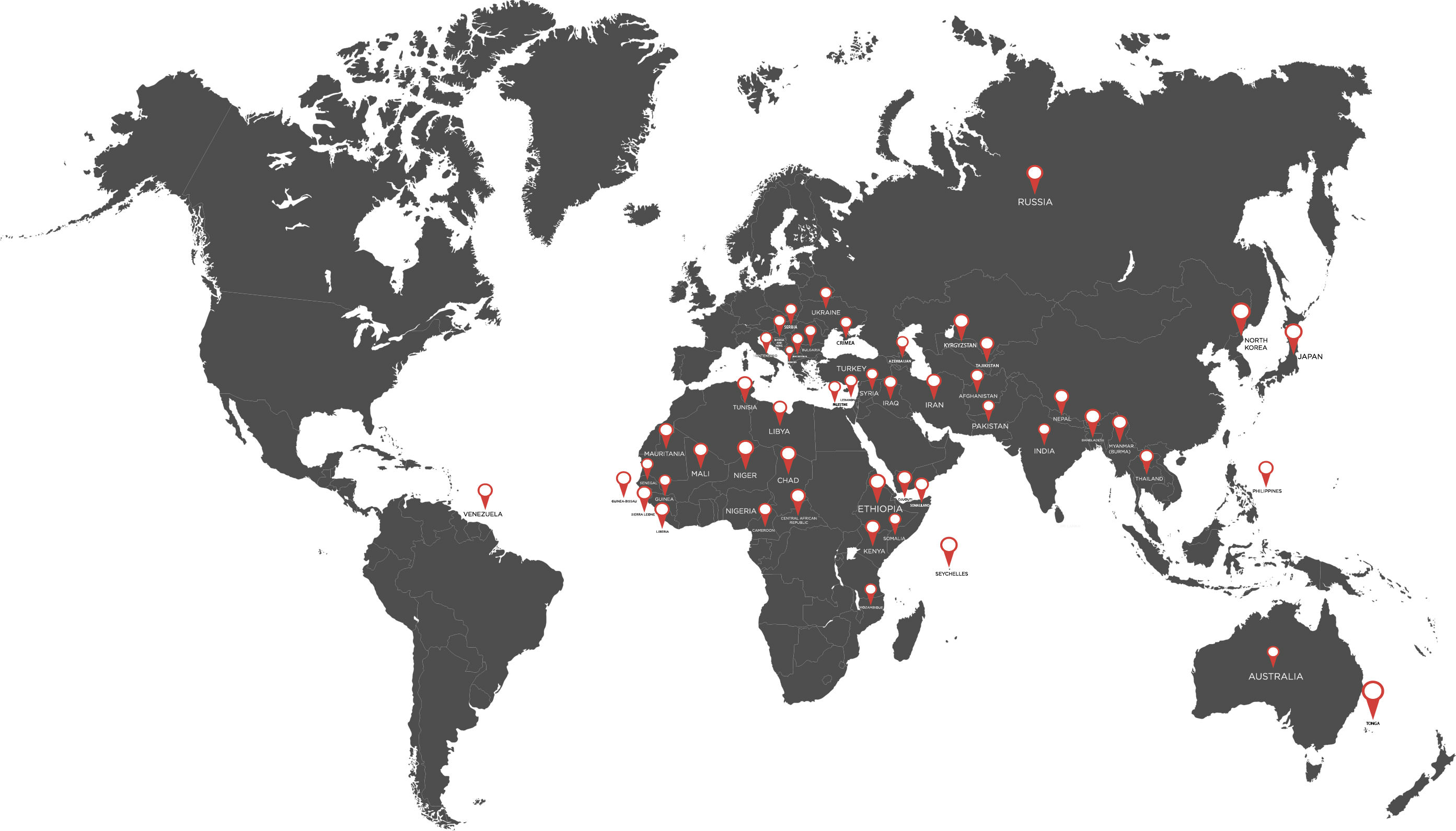 Countries Turkish Red Crescent extended a helping hand between 2010 and 2015
* Including ongoing aid projects, in-kind aid projects, financial aid and contributions to national foundations.
Daily Sabah: The Turkish Red Crescent aims to assume the IFRC presidency in 2017. What subject will you focus on if you take the chair?
Kerem Kınık:
The IFRC is an umbrella organization including 195 national foundations. The Turkish Red Crescent is on the board of the IFRC and is deemed a significant actor. Kızılay is a candidate organization for the IFRC presidency in a general assembly to be held in 2017. We are lobbying with the Foreign Ministry, Organization of Islamic Cooperation (OIC) and the Red Crescent organizations of the countries that we are traditionally connected with. The IFRC has eased its agenda since World War II, as only a quarter of the budget in the humanitarian aid sector is around the IFRC. We are a candidate for the IFRC 2017 presidency and aim to bring significant humanitarian issues such as the Syria crisis, Iraq crisis, Palestine issue and drought in Africa to the table and activate the humanitarian aid movement.
D.S.: With Islamophobia increasing, how should we evaluate the Turkish Red Crescent presidency if it is elected?
Kınık:
The Turkish Red Crescent is the first Islamic organization that was registered with the IFRC committee, established following the 1864 Geneva Convention. Unity and impartiality are among the principles of the IFRC. With no religious discrimination, all foundations are represented equally and have a voice in the IFRC. The Turkish Red Crescent, as an effective movement in the Islamic world, will be effective in reconciliation of conflict areas and reducing tension if it takes the chair. The Turkish Red Crescent has prestige within the IFRC. There would be no problem in the presidency process and it would have a positive effect abroad.

D.S.: What humanitarian aid does the Turkish Red Crescent provide at home and abroad? In which countries and what kind of aid is being carried out?
For the last five years, the Turkish Red Crescent has been focusing on the Syrian crisis. Humanitarian aid procedures have been carried out by the Turkish Red Crescent in Turkey and Syria. There are nearly 3 million refugees in Turkey, which is the country that has the most refugees in its territory. Apart from this, the Turkish Red Crescent has a key role in the Syrian crisis from the point of international humanitarian aid. Nine entry points on the Turkish-Syrian border are used for humanitarian aid logistics facilities. With the help of our 200 personnel, we also deliver aid to nearly 7 million Syrians in Syria. An initiative was also begun by Turkey on Palestine and Gaza issues and the Turkish Red Crescent is an important part of it. This year we have a Gaza package that costs around $10 million. With this aid package we aim to rebuild destroyed medical sites, support disadvantaged groups in Palestine such as the disabled and orphans with social programs, education programs and food aid. Our Pakistan delegation is continuing. In Somalia, there are significant programs ongoing such as the first nursery and public health school. We are planning to deliver 11,000 tons of humanitarian aid in the upcoming weeks. There is also a drought on the Horn of Africa and a humanitarian aid package will be delivered there in the upcoming weeks. Last month we sent 6,500 tons of aid to Yemen. Our humanitarian aid is also in Caucasus, North Africa, Asia, Bangladesh, Pakistan, Palestine and Arab countries.
D.S.: The Turkish Red Crescent delivers humanitarian aid in Syria. Do terrorist organizations such as DAESH or the People's Protection Units (YPG) affect your efforts?
International platforms have become helpless in the security of humanitarian aid en route in Syria. Problems have happened especially in the humanitarian aid corridor. We have been delivering aid and our packages are being delivered in Syria with the help of our Syrian nongovernmental organization shareholder. Due to Russia's airstrikes, the Kilis-Azaz line and Aleppo line are closed and the humanitarian crisis increased. Now, most of the lines used are through Reyhanlı and Aleppo, but we still face some attacks on those lines. The DAESH and YPG threat decreased humanitarian aid logistics. We deliver aid by portioning it and increasing security in activities around the Bayırbucak region and the Latakia, Reyhanlı Öncüpınar border crossings.
D.S.: What is the total amount of humanitarian aid from the Turkish Red Crescent in Turkey and abroad? Can Turkey be called a generous country in humanitarian aid compared to others?
Turkey is the most generous country in the world in terms of humanitarian aid with a 0.21 percent quota reserved in its gross national product. Concerning the amount, Turkey is the third-most generous state in the world after the U.S. and U.K. We provided TL 310 million ($109.7 million) in cash to 200,000 Syrians through the EU's ECHO humanitarian aid program, World Food Program (WFP) and Kızılaycard. In-kind aid to Syria is around TL 1.5 billion and 20 trucks of aid are delivered to Syria on a daily basis. In the upcoming term, a significant part of the 6 billion euros given by the EU to Ankara to be spent for Syrian refugees is to be coordinated with the Turkish Red Crescent. This is going to be an important channel to increase the Turkish Red Crescent's capacity. The Turkish Red Crescent's humanitarian operations in Turkey amount to about TL 50 million. For Turkish citizens who are victims of terror, we delivered humanitarian aid to 10,000 families. Aid has also been delivered to 5,100 families and their payments are made on a monthly basis.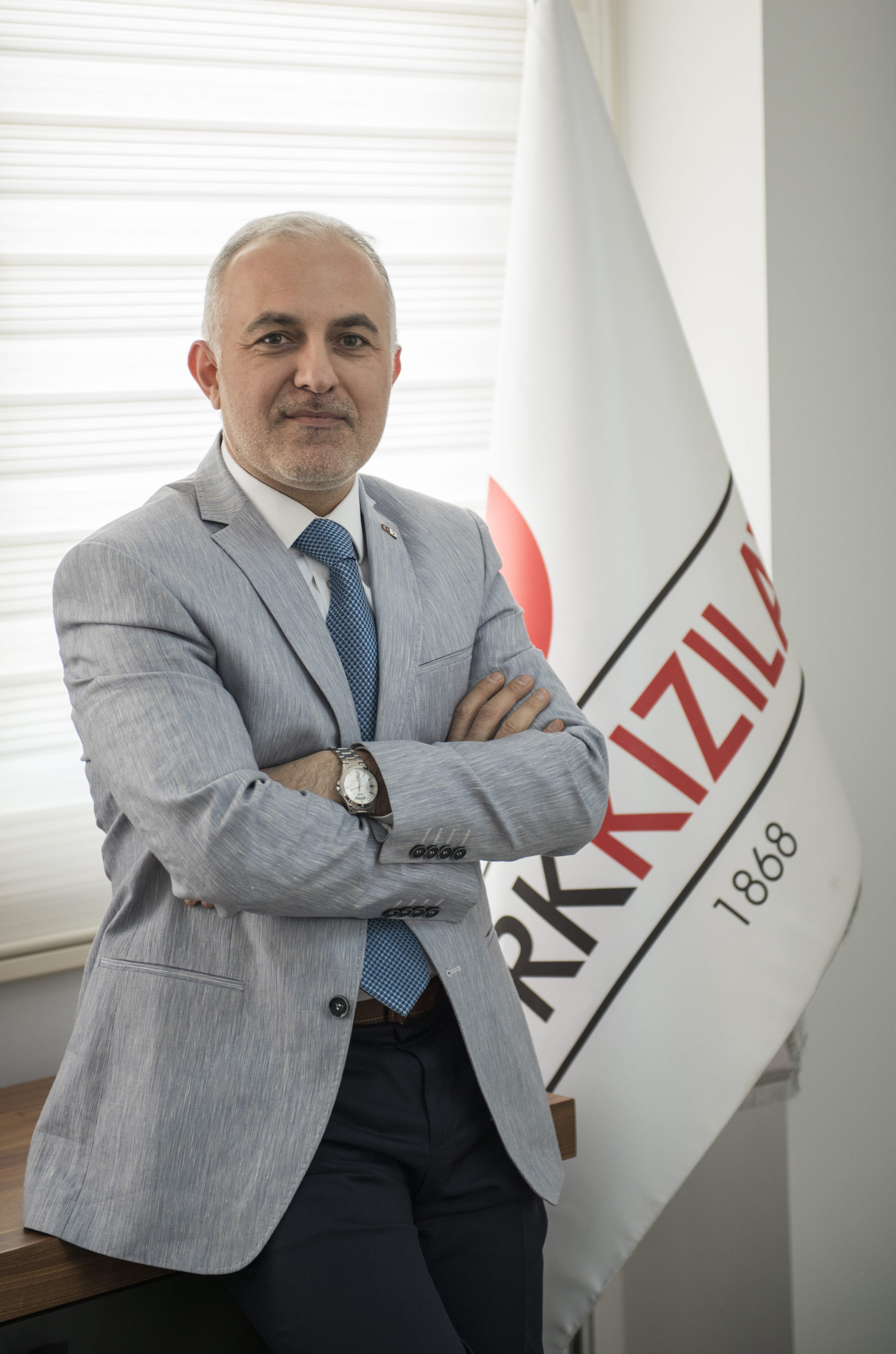 D.S.: What are the problems you face in international platforms while delivering aid?
The biggest problem is the security of our personnel in human disaster areas involving terrorism. The financing crisis is also a huge problem as it is still bigger than humanitarian aid. The respond rate in our application for electronic exchange of information in humanitarian aid calls (APPEL) are not so high. According to 2015 data, there is humanitarian aid that costs around $26 million, but the necessity is higher than that. There are 65 million registered refugees and 230 million migrants around the world; the aspect of the crisis is significantly high. Humanitarian aid is insufficient in terms of financing to prevent crisis.
D.S.: What are the Turkish Red Crescent projects for 2016 to 2020? What kinds of reforms will we see in the Turkish Red Crescent's humanitarian aid work?
We have a strategic action plan for 2016 to 2020 and humanitarian aid in Turkey and abroad are included in this plan. The general mission is blood donation. As part of the Secure Blood Provision project, we aim to increase our 2 million units of blood donations to 2.5 million and supply the entire blood necessity across the country. Up to the end of 2017, in cooperation with the Health Ministry and blood industry, we put the Plasma Fractionation Plant into practice to end external dependence on blood products. Concerning stem cells, we aim to provide 80,000 stem cell donations in the upcoming period. We also would like to change the Turkish Red Crescent's stance on natural disasters, as we aim to decrease disaster with precautionary measures and increase capacity for intervention. Getting out of the passive humanitarian aid model such as food and clothing aid, we aim to fight the reasons behind poverty. The agenda also includes projects to develop disadvantaged people such as women and the disabled and maintain regional development, such as in the southeast. Projects for elderly care such as increasing the number of nursing homes are also among the topics we are going to focus on in the upcoming period. We also aim to create a hospice system to look after terminal patients at their homes with intensive care. We will build healthy living units. Projects to increase our youth centers around Turkey are also on our agenda. Another significant project we aim to accomplish is volunteering. We aim to have 2 million Turkish Red Crescent volunteers by 2019. The numbers are now very low. We aim to have educated volunteers that have knowledge of first aid. The Turkish Red Crescent will also be in primary school curriculum as we continue our protocol with the National Education Ministry. Internationalization is another project that we give importance to in order to turn the Turkish Red Crescent into an effective order-setter in international platforms. Humanitarian diplomacy, humanitarian peacemaking and conflict resolution measures to increase security will be topics that we will be more active in. Migration service is also among our projects, as we now have three public centers to help refugees and migrants get adapted into society and to stop migration at its source. With the financial aid package from the EU, we will increase the number of those public centers to 16.
D.S.: Is the number of blood donations increasing compared to past years? What kind of projects are being carried out to encourage public blood donation?
The Secure Blood Provision project that started in 2005 yields. In 2005, the number of blood donations was around 300,000 but now it has increased to 2 million. Turkey needs frequent blood donors. Increasing the number of blood donors is our first priority. The number of female blood donors is also not enough. What we have done to increase blood donation is to raise awareness in society at an early age as we try to get young people to donate blood. Four out of every 1,000 people frequently donates blood in Turkey; we need to triple it and make half of them frequent blood donors to provide all necessary blood donations in Turkey.