Hundreds of people rallied outside a 1920s-era former telephone exchange in Moscow, decrying a plan to demolish the avant-garde landmark and build luxury flats.
But days later, developers started ripping out the building on a central boulevard anyway, watched by a disconsolate crowd of activists and locals.
"How can they destroy this? I don't understand," said local resident Yelena Khmelevskaya, walking her two dogs.
She lunged at a representative of the developers relaxing in a chair on the pavement, shouting: "Get lost!"
Passions are running high as activists and locals battle to save Moscow's world-renowned "Constructivist" buildings - some of which, like the telephone exchange, lack any legal protection.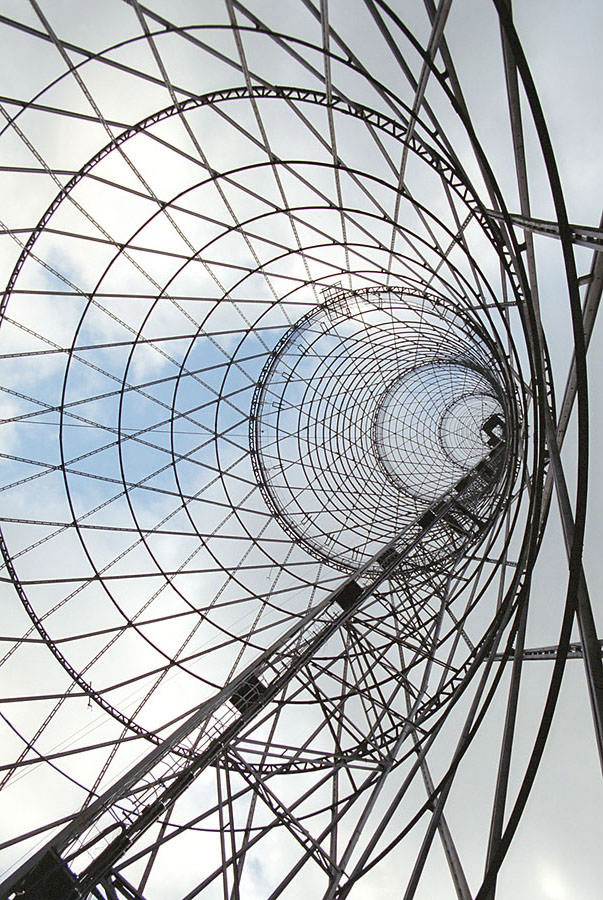 Shukhov Tower was built in 1922 in Moscow.
The Constructivist movement that espoused minimalism and innovative use of space flourished briefly in the 1920s when the Soviets supported such ideas. Architects brought to life geometric designs with innovations such as communal dining rooms and rooftop solariums. Today many are in a poor state and developers often prefer to completely rebuild them or pull them down altogether.
"This style [Constructivism] is something we should be proud of, but we just go and destroy it," said Mikhail, a 23-year-old architect living near the telephone exchange.
"It's an architectural disaster."
- 'Nothing gets done' -
Another striking landmark, the 1930 Dom Narkomfina apartment building, has signs warning drivers not to park nearby because of chunks falling off the facade. Designed for finance ministry officials, it was one of the first buildings to feature split-level living space, open walkways and a flat roof.
"This building has not once been fully renovated, of course it needs care, all the more so as a building of world significance," lamented art historian Darya Sorokina who leads tours of the residential building.
"Nothing gets done, year after year."
The telephone exchange that fell victim to developers was built in 1929 with soaring ceilings and distinctive slit windows, designed by architect Vasily Martynovich. But Moscow's cultural heritage department ruled it was not worth saving, saying it was not functional or appropriate to the area. The supervisor of the demolition works, Alexander Malinin, told AFP that "all the documentation was drawn up fully legally."
"This is not a listed building, there is not one document that says so," he said. Activists complain that officials prefer period buildings with many decorative elements and fail to protect Constructivist landmarks, which are seen as too Soviet or simple-looking.
But Constructivism is one of the few styles born in Russia and is seen as a unique contribution to world architecture, preservationists say.
"It's absurd," said Sorokina. "In Moscow, the birthplace of Constructivism and the avant-garde, with probably the most outstanding buildings of the time, we're fighting against their demolition."
Activists count some successes, however. A government plan to demolish an iconic radio tower, the Shukhov Tower, was halted after an international outcry. The public got wind of the threat to the telephone exchange only weeks ago and swiftly organized a protest via Facebook posts with a black-and-white stylized image of the building.
They gathered more than 35,000 signatures through a Change.org petition and persuaded top architects to sign an open letter to the mayor.
"We didn't get any official answer from the owner of the building, and we didn't get an official answer from the authorities," said Lyudmila Malkis of Arkhnadzor architecture preservation group.
Unidentified youths even tried to disrupt one of the protests against the demolition, throwing stones at the windows and setting off a smoke bomb. The developers Lider Invest plan to build a seven-story neo-Art Nouveau apartment complex topped with owl sculptures.
"It just doesn't make sense to demolish a perfectly good monument of Constructivist architecture to build a fake historical building," said activist Natalia Melikova.
- 'What's beautiful about it?' -
Not all agree with the fuss.
"It doesn't function, what's it for? What's beautiful about it?" one woman said, hurrying past the exchange. Many Russians see modernist buildings as ugly - reminiscent of boxy pre-fabricated blocks later thrown up across the Soviet Union, said Alexandra Selivanova who heads Moscow's Avant-Garde Center.
"In our mindset, a building with pillars is always better and more significant," she said, laughing. The activists themselves concede they reacted too late in the case of the telephone exchange.
"We made a mistake because we knew about this for a long time - with this building, we were four years late," architect Nikolai Lyzlov, a prominent city architect, told a meeting of activists. "We must not cease our efforts."