The holy month of Ramadan began last week, and most of the world's 1.6 billion Muslims will observe fasting from the dawn to the sunset for a whole month. Between dawn and sunset, observers refrain from all food and drink, as well as other physical pleasures like cigarettes. Around the world, people are encouraged to give more support to the needy during the month of Ramadan. Many Turkish aid organizations deliver relief packages or hold iftars (fast-breaking meals) in different countries.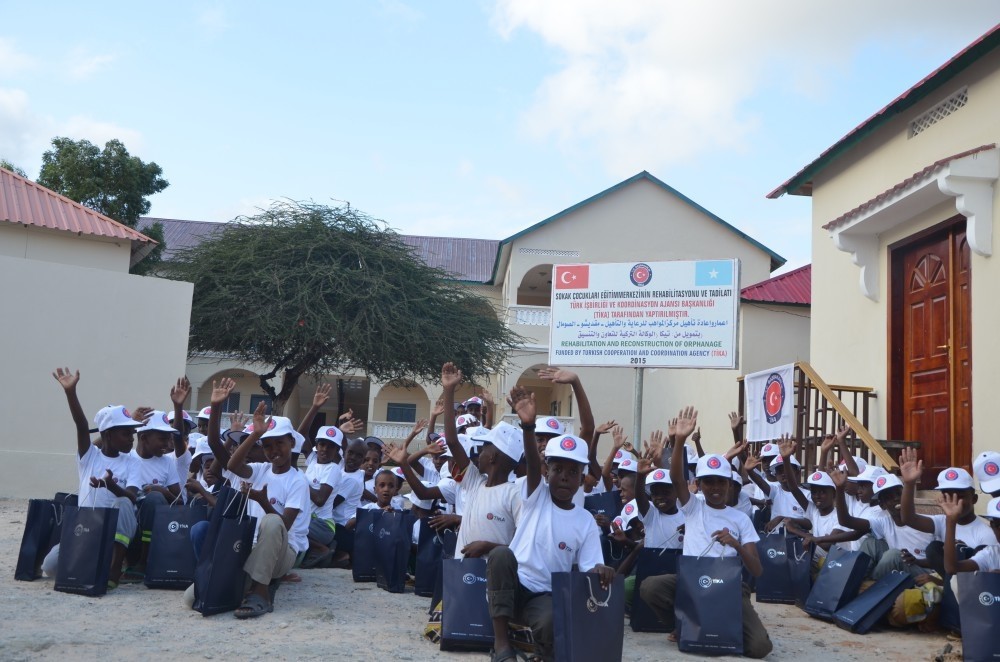 TİKA has distributed Ramadan gift packages to children in orphanages in Mogadishu.
Refugees taking shelter in Turkey as well as abroad are among the main recipients of Turkey's Ramadan aid. The Turkish-Islamic Union for Religious Affairs (DİTİB) is assisting refugees in European countries during Ramadan. More than 1,000 refugees, a large portion of whom are Syrian, are served iftar at certain mosques in Köln, Germany. In Turkey, local municipalities are organizing public iftar meals for Syrian refugee families, with the meals including soup, stew, pudding and juice.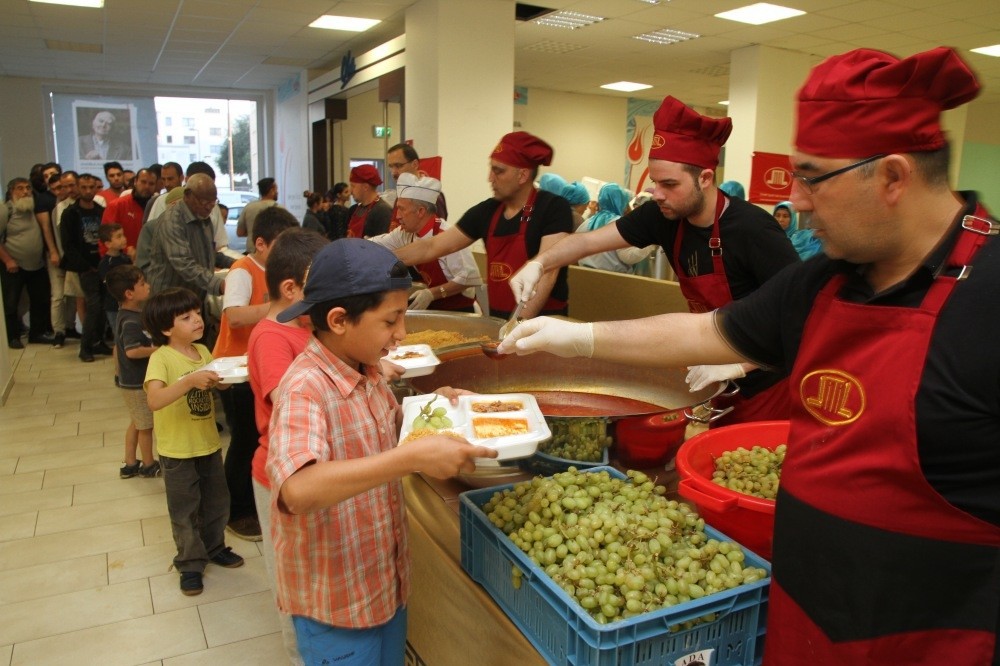 The Turkish-Islamic Union for Religious Affairs serves iftar at mosques in Köln.
The Turkish Cooperation and Coordination Agency (TİKA) has distributed gift packages to children staying at two orphanages in Mogadishu during an iftar event. In efforts to improve education opportunities in Somalia and reintroduce orphaned children to society, learning centers and orphanages are in service. TİKA has also organized an iftar meal for Afghan children at Istanbul Friendship Orphanage on the first day of Ramadan.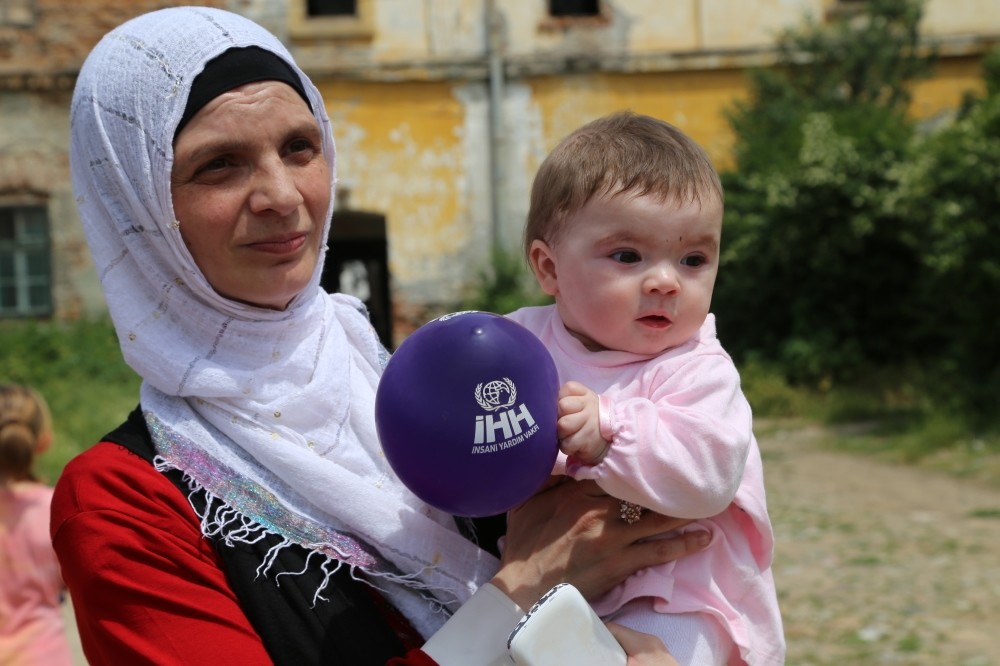 The Humanitarian Relief Foundation (İHH) kicked off its Ramadan campaign this year with the motto "Kardeşliği Hisset" (Feel the Brotherhood). This year, the organization with its mobile food houses will serve iftar to around 50,000 people in 25 cities. The İHH will deliver Ramadan aid to people in need in 69 countries, and aid packages will be received by hundreds of thousands of people. In Syrian cities, notably Aleppo and Idlib and certain refugee camps, the organization will hold sahurs (the pre-dawn meal, before fasting begins) and iftars.
Since their establishment,the İHH's Ramadan aid, with the support of Turkish volunteers and charitable people, has reached out from the Middle East to the Balkans, and from Africa to Asia. The İHH has traveled 640,000 kilometers throughout 96 countries and 360 cities worldwide as well as 79 provinces and districts in Turkey. Volunteer teams which were appointed both overseas and within Turkey have distributed aid packages according to identified needs, organized iftars, distributed donations, provide healthcare assistance and also implemented permanent projects.
Another aid organization, Yardımeli International Humanitarian Aid Associations, helps people during Ramadan, providing them with iftar as well as with food and clothing donations. Every Ramadan, the association holds two big iftar feasts - one in Istanbul and the other in Jerusalem. The conventional "Jerusalem Iftar" is organized for Palestinian people, while the Istanbul iftar brings together benefactor families with poor families.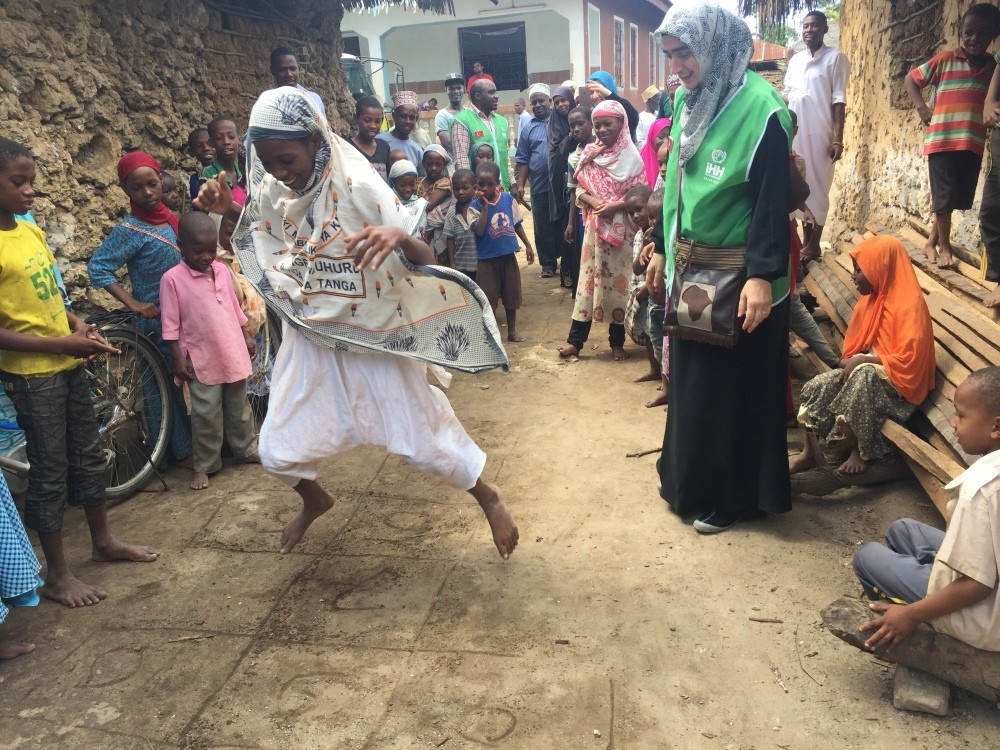 The Turkish Diyanet Foundation (TDV) distributes food supplies to people in war-torn Syria as well as Rakhine, Myanmar in Southeast Asia. The TDV will be distributing 8,050 packages of humanitarian aid and serving iftar to 14,500 people in Rakhine. Mustafa Tutkun, the head of the TDV, previously told Anadolu Agency (AA) that the group will serve iftar to refugees in Turkey during Ramadan. Through its "Time to Help Syria" campaign launched in late 2012, the foundation aims to ease the woes of the war-torn country.
Another nongovernmental organization that assists people in need is Cansuyu Support Association which delivers Ramadan aid around the world. This Ramadan, the organization is active in 35 countries from Asia to the Middle East. The association is also helping out people living in regions with water scarcity. Waters wells have been established to help the needy.
Treating thousands of children with Leukemia for free, the Foundation for Children with Leukemia (LÖSEV) in Turkey is distributing Ramadan aid packages to more than 20,000 children with Leukemia and cancer, including food, clothes and stationary items. The foundation is also holding iftars for these children's families, especially those in need.