Bihter Türkan Ergül is one of the best known professional perfumers and has gained huge success in a relatively short time. After her talent was discovered by her mother, she set off on a long path that would continue for a lifetime.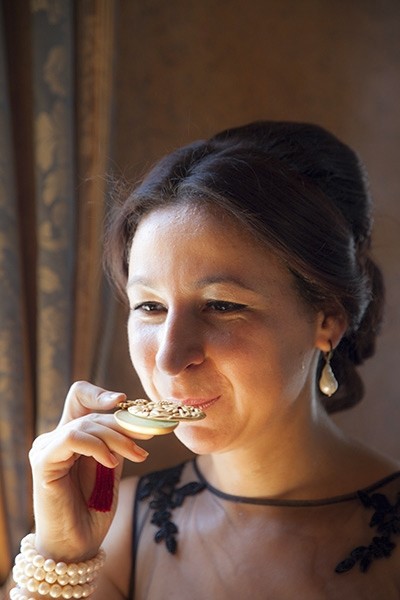 Ergül has a great customer portfolio including famous Hollywood stars, world leaders, artists, politicians and scent devotees all over the world. Being a fragrance designer, she uses high quality scents, some of them from Turkey and some from other countries in the world. Ergül makes some of the scents herself. She conducted research in Ottoman archives to shed light on some peerless perfume formulas used by sultan and sultanas in everyday life and for special events and ceremonies. In her book, "Mis Kokulu" (Fragrant) she takes a different approach to scents and perfumes. One of her most assertive works is the perfume that is personalized for each unique person, including the name of the individual. There is the allergy risk of synthetic products that most people use and some people can't use perfume for health reasons. However, she uses natural scents for her fragrance and doesn't use any additives or preservatives in the products. Ergül shares her experiences with the public in seminaries that she conducts every month. However, her attempt to share the value of natural scents on the international stage will put her career over the top. She founded the Association of Fragrance Culture and, now, she is the inventor of "World Fragrance Day," which has been proposed for approval to the U.N. Educational, Scientific and Cultural Organisation (UNESCO).
Happy World Fragrance Day
The Association of Fragrance Culture proposed "World Fragrance Day" with the support of the Culture Ministry as a project to UNESCO, celebrated on June 25. Tomorrow is the second celebration of the day. The first celebrations were held last year in Ihlamur Palace, which Ergül defines as a flora in which all the examples of fragrant flowers and trees are found. "Byzantine King Leo III the Isaurian says that the flower of Istanbul is the judas tree and her scent is linden. Ihlamur Palace represents Istanbul with its flora. Almost every plant and flower in Istanbul can be found in this Palace," she said. There is no celebration this year due to Ramadan, but next year there will be a special event held at Ihlamur Palace again. In our interview, Ergül said that UNESCO will approve the project as they want to see the continuity of celebrations. Ergül says that she believes Istanbul will regain its reputation for fragrances: "Despite France being known as the capital of fragrance of the world, I believe that Istanbul will again be the capital of fragrance."
Ottoman fragrance becomes popular again
As a sociologist, Ergül conducted research for nine years and shed light on the cultural traditions of Ottoman fragrances. The benefits, the psychological effects and medical use of scents are the focus of this research. These beautiful and unique fragrances were introduced to the event last year. Rulers of the Ottoman Empire as well as the grandchildren of Sultan Abdülhamid II, Harun Osmanoğlu and his daughter Nurhan Osmanoğlu participated in the first traditional celebrations that were held. The event is a good opportunity and a historical step for the recognition of the culture of Ottoman fragrances. Ergül said that there will be many projects in Turkey, Bulgaria, Germany, Italy and the Netherlands, which will aim to increase the popularity of Ottoman fragrances all around the world.
'A historical treasure comes to light'
Fragrances had a strong place in Ottoman ceremonies. Beautiful scents were used to preserve the relationships between members of the divan and folk. Fragrances also represented prestige, respectability and the mercy of the Sultan. Ottoman sultanas were famous for their scents, as seen with Hürrem Sultan and Kösem Sultan, who used rose, lavender, linden, carnation and jasmine in their scents. Ergül says that she uses 70 grams of lavender oil to massage her feet daily, making the ground she passed over smell like lavender.
Sociologist Ergül tries to adapt forgotten Turkish traditions to our day-to-day lives through the archive in Topkapı Palace. The prayers for Eid al-Fitr were attended by the sultan and grand viziers along with the folk. And then in the ceremony, statesmen listened to the problems of ordinary people, supplied their needs and received their blessings. During bayrams, financial aid was distributed and presents were bestowed upon them. The court ordered that fragrances be prepared and distributed to the military and scholars. During the exchange of greetings at eid, that passed into oblivion for 132 years, the government presented Muslims and non-Muslims with fragrances prepared from oud, geranium, saffron, amber, musk and rose. Ergül adapts the recipes of these fragrances from Ottoman archives, making them useful today.
Fragrance culture conferences in Topkapı Palace
In Topkapı Palace, the Ottoman Fragrance Culture Conferences will be held on Oct. 6. World-famous specialists will come and make presentations. A conference series about fragrance culture will also be held in Berlin, Napoli, Budapest and Amsterdam between October and December and participants will be informed about the unknown aspects of the mysterious world of fragrances.
Atelier workshops to be continued
Ergül says that she never gave up her atelier work to discover the unknown scents and perfumes that are familiar. In these studies, conducted on a monthly basis from Ergül's atelier in Beşiktaş, the participants will enjoy testing new scents and learning their properties and their effects on human psychology. The participants also learn the secrets and technicalities of personalized perfumes. Ergül says that they thoroughly discuss the importance of scents in our life and discover the right scent using techniques in the seminaries. "We will continue to keep the scent culture alive in Turkey with our educations seminaries and ateliers work outs," she concluded.