The popular video sharing site YouTube is becoming an increasingly popular way to earn money, especially among young people. The annual profits of YouTube channels created by young people who are interested in this field and whose subscribers have reached 1 million or more start at $10,000 and reach up to hundreds of thousands of dollars. For Turkey's youth, the scene is similar as more users turn their eyes and ears to YouTube.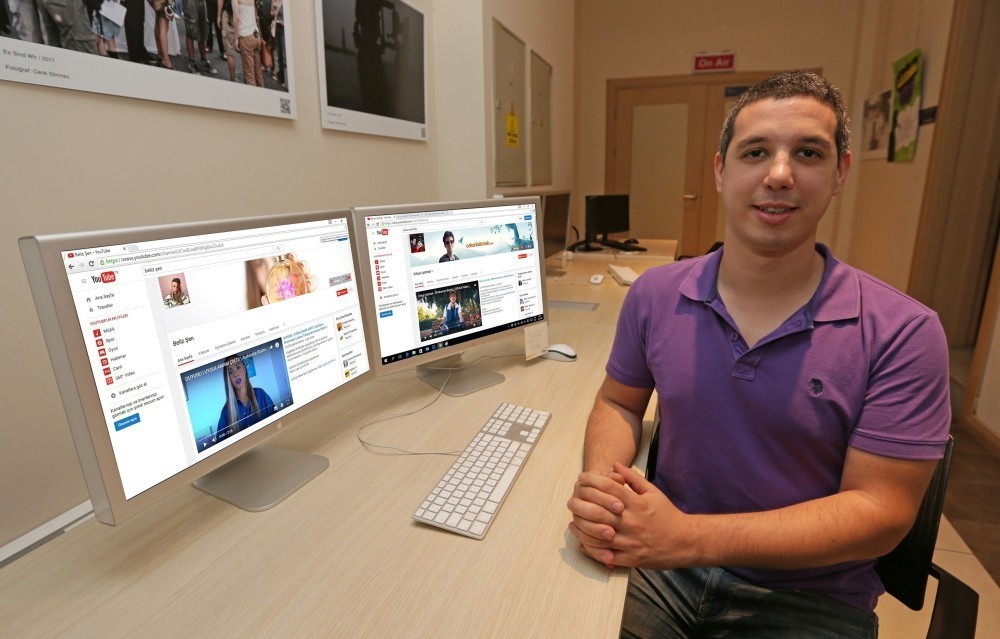 Göker Gülay of the Yaşar University Faculty of Communications' Public Relations and Advertising Department, said that YouTube offers its users ways to upload regular videos and reach a target number of subscribers and views, giving them a chance to earn money via advertisements: "The new media platforms draw many people to YouTube and the social internet community. However, it is not as easy as it looks to create your own video content, earn money from this and become the boss of your own business. There are many factors that affect a person's success rate. The most important criteria are to take a share of advertising revenues, which is directly related to your viewing rate and the number of subscribers. These numbers determine the amount of profit you could receive; ranging from small amounts of pocket change to thousands of liras," Gökay said.It is no secret that watching videos online has become as common as watching TV.
Gülay said the rate of watching videos online is high especially among young people. According to YouTube's data, the rate of video viewing through mobile phones doubles each year. "A majority of YouTube users consist of high school and university students. Online videos magically escalate the power of each environment it is show, which was mostly affected by the human sounds and movements within the videos," Gülay said. "The human brain is very sensitive towards visual stimulus. That's why when we stare at a screen it is as if we have been hypnotized. For example, the rate of opening emails with video attachments is a few times higher than normal email opening rates. Other data suggests that people have a higher tendency to order a product that was featured in an advertisement during a video. Therefore, the rates of viewing, watching, clicking, following, and selling make positive contributions to almost everything."
Many users around the world who have created online videos are becoming increasingly popular and started to earn a great deal of money due to high viewing rates. Another reason for this is the fact that YouTube gives a share of its advertising revenues to popular users along with the partnership implementation. Stressing that there are many factors which affect the overall success rate, Gülay said the world's number-one example is Swedish Felix Kjellberg, who has a YouTube channel called PewDiePie and has reached nearly 48 million subscribers with his uploads. He is known to earn $12 million annually in YouTube-derived income alone. "Sharing clues and comments about computer games and having recently signed a contract with Walt Disney, Kjellberg's videos have been viewed over 13 billion times," Gülay continued.
"The most important factor that attracts viewers is originality. In addition to covering a brand-new subject in a video, interpreting a well-known or cliche subject from a different perspective is one of the ways to prepare an intriguing video," Gülay said, suggesting that nothing which violates copyright laws should be included in videos and emphasizing that YouTube is very sensitive to copyright infringements and monitors video content using algorithms. "Therefore, the most popular ones are experiments and "how-to" or "do-it-yourself" videos," he added.
The next important factor is that viewers tend to look for real, natural videos as opposed to acting as shown on TV: "The videos that are successful enough to create a connection with viewers might be more popular," Gülay added. "Now viewers pay attention to the production quality. During the first years of YouTube, the visual quality was not that important but now it is essential. Most 'YouTubers' have to deal with décor, lighting, scenario and plot all by themselves and a basic equipment support is needed for all of these. A serious pre-production process is a must when making high-quality videos."