Living in his old minibus parked on the edge of the industrial estate of Bodrum in southwestern Turkey with his 13 dogs, this 56-year-old man has become known as the 'golden retriever man' of the touristic district.
Şenol Özbakan has been looking after homeless and abandoned golden retrievers in Bodrum for quite some time now. The number of retrievers he took care of last year was five and now he lives with 13 of his 'children' in their minibus home.
Also known as Şenol Captain in Bodrum, the old boatswain said that every afternoon he and his canine friends go to the beach for a swim to cool off in Bodrum's scorching temperatures and then go for a walk along the marina.
The sight of all of them swimming usually attracts a small crowd with smartphones at the ready.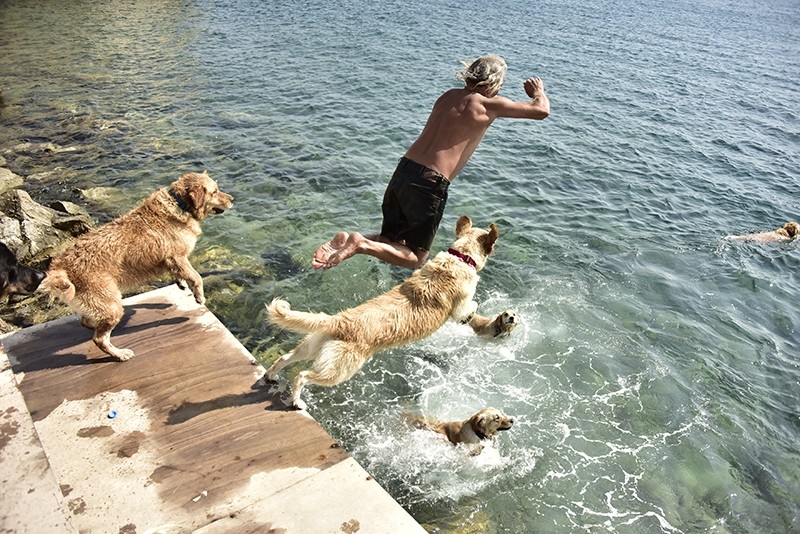 "There are people waiting there for us, we sit and chat for a couple hours and then go back to our home," he added.
He also said that he loves 'adopting' street dogs whom he takes care of individually and has always had an interest in animals.
Özbakan says that with his daughter's help they set up a page on social media site Facebook named 'Golden Çetesi' (The Golden Gang) and already has 13,000 followers.
He also sells hand-made beaded jewelry on the page, using the proceeds to take care of the dogs' needs.
"There have been many people from Canada, the U.K., the U.S., France, Saudi Arabia as well as people from all across Turkey coming to see the dogs. We upgraded our bus with the help of our jewelry sales. People passing by also try to help us," he said.
Expressing that the help was much appreciated, he said that it was much more peaceful living with animals instead of people.
"There is no need to talk about all the cruelty and brutality inflicted by humans in the world. Animals want nothing, only love. I condemn the people who threw these dogs onto the streets. We receive help from all over the country."
Despite having no income apart from that sent by family and his proceeds from his jewelry sales, well-wishers and animal lovers donate enough to provide sacks of dog food. Özbakan also said that he put money aside in a bank account for the dogs to provide for them in winter.
His 20-year marriage had ended over three years ago as his wife did not share his love of dogs. He later moved into his Peugot minibus and started to live a new life with his golden retrievers.