A teenage tea-seller in Pakistan with blue eyes and attractive looks has been showered with modelling offers by the country's top brands in a dramatic turnaround of fortune after his photo became an overnight internet sensation.

Arshad Khan, 16 years old, woke up to fame on Monday across Pakistan and neighbouring India. Social media was flooded with his pictures and comments on his likeness to Bollywood stars.

The hashtag #chaiwala, meaning tea-seller, was trending on Twitter in both countries.

A female photographer from the Pakistani capital of Islamabad had taken his photo while strolling through the city's Sunday market or Itwar-Bazaar last week. She had posted it on her Instagram account, with the remark "hot tea" and a smiley face icon.

Arshad said he was not aware of the moment when his photo was taken, but by Tuesday, the young vendor was being treated as a star with local and international media lining up for interviews.

"I don't know about the lady but want to meet and thank her," Arshad said of the woman whose picture gave him near-instant fame.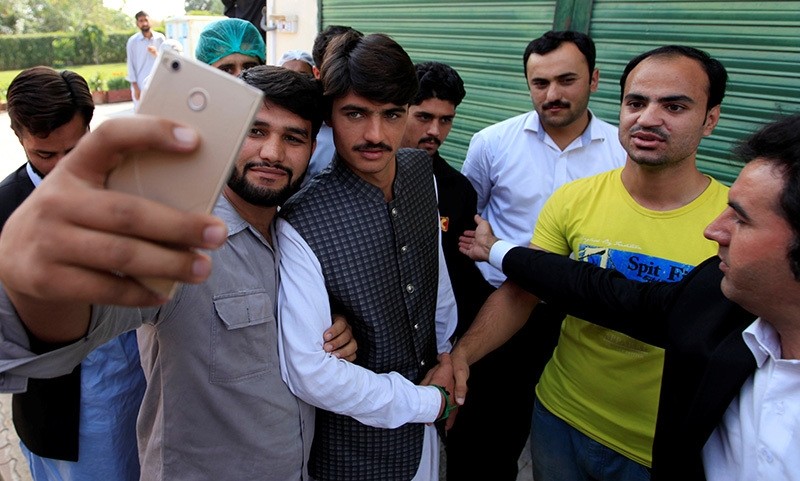 Arshad Khan (C), formerly a chai wala (tea seller) by profession, posses for a selfie with fans after doing a television interview in Islamabad, Pakistan October 20, 2016 (Reuters Photo)

"We are very happy and thankful to the lady who took the photograph," said Abdullah Khan, a friend who has quickly assumed the role of media manager.

Abdullah tells dpa he has been receiving calls every 10 minutes while managing photo opportunities for the people who come to visit his client.

Arshad finds posing for photos bizarre - particularly when girls ask for a picture.

Chaiwalas usually live a poor life. In Pakistan, a country running on hot milk-tea, they are employed in many households and offices and are omnipresent on street corners and markets.

Now, national companies have offered Arshad modelling contracts.

"I have received offers from Bonanza garments [Pakistan's largest clothing producer], Milli Shoes and Tapal Tea," he tells dpa.

He has also received film offers but flatly refused, saying it was against the culture and tradition of Pushtuns.

His story resembles for many a romantic Bollywood plot.

Arshad's family is originally from the north-western town of Mardan. They later moved to Islamabad, where he was born in a mud house situated in the slum quarters of the impoverished Golra neighbourhood which has no electricity to this day. Khan, one of 17 siblings, has never gone to school.

Now he is known internationally as the chaiwala heartthrob.

"All this feels like a dream", he says. "I don't know how it all happened but have started enjoying it."