English TV series "Black Mirror" taunts us with the possible horrible consequences of modernity and modern society and that is why it is so popular around the world. The first episode of the third season presents a society in which people can vote for each other via their cellphones, thus creating a fake polite society. The episode shows how much people will change to get higher votes, representing today's need for societal approval.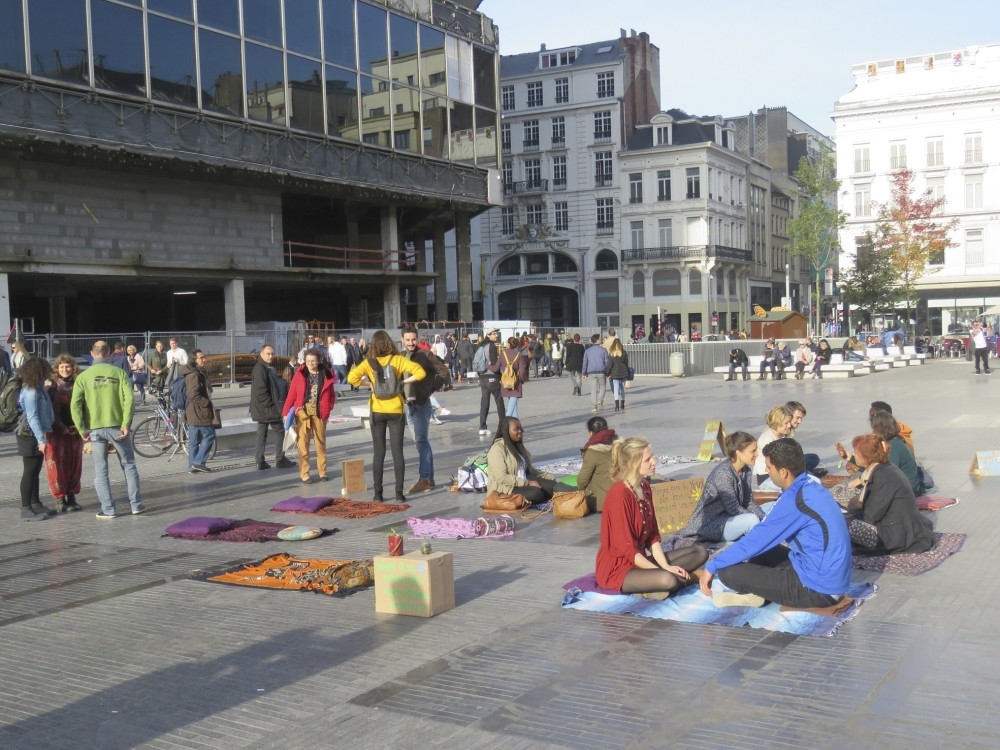 The world's biggest "eye contact experiment" is a move to fight back against similar problems of modernity. "The Liberators" are the global organizers of this experimental event. They claim that their mission is "to involve people in participatory acts of freedom that allow us to see that beyond our differences there is love and humanity." The organizers explain why they created this event: "Our global society has become thirsty for true connection and this experience allows participants to be the change s/he wishes to see in the world by creating an authentic, loving and respectful platform for human connection to flourish in public." The event is set to take place in over 160 cities, including Adana in Turkey, but I followed the one in European capital Brussels, where I live. I will share my personal observations from Europe, where they cover bus seats with plastic because refugees sit there.
Eye contact experiments have become more popular after a social experiment video titled "Look Beyond Borders," which was created by Amnesty Poland. It shows refugees from Syria and Somalia sitting opposite people from Belgium, Germany, Italy, the U.K. and Poland. Amnesty's video touches people's hearts because by the end emotions on both sides change dramatically, from anger to love, hate to hospitality, with faces varying from crying to smiling.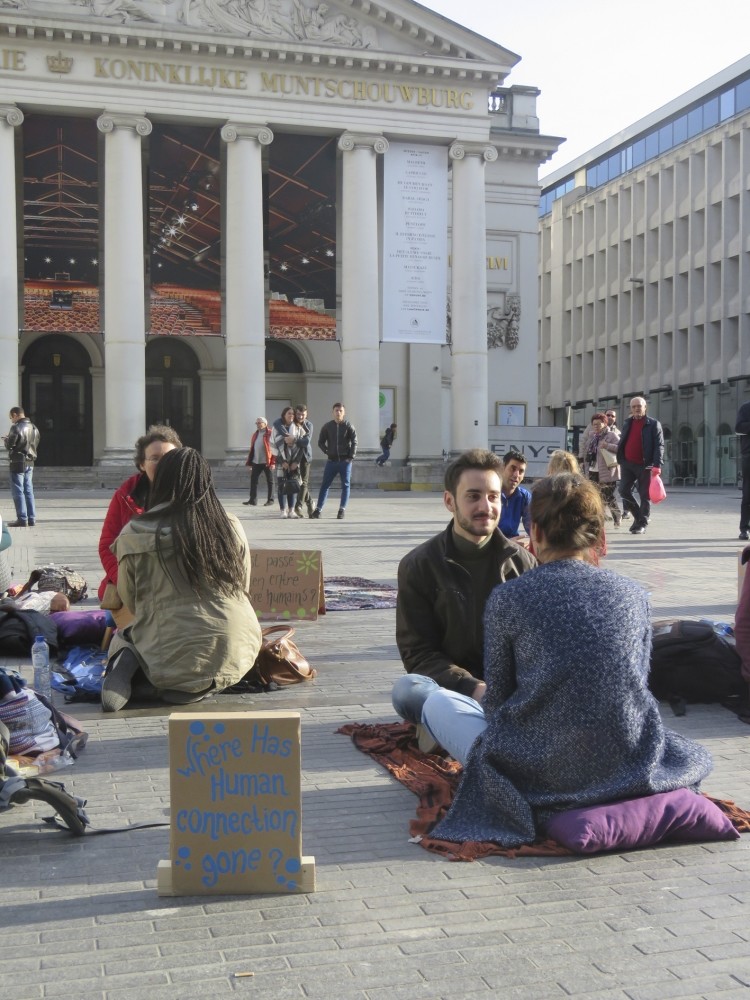 On one hand, different nongovernmental organizations (NGO) from Western countries launch new pro-refugee campaigns and fight against racism in Europe and Eurocentric understanding. Amnesty Poland's campaign is an example of that. On the other hand, xenophobia is rising throughout Western countries and right-wing parties gain strength. An example is Trump in the U.S. presidential elections, Le Pen from France, Wilders from the Netherlands and the Brexit results from the U.K.
We read hate crime stories related to Islamophobia or xenophobia issues from all over the Western nations every day. Every single country I mentioned above has increasing hate crime rates, some of them reaching historic highs. Belgium declared terror threat level 4/4 after the airport attacks, maintaining it for two days. This was on the same level as World War II, when a huge part of Belgium was occupied or bombed by other Western countries. The current terror threat level is 3/4 and that is why you can see armed soldiers on the streets and in metro stations, and huge army vehicles on the roads.
The Liberators came forward and arranged their huge global event to cross borders on Oct. 29. To organize the world's biggest eye contact experiment in this political and social environment has vital importance but the question rushing into our minds is, "What is the reality of Western society?"
I went to one of the most famous squares in Brussels, home to the royal theater, in front of the La Monnaie / De Munt, around 2 p.m., just before the event started. The square is between the Bourse and De Brouckere, which is the most crowded and tourist-oriented place in Brussels. The area has become more congested because of the shopping street Rue de Neuve to the north, especially during the weekend. I was expecting a very busy event because of its location and the political/social characteristics of the city, but I was surprised to see that it did not have a lot of participants. At the same time, approximately ten couples were sitting on the ground, holding eye contact for a minute, and some of them were meditating together. They were sitting female to male, mostly. I barely saw any different nationalities; participants were usually Belgian.
The most impressive scene that I saw during the event occurred between two teenage girls. A black girl and white girl made eye contact in a very serious silence in the center of the participant group. The black girl had long dreadlocked hair, piercings and tattoos. If you looked at her through a filter of stereotypes, you might say that she was a resident of Matonge (the biggest African neighborhood in Brussels.) As for the white girl, with long golden blond hair, blue eyes and a clean face, you might say she was from the rich Flanders (the Dutch-speaking part of Belgium.) Hopefully, both of them were able to break down some walls; at the end of the minute they both laughed loudly and hugged each other.
We are losing our tolerance for each other and ability to live together. At the same time, borders are becoming more visible and impossible to cross by "others". Can The Liberators break down the walls created by modernity and can we answer the question of why we lost our human connection? It is very hard to answer, but I believe that we need to support each attempt to reach this goal and try to nurture every hope to germinate peace around us. All in all, our duty is to spread salaam all around the world.