A Pakistani prosecutor says a court in Peshawar has ordered that National Geographic's famed green-eyed 'Afghan Girl' be deported.
Sharbat Gulla was arrested 10 days ago over having allegedly forged ID papers and staying in Pakistan illegally.
Prosecutor Mohsin Dawar said on Friday that she faces deportation after five days, when her 15-day jail term is to expire. He says the court also fined Gulla a sum of 110,000 rupees, which is about $1,100.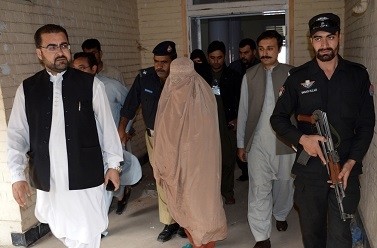 AFP Photo
Gulla gained international fame in 1984 as an Afghan refugee girl, after war photographer Steve McCurry's photograph of her, with piercing green eyes, was published on National Geographic's cover.
In 2014, she surfaced in Pakistan but went into hiding when authorities accused her of buying a fake Pakistani identity card.
Gula's family fled to Pakistan with thousands of Afghan families when the Soviet Russian forces invaded Afghanistan in 1979.
McCurry photographed her when she was 12 years old and a refugee in a camp on the Afghanistan-Pakistan border.
McCurry did not know her name and despite repeated trips to the region he was unable to trace her.
He finally found her 17 years later, in 2002, in Peshawar.
"The instant I saw her I knew it was the same girl," McCurry told the Washington Post in 2002. "There's such a complexity of emotions going on in her face in that first photograph ... Is it a fear? Is it a trauma?"
With permission from her husband, baker Ramat Gul, Gula removed her burka so McCurry could take an updated portrait, her face still mirroring the trials and hardships of her country's two decades of conflict.