Master carpenter Zeki Satıcı and his wife who helps him creating mesmerizing woodwork for mosques have been producing minbars, mihrabs and daisies for many mosques in various cities as well as miniature mosques and tombs
Adorning a number of mosques across Turkey, handmade mihrabs, mimbars and daisies carved by master carpenter Zeki Satıcı, a native of Aksaray province with the support of his wife, are beautiful niches of woodwork created by the couple from inside their garden workshop in Aksaray where they have worked for 30 years as masters of their craft, providing beautiful ornaments for Turkey's most sacred structures.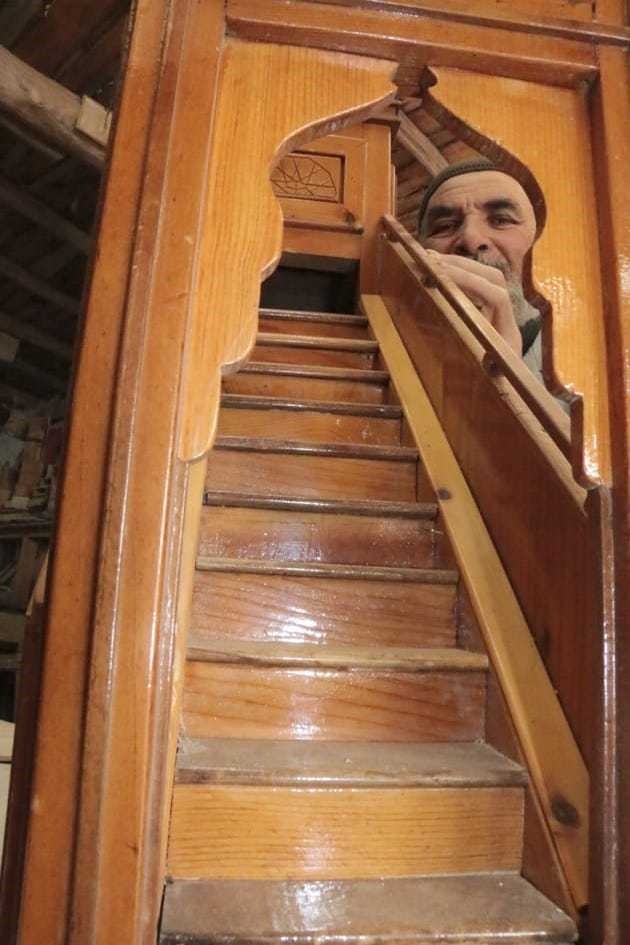 Zeki Satıcı sends these unique artisan pieces to mosques across the country, all of which are made in his personal workshop and inspired by a lifetime of experience in carpentry.
The 60-year-old carpenter has worked with wood since he was a young child growing up in Eskil, a district of Aksaray province. He also carves wooden replicas of Turkey's most historic sites, the most noteworthy being the Tomb of Mevlana, the Grand Mosque and the Selimiye Mosque. Satıcı says he is also interested in studying the woodwork of Turkey's newly built mosques.
Leaving his mark on mihrabs, mimbars and daisies in nearly 50 mosques located in the cities of Konya, Aydın, Karaman and Antalya thus far, Satıcı says that his biggest supporter is his wife, noting that he hasn't had an apprentice for nearly a decade and has been carving his handmade products in their garden workshop with the single wish that one day he will train someone to carry on his legacy in his workshop.
Speaking to Anadolu Agency (AA), Satıcı said he sent his handmade mihrabs, mimbars and daisies to many mosques in Turkey.
Satıcı said creating these products requires meticulousness and patience, underlining: "First, I curiously asked myself if I could make a model of mosques. My first project was the Tomb of Mevlana, which I completed in five years and turned out to be agood artwork. Then, I made models of the Selimiye Mosque in Edirne province and the Grand Mosque in Aksaray. Both required passion and effort. I completed those projects before I began making mihrabs and mimbars," he said.
Stressing that he truly loves his work, Satıcı said every one of his pieces gives him a voice, making his name known and giving him happiness that grows every time he receives a phone call being notified of new mosque construction projects.
Satıcı also added that woodwork for the niches in a single mosque can take four months to complete, on average. "Those who have seen my previous works call me when they plan tobuild a new mosque. I go and take measurements of the [site],gather the necessary accessories and ultimately deliver the mihrabs, mimbars and daisies. We don't advertise what we do on the streets; to the contrary, we let our art do the talking. The quality of wood we use for our projects is of utmost importance. I primarily use wood from turpentine, walnut and juniper trees as these are sturdy woods which ensure the products sustainability.Craftsmanship is also important. I never leave visible nails in my woodwork;opting to do my work meticulously by the sweat of my brow," he said.
Noting that his first project was completed for a mosque in the southern province of Antalya in the district of Serik, the carpenter said that he has sent numerous mihrabs, mimbars and daisies to at least 50 mosques across the cities of Konya, Aydın, Karaman, Antalya and Didim so far. "As long as I am in good health, I will continue to do this job. I have been working without an apprentice for nearly 10 years. There are not many people who do this job; unfortunately, young people are generally uninterested in this form of carpentry.Thus, my biggest supporter is my wife, who helps me with everything," he said.
Fatma Satıcı, also 60 years of age, emphasized her unwavering support for her husband, saying that the proximity of the garden workshop to their home is one of the most crucial factors in the projects' facilitation process.
"I generally help [my husband] with his work whenever I amneeded. Twenty-four hours a day, seven days a week I am his helper -- day and night -- because he does not have an apprentice. Sometimes I even cook for him. In other words, I support him in every sense of the word. [My husband] has a hearing problem so I even serve as his secretary at times. This is how we support each other," his wife said.