Transforming a basic outline into a sweeping expanse of color, shape and texture, the concept of spray painting has been around since the Neolithic period. Striking examples can be found on the Iberian Peninsula in the southwest corner of Europe, where ancient man used teeth-ground berries sprayed in the shape of hands to decorate cave walls.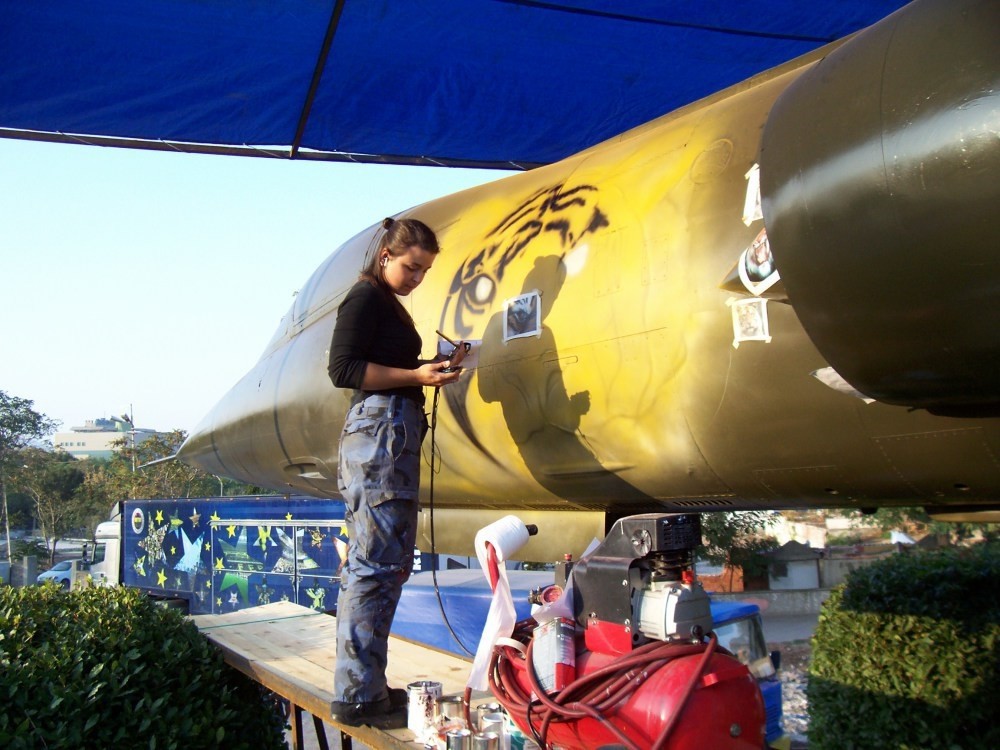 Airbrushing, not considered an "art" for a long time because of its mechanical nature, centuries later secured its place on the art scene. The fad for mural vans in the 1970s was huge, with airbrushed artwork depicting psychedelic figures, scenes from "Star Trek", moonscapes or soaring dragons. Historical accounts report that the first functional airbrush was invented by Charles Burdick of the Thayer and Chandler Art Materials company, who introduced his design at the 1893 Chicago World's Fair.
Now this small instrument connected to a canister of compressed air to spray paint is commonly used by artists and illustrators to introduce realism to their work. This includes Evrim Duyar, 35, a Turkish airbrush artist from the western city of Izmir. Airbrushing cars, trucks, vans and even aircraft, Duyar has been a leading female practitioner in this field for the last 13 years, often achieving a photo-realistic quality in her work. "At the very beginning, I spent quite a lot of time with dyers and workmen at auto repair shops or services [in Urla]. They found it funny and ridiculous when they saw me painting [a car] with an airbrush. After my first work, they realized [it was possible] and took it seriously. But yes, they were really surprised," she told Daily Sabah.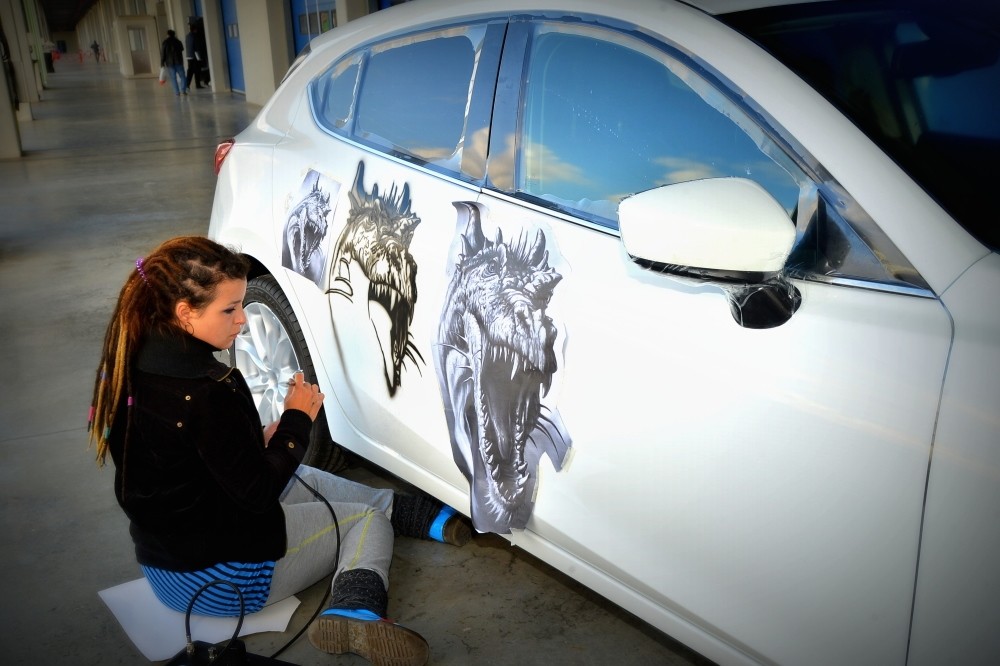 Coming from a motorcycling family, Duyar's devotion to customized cars and motorcycles began from an early age. Also an art enthusiast, the largely self-taught artist trained at a number of studios and found airbrushing to be the only way that she could mix her two favorite leisure activities. "I did not have any special training in airbrushing as there was none in Turkey at the time. I was working for a corporate institution but my job was not satisfying - it was a bad choice. I quit and just focused myself on the work I would love to do."
Widely used in the auto body industry, as well as for adding graphics to motorbikes and helmets, airbrushing catches the eye with a high level of detail. This could be flames spreading out over the front of a car, which was quite popular in the 1950s when hot rods were blazing with brilliant color. The technique is also used for decorating mobile phones, PCs and home electronics today.
To be a good airbrush artist, it is crucial to know with which paints you will be working with. Duyar says that fabric paints are used for work on textiles, while she mostly uses cellulose-based paints in single-action paint guns. The painting process is completed with varnishing.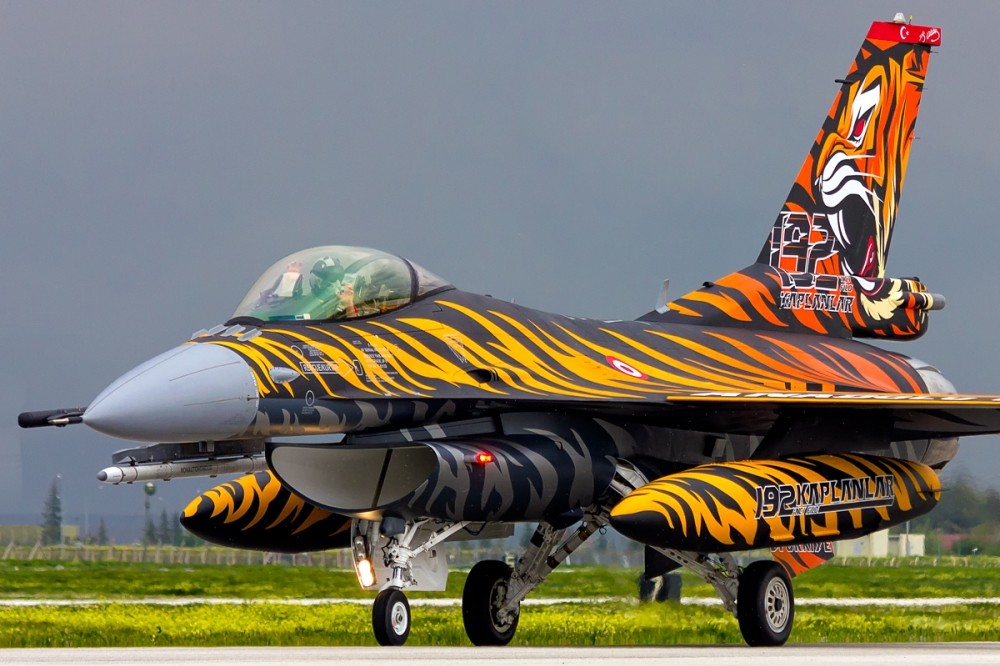 "Some of my customers ask me to perform airbrushing on their car collections. The vehicle I am currently working on is a big Jeep and is the sixteenth car that I have designed for the same customer. It would not be wrong to describe my work as a friendship that you enjoy with long-distance travel. It is quite enjoyable. After designing for multiple cars, I understand my customer's taste and we do not feel the need to talk much about the new one." Duyar will soon begin to airbrush a giant tanker and is quite excited about it. "I have recently joined an innovation show in [southern] Adana city and designed a Temsa bus. It was a lot of fun."
In following her passion, Duyar has joined projects with automobile brands like Renault, Temsa and Mazda and appeared in numerous roadshows and themed-focused presentations. What makes her skills more respected is that she has worked for the Turkish Air Force to paint the aircraft of SOLOTÜRK, a prestigious demonstration team which presents the capability of modern, high-performance F-16 jets. As a member of the airbrushing team, Duyar was part of the airbrush design project for an F-16 aircraft and in the team that painted another F-16. She has added her signature in airbrushing F-104 aircraft, more than 450 F-16 helmets and a countless number of wall paintings. "I was honored to be a part of the Turkish Air Force's project. With all our colleagues, we did great work," she said.
When Duyar receives an airbrushing project, she prepares a draft and shares her concept with the customer. "What I bring to the table is raw material and it is developed after exchanging ideas with the customer. I apply a strategy that is the active involvement of my customers in the creation process. You could call this 'personal vision.' I believe if they participate more, there is a higher chance that they will be satisfied with the work I create," she adds. After agreeing on the final draft, she then takes up the airbrush and helps to realize a dream. Following the motto "practice makes perfect," she said knowledge and experience are just as important as skills and mastery. "I never differentiate my work from another one. I earn my bread and butter from this field but my motivation is that I do this with love, and I like seeing admiration in my customers' eyes."