Kutnu silk, which does not attract as much attention as it used to because of mechanization and the development of ready-to-wear textiles, is attempted to be maintained in Gaziantep with the support of the Ministry of Culture and Tourism. Every type and design of the kutnu silk has its own name such as "sultan," "kerasi," "yellow bowl" and "purple hyacinth." Kutnu, which is a natural silk-cotton blend and has nearly 60 different motifs, is woven at weaving looms and hand looms by craftsmen following in their fathers' footsteps. Some Ottoman sultans used to wear kutnu, which has been woven in Gaziantep since the 16th century despite the rise of ready wear and has been a topic for scientific articles.
A promotion group was also founded for kutnu in 2014 with the initiative of the Metropolitan Municipality of Gaziantep and the Chamber of Industry.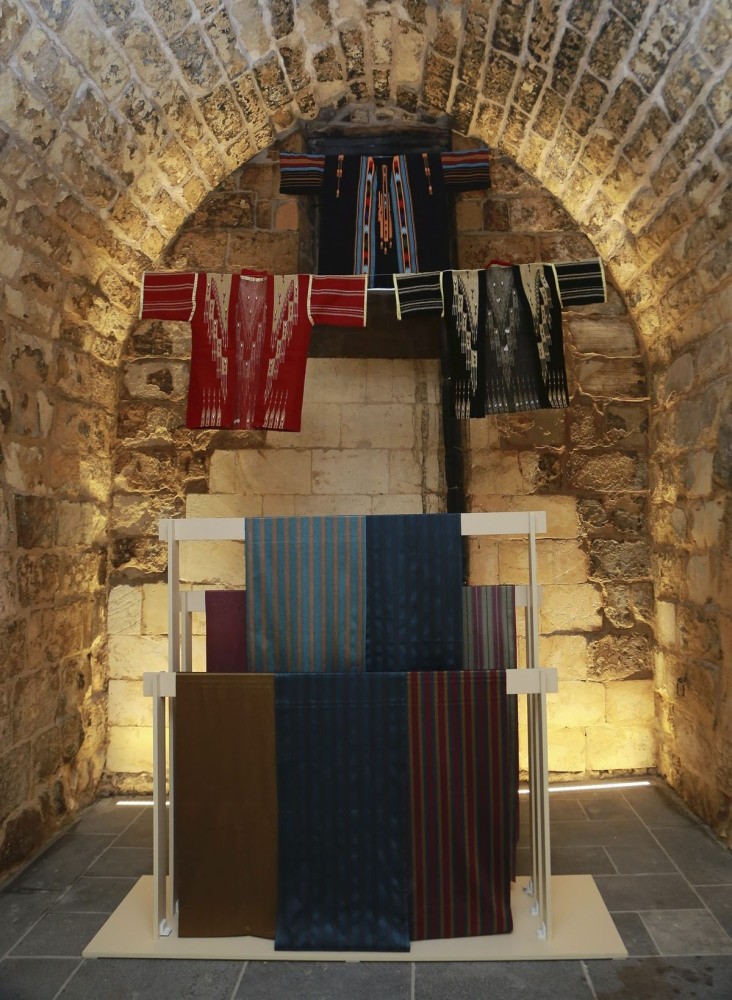 Speaking to Anadolu Agency, 59-year-old craftsman Abdulkadir Mekki, who tries to maintain craft work that is inherited by his father in Budeyri Han, said he has been weaving kutnu since he was 5 years old.
Saying kutnu is a blend of silk and cotton, Mekki also said he started to do this job with a weaving draft, which is about creating the design of the kutnu.
"First, silk and threads are turned into bobbins and hand warp is unwound in an object called "devere." Secondly, they are painted. Then their endurance and brightness is arranged and the next step is weaving draft. The person who is in charge of the weaving draft arranges color and design based on certain rules and then the next step is weaving. Then, they are ironed. Each type of this fabric has its own delicacies. If there is a mistake in the order of this process, the pattern may not be smooth," he said.
Mekki said he is the third generation in this job. "Back then, kutnu used to be woven in Syria. My grandfather's father Abdulvahap Mekki came here from Syria when the Ottoman Empire fell apart and he was a well-known craftsman. My grandfather Sheikh Muhammed Mekki and my father Ömer Mekki, who died in 1992, also did this job and now, I'm doing it," he said.
Mekki added that he is sad there is less interest in kutnu today.
"Elders should take the lead at this point. Also, vocational high schools may have special departments for this job. As children attend high school, we cannot hire any apprentice. To become a at this job, one needs to start training at the age of 7 or 8. Kutnu is a natural fabric, which is obtained from the fibers of the poplar tree. Then we put cotton thread in it. It may not be appropriate for summer, but in winter, it keeps warm. After the printing techniques started to develop 20-30 years ago, there is now less interest for kutnu," he said.
Adding that the price of kutnu varies in weight and design, Mekki said they have woven 1,850 patterns again in the past five years, which have been used since the Ottoman era, thanks to the incentive from the ministry. He added that their last pattern design was "Purple Hyacinth," which has been sent from the Bursa Merinos Textile Industry Museum.
Mekki also said they have woven a type of fabric called "Alacakema," which was presented to the Republic of Turkey's founding father Mustafa Kemal Atatürk when he went to Gaziantep.
Jülide Konukoğlu, the president of Kutnu Promotion Group, said they aim to maintain and hand down kutnu to the next generations, reminding that it is the famous fabric of Gaziantep, a city which hosted numerous civilizations throughout history.
Konukoğlu added that they want to popularize the use of kutnu, which is kept in dower chests or used in traditional clothes or accessories with touristic purpose.
"The aim of Kutnu Promotion Group was to increase the variety of products when it was first founded in 2014. While there were only certain products, which are produced in small quantities such as scarves and ties, more than 450 designs were created after Kutnu Design Atelier started to operate. We made huge progress on our way to move kutnu from the local sphere to the national and from the national sphere to the universal," she said.