Giving a voice to different musical instruments including, the santur, guitar, tanbur and lute, musicologist Ozan Özdemir is working on bringing some ancient instruments back to the modern musical canon by making replicas of old classic instruments as well as new ones.
A musicologist from İzmir, Özdemir recently designed a musical instrument that uses tortoise shells inspired by an instrument dating back some 3,000 years and known as the predecessor of the santur.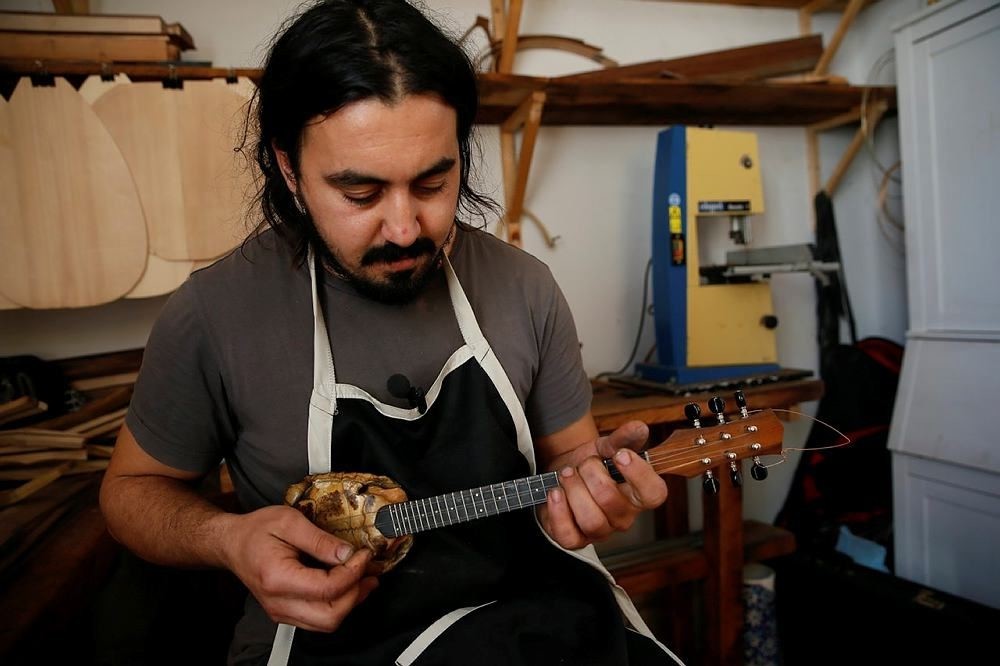 A student of musicology in the Fine Arts' Department at Dokuz Eylül University and a volunteer with the Music Museum and Sound Library's (MÜZİKSEV) luthier workshop, Özdemir told Anadolu Agency (AA) that he is very interested in the santur, a stringed instrument of Iraqi, Iranian and Indian origin.
Stressing that the santur was also played during the ancient Ottoman era, Özdemir asserted that he plans to build the instrument and continues to make constant efforts to fulfill this goal, using various types of wood in his work.
"I worked with some masters. My first few trials on the santur did not yield any positive results. The wood I used was fresh and I worked constantly. I learned what kind of woods and which tools must be used from the masters and finally, my santur started to take shape. I measured the size of an instrument played by a Greek musician and started to make a replica. Then, I went on to make another instrument called the cura. When some people asked for other kinds of instruments, I designed those as well."
He said an instrument found during excavations near the Iranian-Azerbaijani border represented the predecessor of the santur, claiming that he saw the picture of the 3,000-year-old instrument made of tortoise shell, in a magazine. The picture's profound effect on him resulted in the kick off of his endeavors to build a new instrument. To do so, he collected the shells of dead tortoises found in nature and then finished the instrument after several days of work.
"There is a part in the tortoise shell that amplifies sound, producing a different timbre which is highly differential among woodwind instruments. When I saw a picture of this ancient instrument discovered during the excavations, I wanted to make one myself. I think some parts of the animal intestines might even have been used back then but I have added strings instead. As a plectrum, I used a horn and we have successfully produced some very unique sounds," he said.
Özdemir designs instruments on demand and said he has designed a unique instrument himself, which he named Bugiba. The Bugiba is inspired by a three, double-stringed instrument invented by Özay Gönlüm, one of the most prominent figures in Turkish folk music.
As he wished to combine the sounds of the bouzouki, guitar and bağlama, Özdemir came up with the name "bugiba," putting the first two syllables of the three instruments together.
Özdemir said he finds the sound of the bugiba quite beautiful, while still working on further improvements in its design. He also said that his passion for musical instruments allows him to play dozens of different instruments without any training whatsoever.
Meanwhile, MÜZİKSEV spokesperson Sirel Ekşi acknowledged Özdemir's contributions in the maintenance work of instruments displayed at the museum.
MÜZİKSEV, Turkey's first museum devoted to musicology, displays various traditional and contemporary instruments from the Anatolian and Central Asian regions, some of which date back at least 160 years.