It was around 10:00 p.m. on July 15 when the Bosporus Bridge in Istanbul was blocked by soldiers who had abandoned their military posts. The whole country was watching TV without batting an eye to learn what was going on. Many of them were thinking that it must be some sort of measure against a terrorist attack, while some were asking why there were soldiers instead of police, if that were the case. Soon after, Prime Minister Binali Yıldırım spoke on live television, revealing the situation as acoup attempt, and called on the people to take to the streets. Around 12:25 a.m., President Recep Tayyip Erdoğan addressed the people saying, "I'm calling you all to the streets." Millions of people immediately responded to the president's call and took to the streets to prevent the attempted coup. Regardless of their age or gender, millions of people left their homes to defend the country, jumping in front of the tanks and weapons, with flags in their hands and love of the nation in their hearts. These brave people prevented the coup even though bullets whizzed passed them and tanks threatened to crush their bodies. That night, 246 people died, with 1,536 people were wounded. Directed by Rengin Gültekin, and contributed to by Assistant Professor Kübra Güran Yiğitbaşı, 'Kalplerin Direnişi' (Resistance of Hearts) tells the stories of the women who resisted the attempted coup perpetrated by the Gülenist Terrorist Group (FETÖ). We met some of the women, who were wounded that night, on Bosporus Bridge, which is now known as the July 15 Martyrs Bridge, and listened to what they experienced.
MARTYRDOM WAS HER FATE
Türkan Tekin, 44, a mother of three children, had a job, while her sister Sevgi Menteş, 47, is a housewife. Tekin came home from work around 9:00 p.m. on July 15. Her sister Sevgi called her as soon as she heard about the coup rumors. "Don't worry. Do you think it is easy to do that to our country?" Tekin said and they hung up the phone. After performing their ablution, they set off toward Istanbul's Atatürk International Airport with their families. Neither tanks nor weapons scared them. Menteş said: "While we were walking toward the airport, Türkan called me around 12:35 a.m. and told me they had also set off. She said we will never surrender and never put our country in their hands. 'We have burned our ships,' she said," Menteş explained, without knowing it was their last conversation.
"There was a tremendous crowd. God took the fear from our hearts and replaced it with faith. I didn't even worry about my son," she said.
"When they were on their way, there was a tank crushing the cars to stop them. My sister stopped in front of the tank. She didn't run away," she added. Menteş also said she performed a grace prayer when she learned her sister had been killed. "She was martyred for our country. It wasn't my fate, but it was her fate to be a martyr. If the July 15 martyrs, including my sister, weren't there on the streets, we wouldn't have our country today. Those who are guilty should be held accountable for July 15," Menteş added.
" I felt that I was going to war"
When Şerife Boz, 50, heard a coup was seeking to overthrow the Turkish government she jumped inside her truck and drove as many people as possible to the squares across Istanbul to protest the violent putsch.
"I can drive the truck. I felt that I was going to war. I chanted [the] whole night and the next day," said Şerife.
"Me and my children and grandchildren took to [the streets of] Taksim Square," she added.


Şerife was quickly accompanied by her friend and neighbor, 61-year-old Sema Tutar, who said she wanted to resist the military tanks in the streets amid the coup attempt late Friday.
"We took to the street because of our children's future. We protected our country and I hope that we will have [a] better future," Sema said.
A photo that emerged of Şerife and Sema sitting next to each other in the truck, went viral and became the symbol of anti-coup protests that helped suppress the deadly coup attempt.
Turkey's Prime Minister Binali Yıldırım cried when he saw the photo of the two women in the front seat of the truck, carrying protesters who were waving the Turkish flag.
Şerife said she would "go anywhere with her truck if only President Recep Tayyip Erdoğan and Yıldırım would ask her". The putsch occurred when rogue elements of the Turkish military tried to overthrow the country's democratically elected government.
THE PAIN OF THE BULLET IN MY HEART
Nebahat Topaloğlu is a businesswoman and has two children. She lives in Fatih in Istanbul. She learned about the attempted coup on television. She anxiously waited for a statement from the president. After the president's call, she called her husband to take to the streets. "When my 13-year-old wanted to come with us, I knew my maternal emotions would dominate my mind, so I left my child at home," Topaloğlu said. Then she and her husband set off toward Saraçhane. She never thought of going back when she heard gunshots. They helped the wounded people and sent them hospitals. "We wanted to convince the soldiers to lay down the weapons, but they had already started to rake through us," she said. Amid a huge crowd and a blood bath, she was in the line of fire. She was shot in the leg, but escaped death. She is another veteran who survived July 15. Her daughter Havva Nur Topaloğlu, 19, is proud of her. "My mom filled me with pride!" she said. Nebahat is still being treated. "The bullet hit my leg, but I felt the pain in my heart, which still lingers. What would you expect when you were shot by murderers whom you considered your sons? Of course, you feel this pain in your heart," she added.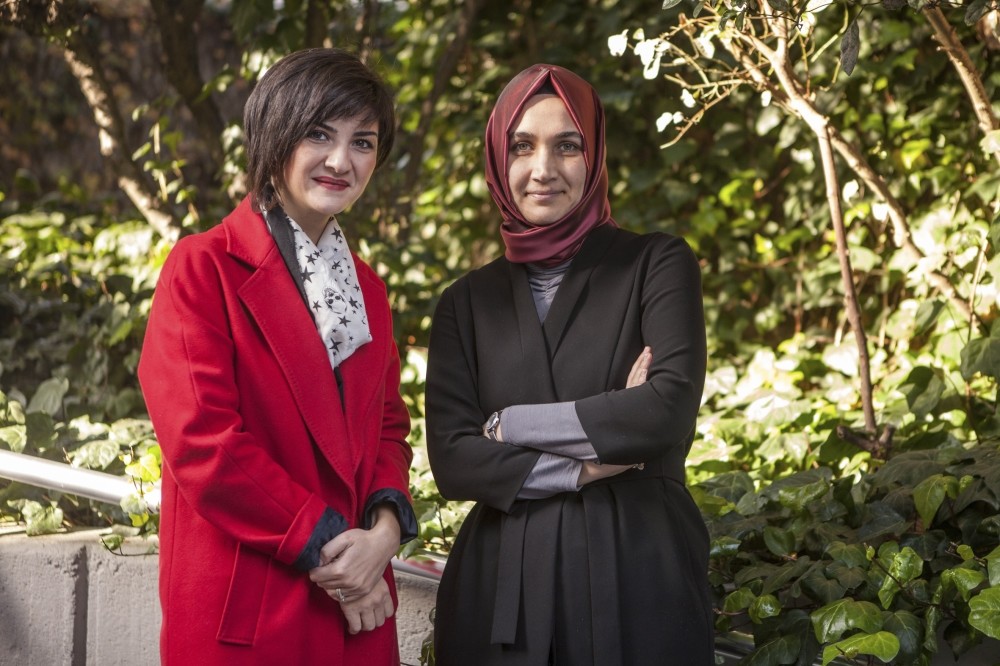 'WE MUST TELL THE WORLD ABOUT JULY 15'
The director of the documentary, Rengin Gültekin, emphasized that women's heroism has always been in the forefront of historical events. "Our country had Nene Hatun, a Turkish folk heroine, and has a new generation following her example. Even though many may have felt surprised, happy or astonished by the fact that women were on the forefront that night, it was not surprising to me. We have seen this in previous historical events, such as the War of Independence in Çanakkale, the Feb. 28 process, and in the July 15 coup attempt. The documentary was screened at the Boğaziçi Film Festival. Many people took part in the project voluntarily, as this documentary concerns public interest. The aim of producing this documentary is also to tell people what happened on July 15. We tell ourselves some stories, internalize them and think the whole world knows about them. However, this is not the case. We need to tell the world about these important stories. FETÖ [the Gülenist Terror Group] also operates abroad in an organized way. We did our part and will continue to do so. We shouldn't expect the state to do everything for us," Gültekin said.
Assistant Professor Kübra Güran Yiğitbaşı said they went to the airport to welcome the president. "My husband told me that they may not have taken to the streets if I didn't tell him to go or had prevented him from going
out. He added that women motivate men and play the dominant role in the society," she said. "When my husband told me this, I felt motivated about this documentary. We felt responsibility as journalists and academics. Considering that these women took to the streets at the risk of their lives with a sense of responsibility, we decided to tell what happened on July 15 to the world with a similar sense of responsibility and made this documentary. "Resistance of Hearts" is a documentary in which everyone can find something about themselves.
'EVERYBODY BECAME A FIGHTER THAT NIGHT'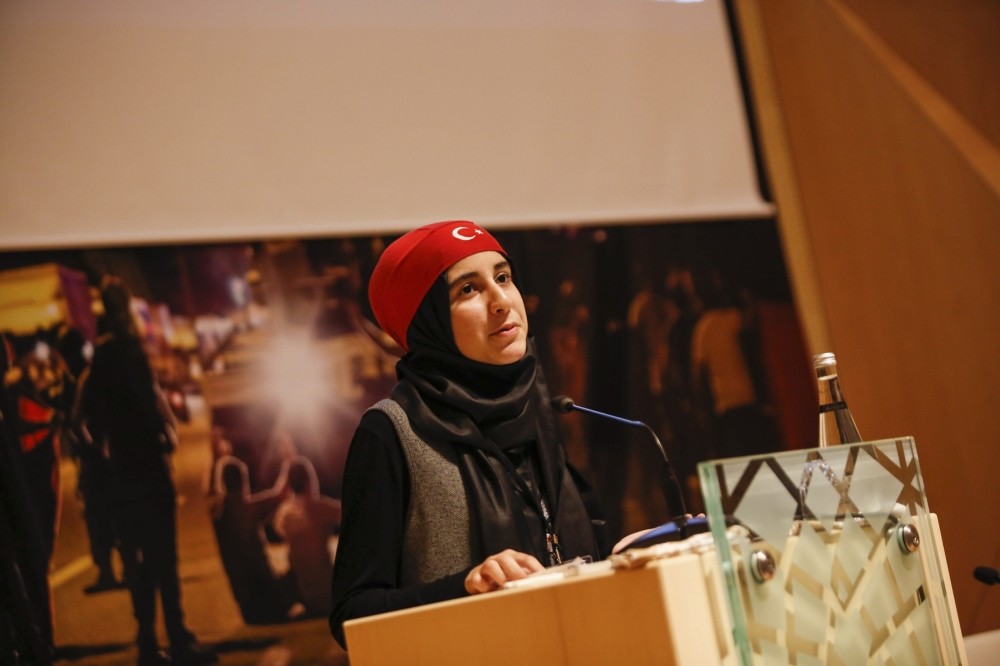 Adviyye İsmailoğlu, 14, asked herself what was going on when she saw a video showing soldiers blocking the bridge. Her mother Sevim İsmailoğlu, 43, didn't believe it when she heard the anchor reading out the announcement of martial law on TRT 1. Sevim İsmailoğlu feels proud when she talks about their experience on that night. "I told my husband to go out and observe what was going on in the streets. I told him we should take to the streets if need be. The inspiration for the family was my daughter Adviyye. She immediately encouraged us to take to the streets, and, when the president also called people to do so, we performed ablution and left with two of my daughters and my husband," she said. The family was among the first group to arrive in the middle of the firing line in the Saraçhane district. Her children were fighting on the frontline. "I felt like we didn't have our feet on the ground. It was a blood bath. Putschist soldiers raked through everyone, including children and women, with G3 rifles. People were falling on the ground after being shot in front and behind us," she described these moments with her eyes full of tears. Adviyye was one of them, shot in her shoulder while she was trying to help someone. Her mother Sevim's eyes filled with tears once again when she described these moments. "Her dad held her and saw how deep the wound was. The bullet had horribly shred her back. She was treated in an intensive care unit for two days. They think they gave us pain, but in fact, we are proud of what we experienced that night," Sevim said.
Adviyye and her elder sister Rabia İsmailoğlu, 18, were on the frontline the whole time. When Rabia saw that her sister was shot, she couldn't believe it first. "What I saw on the streets was courage, devotion to our nation, power of faith and cooperation. They shouldn't think that they took a part out of my body when they shot me. It is actually like a medal that I will carry proudly for all my life. Because I filed a complaint against them, I will be able to stand before those soldiers and ask them how they think they would be able to seize and govern a country, while they even couldn't deal with a 14-year-old girl. I want to ask them this question," Adviyye said. Having previously published a storybook, Adviyye is thinking about publishing a book depicting what happened on July 15. They now call her "veteran girl." Meanwhile Rabia emphasized the power possessed by the youth. "We showed them on July 15 that we, as youth, will never surrender our country to traitors," she said.