US astronaut Eugene Cernan, the last man to set foot on the moon, died Monday at age 82, NASA and his family announced.
Cernan was the spacecraft commander of Apollo 17 - his third space flight and the last scheduled US manned mission to the moon - in December 1972.
"We are saddened by the loss of retired NASA astronaut Gene Cernan, the last man to walk on the moon," the US space agency said on Twitter.
According to a family statement released by NASA, Cernan, a retired naval officer, died following ongoing health issues.
"It is with very deep sadness that we share the loss of our beloved husband and father," the family said.
"Our family is heartbroken, of course, and we truly appreciate everyone's thoughts and prayers. Gene, as he was known by so many, was a loving husband, father, grandfather, brother and friend," the statement added.
"Even at the age of 82, Gene was passionate about sharing his desire to see the continued human exploration of space and encouraged our nation's leaders and young people to not let him remain the last man to walk on the moon."
Cernan died less than six weeks after another American space hero, John Glenn, the first American to orbit the Earth in 1962. Their flights weren't the first or last of the Mercury and Apollo eras. But to the public they were the bookends of America's space age glory.
'Bold ambitions'
Born in Chicago in 1934, Cernan received a degree in electrical engineering from Indiana's Purdue University in 1956.
He went on to earn a master's degree in aeronautical engineering from the US Naval Postgraduate School in California.
Cernan was one of a class of 14 astronauts chosen to join NASA in 1963, and went on to serve on both Gemini and Apollo missions.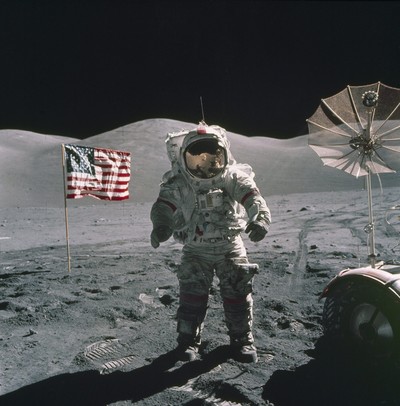 Buzz Aldrin, a member of the same class who became the second person on the moon, said in a statement Monday that Cernan "was the last man on the moon and he wasn't happy about that."
"Gene was probably the strongest spokesman for astronauts for lunar travel and advocating a return to the moon," he said.
Cernan spent 566 hours and 15 minutes in space - logging more than 73 hours on the moon's surface.
He retired from the Navy and NASA in 1976. Cernan later entered the private business sector and provided television commentary during early space shuttle flights.
"The Last Man on the Moon" - a documentary about his life - was released in 2016.
Cernan is survived by his wife Jan, one daughter, two step-daughters and nine grandchildren, the family said.