Muhammad Ali Bedi, a young Turkish ski jumper has been showing off his superb skills over a ski jumping platform in Turkey's eastern province of Erzurum, which will host the upcoming European Youth Olympic Winter Festival (EYOF 2017).
The 16-year-old, Turkey's youngest national ski jumper is flying high before the ski tournament set to take place from Feb. 11-18.
The young athlete has won a series of honors in his age group since 2009 and over the last weeks, he has been practicing twice a day at the festival venue.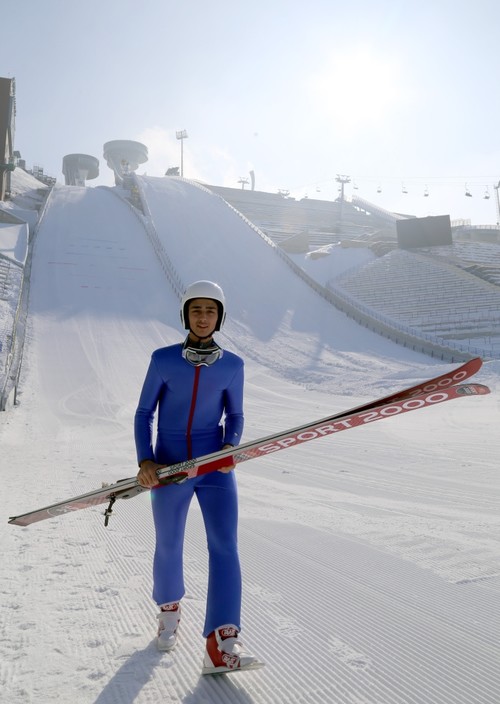 Muhammed Ali Bedir
For many, the idea of flying hundreds of meters through the air is a thrilling activity and watching national athletes, launching themselves off for a jump is exciting. However, learning the sport comes with a bit of courage, but Bedir is pushing the bar higher every day to achieve further success in this field.
Having trained at the sports club named after late national skier Aslı Nemutlu, who passed away in an accident during training at the Super-G Track a few years ago, Bedir has become a professional athlete after honing his skills at some international competitions.
Ski jumping is a sport that requires a lot of dedication. While skiing on the K95 ramp, Bedir will jump off the hill to reach speeds up to 90 kilometers per hour, jump with perfect timing, and wait until the last moment by taking a good position in the air.
"All these require a very high level of concentration, good timing and hard work," Bedir said.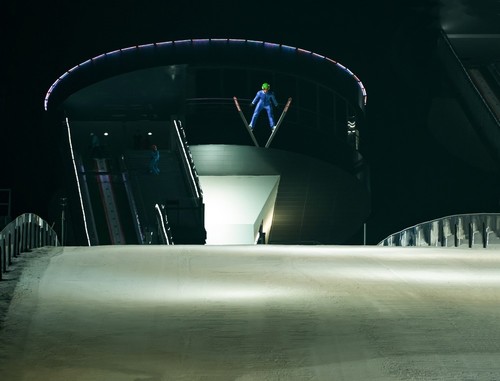 Young athlete Muhammed Ali Bedir has been practicing for the EYOF in Erzurum for the last few weeks. He has won a series of honors in his age group since 2009 and spent most of his training time abroad.
He said the fact that he will compete at the EYOF has already put him under some pressure, but he is proud to represent Turkey there.
Beginners generally start their training by skiing over the outrun or landing hill for very small jumps. Similar to other sports, the basics of ski jumping is learnt quickly but it takes years learn how to fly over the hill perfectly.
When Bedir started out he was quite young and did not have enough strength to do ski jumping. Following his first 20-day camp in Slovenia in 2009, he joined a children's competition in Hungary and won a gold medal there.
"We then realized that Ali would be a good athlete and represent his country in the best way he can," said Fatih Kıyıcı, deputy chairman of the Turkish Ski Federation (TKF).
In 2009, Bedir was also enlisted as a national athlete. He has been training for the upcoming festival for the last two years. Bedir's trainers, family members and friends are all expecting some good results.
Kıyıcı said they did not want to put him under pressure. "I also felt a lot of pressure during my years as an athlete and it has a negative effect on you and your performance. Bedir knows what he should do and avoid. He has an experienced coach and an assistant coach. We tell him what to do, and we are sure he will do his best when the time comes."
Saying that the young athlete has had the opportunity, many people do not get, Kıyıcı recalled that another athlete, Faik Yüksel, who got his chance at the 2011 Winter Universiade, and now it was Muhammed Ali's turn at the EYOF.
"These are historical moments, and he is aware of it. He will represent the country as the sole athlete in his event at the EYOF, which is a once in a lifetime experience. He knows that. There is pressure, but even though he is young, we will all overcome this together," he added.
Metin Nemutlu, the Chairman of Aslı Nemutlu Young Athletes Sports Club, said they have always believed in Bedir and been aware that he have the potential to become a very successful athlete.
Nemutlu said Bedir is a successful athlete and deserved all kinds of support, "He will be competing in a difficult sports branch. That's why, he has often trained abroad."
"He has just started training in Erzurum. We are very hopeful of him. He will be one of Turkey's best athletes in the future. He will make us proud with the medals he will receive at international competitions."