In the summer months, many people combine relaxing times by the sea with a game of beach volleyball in the hot sand, but who needs feet-burning sand when snow volleyball calls for fierce competition?
Making its debut for the first time in Turkey, the 2017 European Volleyball Federation (CEV) Snow Volleyball European Tour will kick off on Feb. 17 on Mount Erciyes with the participation of 24 teams.
"With this organization, [Mount] Erciyes will pass the test to become the fourth leg of the CEV Snow Volleyball European Tour in Europe.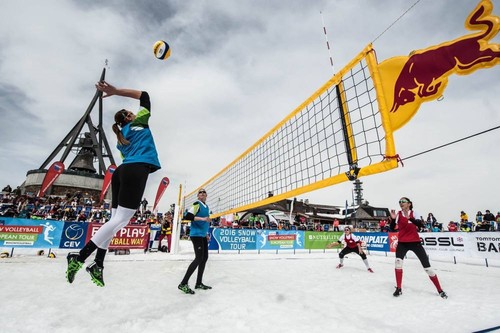 Courtesy of CEV
"In addition to Erciyes, other skiing destinations could also be included in the tournament in upcoming editions," Recep Arifoğlu, the general coordinator of the Radisson Blu Hotel, told Turkish Sabah daily.
Arifoğlu said that snow volleyball was introduced to the world as the "Austrian Alps Snow Volleyball Tournament," before later being adopted by the Czech Republic and Italy.
The debut tournaments attracted 10,000 guests and according to Arifoğlu, "Snow volleyball competitions also took place in Germany."
On the other hand, in St. Petersburg, amateur snowball competitions have been held for several years under the title "Christmas Snow Volleyball," he continued.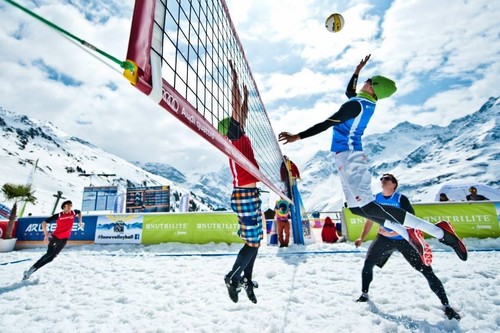 Kronplatz, Italy.
Played on a field built on snow, snow volleyball has the same rules with those of beach volleyball, recognized by the International Volleyball Federation.
Snow volleyball attracted the attention of the European Volleyball Federation in 2015 when it was acknowledged as an official volleyball branch before going on to be scheduled as a formal European tour.
After the initial trials in Austria, the Czech Republic and Italy, Arifoğlu said that the first official organization was hosted by three countries in 2016 during the 2016 CEV Snow Volleyball European Tour, which also drew the attention of the International Volleyball Federation (FIVB), resulting in preparations for a world tournament. More countries are expected to participate in the snow volleyball tournament in future editions.
Arifoğlu said that depending on the prize money and points, the event will be divided into two professional organizations, explaining that, "A total of TL 40,000 ($10,000) in prize money will be awarded. The final will be aired on national channels."
Lying in the province of Kayseri, Mount Erciyes, which has the longest skiing track in Turkey and boasts superior technical facilities and ideal geographical location, attracts local and foreign tourists to the region every year. There are 34 artificial snow machines in Erciyes, a touristic highlight with numerous ski slopes and a runway length of 110 kilometers.
Mount Erciyes is the highest mountain in central Anatolia, located in the Cappadocia region of Turkey, with a summit reaching 3,916 meters above sea level (12,848 feet). The mountain hosted 2 million local and international tourists last year, all while achieving high customer satisfaction and it recently awarded the Certificate of Excellence by famous internet travel guide TripAdvisor.
The ski resort area on Mount Erciyes is home to 10 hotels, with nearly a 1,500-bed capacity, offering a cozy atmosphere to families. With a cable car system that eases transportation issues, the region hosts several international winter sports festivals, with 34 ski tracks extending 102 kilometers (63 miles).
How did snow volleyball emerge?
The journey of snow volleyball began in 2008 in the Wagrain Mountains in Austria, while other sources report that this sport began as a traditional Christmas tournament in Russia in 2006. For the debut competitions, net posts and pitch lines were dug into the snow at an altitude of around 1,850 meters in the Wagrain Mountains.
A slightly different version of this sport has also been hosted in the Alps for more than seven years. When the concept of the Snow Volleyball Project began to emerge in 2008, it was impossible to envision the level of energy and passion that would propel this unique sport into popularity.
Snow Volleyball took its next steps in 2013, 2014 and 2015, when the event series was expanded to include Switzerland (Engelberg), Italy (Kronplatz) as well as in the Czech Republic.
Played on a field built on snow, snow volleyball has the same rules with those of beach volleyball, recognized by the International Volleyball Federation.
Snow volleyball is played in teams of two and the sport has been acknowledged as an official sport by the Austrian Volleyball Association in 2011. All players except the server can freely move around in their own space. Played on packed snow on a 16-by-8 rectangular area, snow volleyball requires an adventurous spirit as well as concentration and durability. With European tournaments having kicked off in 2016, snow volleyball has rapidly risen in popularity as an alternative winter sport.