Wandering around the foothills of Mount Erciyes in the central city of Kayseri, jade ("yılkı" in Turkish) horses have become a hot spot for photography buffs.
What is unique about jade horses is that they are released into nature in the winter by villagers and are gathered for work in the summer in Anatolia. Living around the Hormetçi Reeds, Sultan Reeds and Soysallı area near Mount Erciyes, these horses are drawing the attention of photography enthusiasts who come from all across Turkey for photo safari tours. Photography artists are exhibiting their skills to capture the horses with their cameras.
Nuri Çorbacıoğlu, a photographer who organizes tours to the region, said the jade horses have been a unique part of horse breeding culture in Anatolia for years.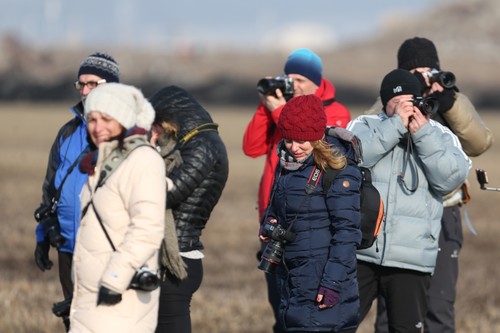 A group of photographers in Kayseri.
Çorbacıoğlu said: "Locals in this region used to release these horses into the wild in the winter. In the summer, they would capture and use them again but the horses have recently started to stay in nature when there was no need for many horses for work. Some villagers would also feed these horses in summer and winter and sell them to various places."
There are currently around 300 horses in the village. Çorbacıoğlu said many jade horses have recently been brought to Cappadocia for tourism purposes.
He said he has been carrying out photography projects about horses for roughly five years, stressing that this place has been home to photographers from Turkey and different parts of the world for the last three years. "There are some companies in the world that are interested in horse photography but it is not possible for them to reach such numbers and such an atmosphere. Here, you have the opportunity to photograph these horses in the dust in summer, in the snow in winter and in the water in spring. Such an atmosphere does not exist anywhere else in the world," Çorbacıoğlu said, adding, "Unfortunately, even though we have such a value, we cannot promote and publicize it enough. In this sense, I think that the local administrations and Turkey's Culture and Tourism Ministry could conduct projects here. A number of horses that previously won competitions in the Turkey Pacing Horse Races, were also brought from the race track to work with us."
Jade horses have become an attractive theme for photo safaris.
Pointing to the importance of promoting jade horses to increase the region's tourism potential, Çorbacıoğlu continued: "The region is located between Cappadocia and Mt. Erciyes. It is also of great importance in this respect. There is a scene from here in Nuri Bilge Ceylan's Golden Palm award-winning film, 'Winter Sleep.' Since this film was released, the region has begun to attract more attention from photographers and TV show producers alike."
Cenk Gençdiş, who came to the region from Istanbul to photograph the jade horses, said the atmosphere here does not exist in any other place in Turkey.
"I photographed many places around Turkey. I have been in different parts of the world but this is a totally unique place. When I come here, I feel like I am in Mongolia," Gençdiş said, adding, "I feel excited when I come here to take photos. I start to prepare myself days in advance. This is a real blessing for the region."
Jade horses are known as wild horses in Anatolia and generally live in remote places away from humans, in herds in the foothills of Mount Erciyes.
Anatolian people who need animals but cannot afford feeding them in the winter release these horses into the wild to let them find their own food. They catch the animals when needed in the summer. In regions where this practice is done, it is possible that the same horse may not be caught again since there are many horses wandering in the wild. In the end, it does not matter which animal is captured because any animal is what is needed. So, the horse can be used in the service of other people in different seasons and they do not have certain owners.