The wizarding world held a reunion of sorts Wednesday as some veterans of the blockbuster "Harry Potter" film series gathered at the site just north of London where the films were made.
There was Jason Isaacs, who played Lucius Malfoy, Evanna Lynch, aka Luna Lovegood in the films, and Aragog — the machine which made a very convincing, somewhat sinister giant spider.
The event was a preview for the new Forbidden Forest wing at the Warner Brothers Studio Tour London, the "Harry Potter"-themed attraction developed after the last of the original films was completed.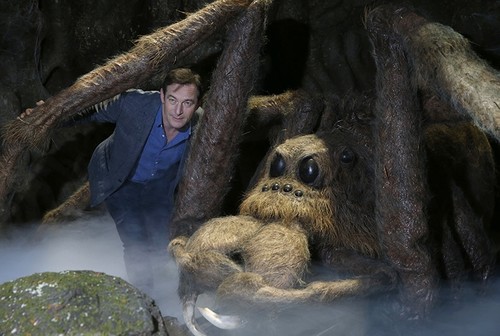 Nick Dudman, the chief special effects makeup artist for all eight "Harry Potter" movies, said the goal was to create a place that captures the mood of the forest that was supposed to be off-limits to the fictional young wizards studying at Hogwarts academy.
"You're entering the creepy, dangerous place," Dudman said. "It'll be colder and spookier and nasty things could happen to you. Nothing will eat you, but there might be a moment when you might perhaps suspect that something might."
Isaacs said he will not allow his daughter, who is afraid of spiders, to see the exhibit until she is more comfortable with arachnids.
"For younger people, whose imaginations are still alive to the world of Harry Potter, they will feel like they're in the forest," he said.
Lynch said she is not surprised that Harry Potter remains popular so many years after his creation by author J.K. Rowling
"Personally, growing up I felt closer to a lot of the characters than I did with my friends," she said.
The exhibit opens March 31.