Women's participation in social life is increasing day by day in southeastern Anatolia, where enormous changes are being observed in many areas, thanks to the projects and works developed by the state. Having graduated from Gaziantep University's Department of Civil Defense and Firefighting, Kübra Şiş, 23, donned her dream uniform just a short time ago. Along with her male co-workers, she runs to the aid of the needy with determination. Regardless of the objections of her family, Şiş keeps doing her best, attending fires, accidents and saving operations. Attracting considerable attention from the officers at the Department of Fire Brigade, the firewoman starts the day with prayers and waits for the calls to begin.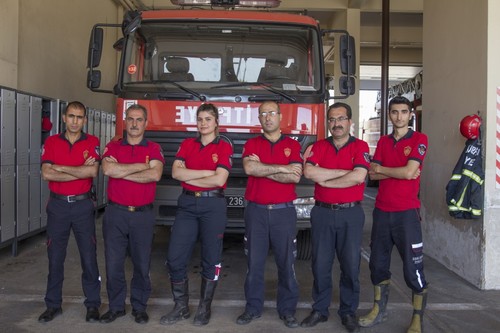 Being the only female worker in a fire department of 300 workers, Kübra Şiş expressed her pleasure in being able to fulfill her dream of firefighting.
Implying that her family objected when she had enrolled in the firefighting program at university, the young firewoman said she chose to pursue her dreams rather than give in to her family's request.
'The most beautiful thing in my life is my job'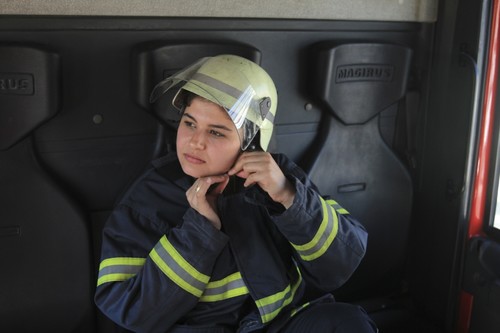 ​
Explaining that she believes helping other living creatures is much more important than other pastimes, Şiş said, "I am the first firewoman in the Şanlıurfa Fire Brigade. I was interested in the field since I was a child, so I chose the firefighting department for my university education on purpose. I thank God that I now have my dream job, but I was also the only female student in the university department as those who prefer firefighting as a job are generally men. Yes, the job has difficulties, but I have overcome them all. I began work here a short time ago, and when I started, I was worried that it would be difficult to work as the only woman. However, I find work easy, as everyone has a friendly and supportive attitude here."
Şiş implied that she overcomes difficulties at work thanks to the group dynamics and added, "I don't have any difficulty in doing my job. I'm so in love with the job that I don't want to take the uniform off. Firefighting is such a blessed profession I believe. Its holiness lies behind our prayer. I think it is a secret gate leading us to heaven. We run to the help of all living creatures."
Stating that she wants to work as a firewoman for the rest of her life, Kübra Şiş expressed her love of firefighting saying, "The most beautiful thing in my life is my job."
Indicating that it would be great to have other female co-workers in the firefighting profession, Şiş said, "People you save pray for you. No matter whether it is a helpless bird or a cat, you help all living creatures. There is no other blessed and proud job like firefighting, I believe. I'm fresh at the job for now. Despite the detailed education I received at university, I get excited when I heard the siren. And I encountered so many objections. They said, "Firefighting is a man's job. It is not for women." However, after I started, I began to receive so many positive encouragements. Now, people say "Thank God, our women are working actively in every field." There must be more women in this job as they donate their environment with beauty. I recommend this job to everyone around me."
Stating that firefighting deserves great respect, Kübra Şiş said that society's perception of this job, which upsets her, must change.
Department Chief of Fire Prevention and Education, Abdurrahman Ayıldağ, also stated that all the officers love the determined and enthusiastic firewoman and believe that she will be successful.