When you think about hot air balloons and Turkey, the first thing that comes to mind is Cappadocia. Cappadocia, like something out of a fairytale, is usually associated with hot air balloons floating through the air at sunrise or sunset. However, Pamukkale, famous for its white, cotton-like travertines, has now fixed its eye on Cappadocia's signature tourism attraction.
Pamukkale was included on UNESCO's World Heritage List in 1988 based on its natural and cultural wonders. Famous for its hot springs and travertines, which are terraces of carbonate minerals left by flowing waters, Pamukkale is located in western Turkey and attracts those who are looking for a relaxing experience. Apart from is intriguing natural stone formations, Pamukkale offers a variety of tourist activities to visitors, from viewing the remnants of numerous civilizations to enjoying the natural wonders and pure white travertines formed from hot calcium-filled mineral waters. Pamukkale's three different thermal regions, Sarayköy, Karahayıt and Gölemezli, contain hot springs and mud baths. Visitors can spend a day or a few hours experiencing an organic treatment for skin problems as well as seeing the amazing mineral formations that bear witness to the kind of beauty nature is able to create. You can also pay a visit to the ancient ruins of Hierapolis and its museum to immerse yourself in a by-gone era.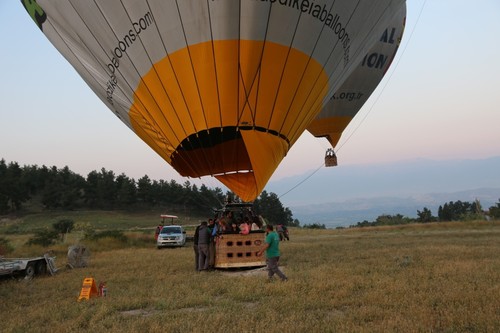 However, the new tourist activity in Pamukkale leaves the remains of the ancient cities and thermal springs in the shade. Hot air balloons are attracting a great deal of attention in Pamukkale, being popular with foreign tourists as a fantastic experience and unmissable photo opportunity.
The balloons must be inflated with hot air early in the morning, so visitors have the opportunity to view the sunrise while observing the white paradise and the natural environment of the surrounding villages. While experiencing an interesting and exciting flight, tourists take many photos hundreds of meters above the earth and enjoy a bird's eye view of Pamukkale.
One of the managers of a balloon company, Ayşe Köse, spoke to Anadolu Agency (AA) and stated that they conducted balloon flights in partnership with the Turkish Aeronautical Association in Pamukkale.
Stating that for the city's presentation and tourism attractions, hot-air balloon flights were initiated by Denizli Mayor Ahmet Altıparmak, Köse said: "There are almost 20 years of balloon tourism in Cappadocia, but we have been flying only since January in Pamukkale. Our aim is to adopt and spread aviation in the region; we are planning to sustain this through training, not just with balloon flights. We already offer paragliding facilities and are planning to add safaris in the future. Also, infrastructure preparations are underway, and there is an aviation academy in the planning stage. In addition to balloon tourism, we are looking to holistically serve the good of the region. We will provide piloting and aviation education and familiarize the Pamukkale area with aviation."
Köse remarked that tourists love viewing the sunrise and taking photos of the moment adding: "It is mostly Far Eastern tourists such as Chinese, Koreans and Japanese who prefer balloon rides. Some of them experience it for the second time after taking a balloon tour in Cappadocia as part of a cultural tour, while others who have never experienced it don't want to miss the opportunity."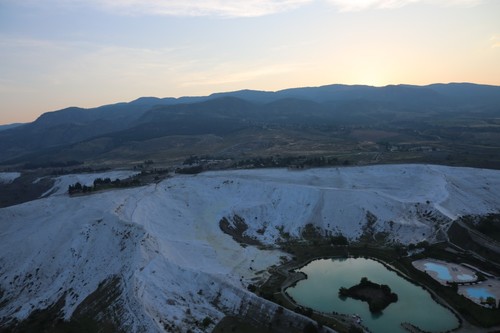 Mexican tourist Luis Magana said, "They asked us whether we want to take a balloon tour at the hotel and we accepted it without hesitation. It was a pleasure for us, we really enjoyed flying in a hot-air balloon. We observed Pamukkale and it is great to watch the sunrise."
Another Mexican, tourist Estefania Terrazas, said: "We are coming from Mexico. I really love the balloon ride. I recommend trying a balloon ride to everyone. I love adventures. We will attend also many other activities. Pamukkale is really beautiful and the scenery was great. Watching the sun rise from such heavenly scenery is an undefinable beauty."