World famous Brazilian model Adriana Lima arrived in southern Turkey's Bodrum hand in hand with Turkish writer Metin Hara.

The pair forewent the VIP exit as they left Milas-Bodrum airport alongside other passengers. Numerous photographers snapped pictures of the couple as they walked toward a private car taking them to their hotel.

Reports said that the couple's journey to their hotel caused a traffic jam, and two cars were involved in a minor crash as paparazzi attempted to follow their vehicle.

Before heading to Bodrum, the couple were spotted kissing in Istanbul Atatürk Airport. Video footage of the incident captured by an unknown passerby was posted on social media outlets, prompting a statement regarding the love affair.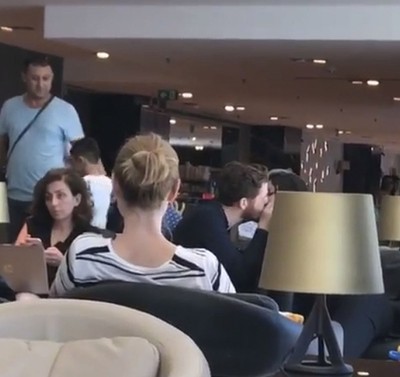 Hara confirmed to Turkish media outlets that he was in a relationship with Lima.

"We met with Adriana in Istanbul in June" Hara said, adding that they have since been in touch.

"We realized that we have feelings for each other. Both of us are still getting to know one another" Hara noted, adding that the couple respects the media's curiosity about the relationship and expects the same respect from the media.

After spending two days in Bodrum, Lima plans to take a 'blue tour' with visits to Turkey's Gulf of Gökova and several Greek islands.

Lima posed with Metin Hara's book entitled "Invasion of Love: The Path" during a book tour event last month in Los Angeles Airport.