With its narrow rooms, metal bars and bunk beds, Bangkok's first prison-themed hostel promises the look and feel of a real jail in the bustling Thai capital.
The Sook Station hostel in Bangkok's Udom Suk neighborhood offers guests pin-striped pajamas for 700 baht ($21) and a wall with a height chart where they can have their mugshots taken.
The nine-room hostel is the first foray into the hospitality industry for Sittichai Chaivoraprug, 55, and his wife, 49-year-old Piyanat Teekavanich, after careers in the technology sector.
They were inspired by a shared love of travel and the 1994 prison escape film "The Shawshank Redemption", starring Morgan Freeman and Tim Robbins.
The hostel's design includes black-out doors and windows in two rooms to create the feeling of being in solitary confinement. Showers are located on a caged-in rooftop.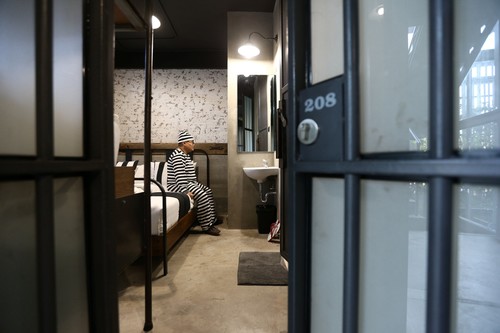 For guests who may feel a sense of claustrophobia, seven rooms have a small balcony.

Thailand expects to welcome almost 35 million foreign tourists - nearly half the country's population - in 2017. Many of them visit or transit through Bangkok, a regional travel hub.

Sook Station charges between 790 to 1,630 baht ($24-$49) a night for the prison-themed experience.
"People love it or hate it," Sittichai told Reuters, adding that most bookings have come by word of mouth.
Some guests like Yui, a 42-year-old hotel worker, are repeat customers.
"I feel it's a real prison because when I arrived it was dark," Yui said. Now on her third stay, she said the hostel's style and friendly staff "feels like home".