Penniless and subsisting only on water for three weeks, Tokyo street-dweller Tokuchika Nishi thought he had come to the end of his life.
"My money ran out and I thought it would be fine to just die a dog's death," said Nishi, 38, who had spent two years homeless in the Japanese capital after going into debt.
Then his life changed with the discovery of dance group Newcomer "H" Sokerissa! that includes homeless people, and some who have made it off the streets.
"Many of the limitations I used to put on myself are gone," said Nishi, who joined the group in July. "I'm more excited about what I'm capable of and how far I can go. I want to express all that swells up inside me through dance."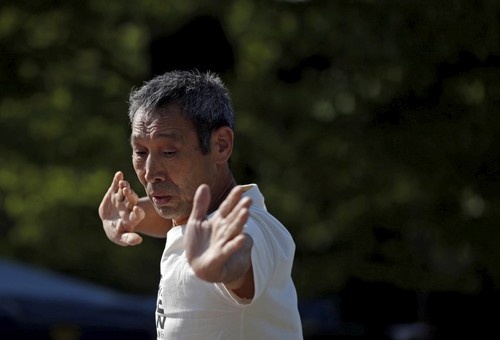 Masayoshi Koiso, a 69-year-old homeless man and a member of Newcomer "H" Sokerissa! - a group of current and former homeless dancers, performs at a park in Tokyo.

Dancer and choreographer Yuuki Aoki, who founded the group ten years ago, says he was intrigued by the weather-battered bodies of the homeless men, and the kind of artistic expression they might produce.

In 2004, Aoki saw a crowd gathered around a street performance in Tokyo. A man slept nearby, his buttocks exposed to passers-by who passed him without a second glance, recalls Aoki. He wondered what would happen if the man were to become the performer.

People initially warned Aoki his project would fail if it were known the dancers were homeless, but the group now performs everywhere across Japan, from parks to museums. Aoki and two troupe members travelled to Rio de Janeiro to perform with homeless people before the 2016 summer Olympics.
Their dances are not choreographed. Aoki said he stopped trying to teach specific moves to avoid restricting the men's self-expression.
Instead, he gives each a string of expressions - such as "swallowing the sun" or "exposing the meat to the wind" - to serve as a guide.
Despite being new to dance, Aoki said, the perfomers seek to use it to uncover what lies at the root of human expression, and think in new ways of what it means to be human.
The "H" in the name stands for human, hope and homeless.
Sokerissa has become a way of life for some.
Masayoshi Koiso, 69, said he had spent his life running away from family and work.
"I started thinking that maybe the only place left for me to run away to is death," Koiso, who has been homeless for nine years, recalls thinking around the time he joined up five years ago.
"If that's the case, I wanted to fully use up the body I have until then - then maybe, I'll have a good end."
Masato Yokouchi, who has been dancing for nine years, said the group sustains him.
"I don't know what I'd do if I didn't have Sokerissa."