The only library for the visually impaired in Sarajevo, Bosnia-Herzegovina, serves 1,256 people. Having opened in 1972, and repaired by the Turkish Cooperation and Coordination Agency (TİKA) in 2012, the library serves everyone coming from the countries in the region in addition to locals. All the devices for reading for the visually impaired are available in the library, which is one of the best libraries in the region.
Library director Sakib Pleh told Anadolu Agency (AA) that there are thousands of books in the library countrywide donations. He also said the library has special book and journal publications for the visually impaired.
Explaining these special publications are not found everywhere, Pleh said that they mail them to users in different countries by for no extra charge for it.
Mentioning that the library has branches in Tuzla, Bihac, Mostar, Gorazde and Travnik, Pleh said: "The visually impaired are really keen on books [and] 85 percent of our members benefit from the opportunities we offer." He also said that the visually impaired read 10 books a month on average.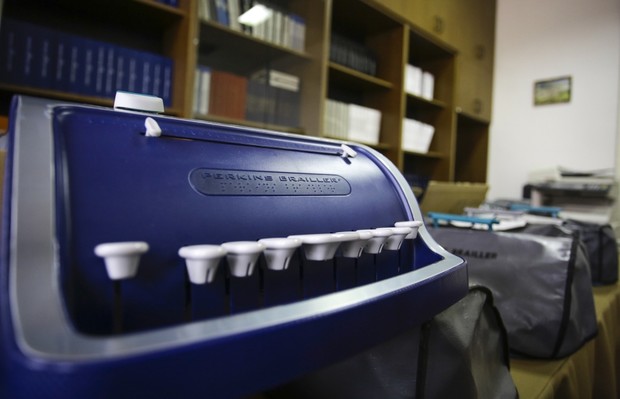 Involvement in social life and society
Explaining that he lost his sight 35 years ago, a user of the library, 60-year-old Vehbija Peksin said: "Not being able to see has never prevented me from what I wanted to do. I have studied at two universities thanks to this library. I also took part in many projects for its development."
Peksin recounted that he migrated to Sweden during the war in Bosnia-Herzegovina from 1992 to 1995, and they have received various donations and financial support for the library from Sweden due to the relations that he established there during the war.
"Going to Sweden, a developed country, didn't help me. The sole thing that directs me in life has been my consciousness. If I don't have a desire to join society, I don't get on well with people," Peksin said. Having never surrendered to struggle in his life and having written seven books, Peksin said the situation is harder in Bosnia-Herzegovina than elsewhere in Europe for the visually impaired. "We can't reach anywhere by accusing the system or the country. We should get involved in social life and society. We shouldn't forget our families, and we should look for ways to continue our education."
Peksin added that it is impossible to construct everything in a night and that the visually impaired should form their own lives step by step by being at peace with themselves.
27,000 items available
The library houses 27,000 literary works either written in braille or as recordings. Having 1,256 members from Bosnia-Herzegovina and other countries in the region, the library has three parts - a technical area, publication area and common activity area.