Could a hunter's bullet be a tool in helping save Africa's endangered species from extinction? The question is one of the many complex ethical dilemmas raised by "Trophy", a documentary that examines whether commerce can help wildlife conservation.
The film, directed by Shaul Schwarz and Christina Clusiau, assesses some of the ways that threatened species are used for commercial gain, from elephants being auctioned to hunters as prey, to rhinos being farmed for their horns.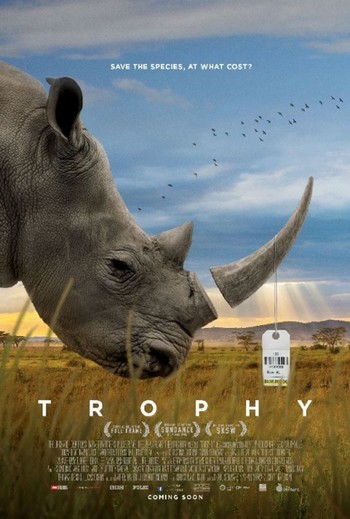 While Schwarz and Clusiau began the project with the intention of shaming the hunting industry, they soon found that situation was more complex and nuanced than they had imagined.
"In Africa, for example, their relationship to animals is very different from our relationship to animals in the sense that, we have this idea that a lion is a cute, cuddly creature - a Disney character," Clusiau told Reuters.
"There, a lion eats your children. An elephant is a bulldozer for your crops and your community."
The film, which opens in British cinemas on Friday, follows Texan hunter Philip Glass as he works towards bagging "The Big Five" trophies - lion, leopard, rhinoceros, elephant and Cape buffalo.
The footage of his kills will be disturbing to many viewers, but the film also takes care to show that the industry does benefit the local community, in terms of both meat and money - an argument that the industry pushes strongly.
The film shows how impoverished locals in the vicinity of hunting areas are allowed to take meat from slaughtered animals for eating. Hunting businesses also employ locals and in some areas invest in community projects.
"BE REALISTIC"
"I think we have to be very realistic that if we want people to protect wildlife we have to give them a reason. And as sad or hard as it sounds an economic reason is a key issue," Schwarz said.
A less violent but equally controversial blend of capitalism and conservation is found in rhino breeder John Hume. The documentary delves into his struggle against poachers on his South African rhino farm. It is home to over 1,500 rhinos whose horns he harvests every two years.
"Give me one animal that's gone extinct (in the wild) when farmers were breeding it and making money out of it. There's not one," Hume says in the film.
But he lamented that despite successful legal battles against the South African government, he still cannot sell his rhino horn legally, meaning that his farm has lost him huge amounts of money.
"If I could sell all my rhino horn now at a price which I estimate to be a reasonable wholesale price, I would get about half of what my project has cost me to date. So, so far, if I'm in it for the money, I'm very, very stupid."
Illegal rhino poaching in South Africa killed 1,054 animals in 2016, down from a 2011 high point of 1,215, according to conservation group Save The Rhino.
Despite the challenges confronting many of the species depicted in the documentary, Schwarz and Clusiau have some hope for the future, counting on their work to encourage people to take a broader view of the issue.
"I think there is hope. I think we just have to have a discussion and realise that our solutions may not be what we initially anticipated them to me," Clusiau said.