Neighborhood culture is an inseparable part of Istanbul. Each neighborhood has its own general store, butcher, tailor and a cafe. Everyone who lives in a certain neighborhood knows the owners of these establishments and the owners of these establishments know everyone who lives in that neighborhood. This week I am going to write about three different places that have become localized in three different neighborhoods of Istanbul.
The first of these is Private Reason in Bebek. We can call it "The Coffee Place of the Neighborhood." The place, serving artisan coffee varieties, is utterly a coffee heaven. Lungo, a new slow-brewed coffee, must be tasted. The owner of the place is Vardar Topçu. He is a creative person and has very strong personal relations. He is the person who made Private Reason a local place exclusive to Bebek. It is really a place that embraces the neighborhood as it has been there for years. It is a warm place with its wooden decoration, slogans written on the ceiling and chairs that pour out on to the street. Pillows with dog prints and dog pictures in the bathrooms are the details I love the most in this place.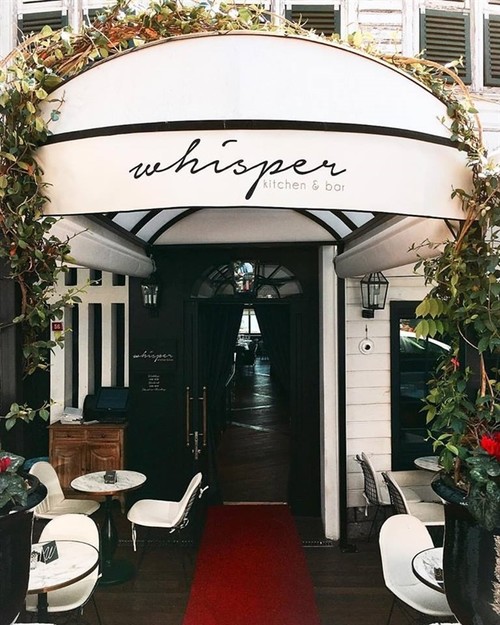 While sitting at Whisper, located on the main street of Arnavutköy, you can watch people passing by and be a part of the neighborhood.
Private Reason's menu is pretty rich. I especially love its breakfast. Out of the toasted sandwiches, Vardar's Toast must be experienced. Besides this, the omelet with avocado and quinoa is another option. The Turkish breakfasts, on the other hand, have a lot of choices. The specialty of the place are the coffees, which are brewed in six different methods. You should definitely try the Japanese syphon and chemex brewing methods. Cold brew coffees are another option. While you can take fresh coffee beans home from Private Reason, you can also take desserts. My suggestion to people who don't like or drink coffee are the detox drinks. All are squeezed right in front of you. Visit this local place in Bebek at the first chance you get.
Another place that keeps the neighborhood culture alive is Whisper in Arnavutköy. Figen Erenel, who has been in the tourism sector for many years, is the owner of the place. Erenel, who has managed nearly 30 hotels in the past, is a perfect Istanbul lady. Whisper, which she opened one-and-a-half years ago, has recently become a part of Arnavutköy. It became one of the warmest places of the neighborhood. Whisper, located at the entrance floor of the building known as the Dümer Mansion, attracts attention with its black-and-white decoration. The well in the garden of the building, which is also an old Greek house, is still there. While tasting your food from among world cuisines, you can also witness this historical texture. While sitting at this place, located on the main street of Arnavutköy, you can watch people passing by and be a part of the neighborhood.
Whisper's kitchen is entrusted in the hands of Chef Görkem Öztopal, an experienced chef that managed his own restaurants in the past. My favorite from the menu is the lobster risotto and salmon with ponzu sauce. The tempura shrimp and calamari was also tasty as well. Besides these, I loved the presentation of dried meats. Out of the desserts, on the other hand, the chestnut meringue must be tasted. Also, there is live music and DJ Gökhan Karabıyık's performs at the place. I suggest for you to stop by on Sunday evenings for live music. At the same time, the owner, Figen Erenel has also opened the Whisper Summer House in Çeşme in İzmir province. They are already preparing new things for this summer. I congratulate them for their determination and hard work. They have added a real local place to Arnavutköy.
Another place that reflects the neighborhood culture is Grandma in Etiler. This place, which reminds me of bistros in New York, became a part of Etiler instantly. Even though it is inside Akmerkez shopping mall, it is as if it has always been there with its location on the street. The showcases displaying bakery products, wide marble counters, doors with brass handles and retro furniture make me feel like I am in a local store of an old neighborhood. Details like smiley faces on coffee cup plates are really impressive.
Grandma Manager Can Şahin has very much mastered his business. He knows everything on the menu in detail. If you still have not tried menemen exclusive to Turkish breakfasts, you must definitely try it at Grandma. Differently from classic menemens, they add hot pepper paste and cream cheese in it. Extremely delicious! The flour used in the bakery is brought from Balıkesir. The sweet bread containing dates and figs must be tasted. Likewise, the croissant with almonds is just like the ones you can taste at bakeries in St. Tropez. Another thing that surprised me and made me happy is the fact that bagels are sold at Grandma. They sell plain bagels, sesame bagels and bagels with sunflower seeds. I suggest you try them with cream cheese and milk jams made at the place. The jams are also sold in jars and can be taken home. Along with the jams, you can also buy ground coffee beans sold at Grandma's bar and bring it to your own kitchen. The bar section is very pleasant for trying both cocktails and coffee varieties. Visit this local venue at the first chance you get!
Tips of the week

TOP 3 RESTAURANTS OF THE WEEK
- TOI / Kuruçeşme
- Spago / Nişantaşı
- Rana / Beyoğlu
TOP 3 HOTELS OF THE WEEK
- Regnum Carya / Antalya
- Ida Blue / Çanakkale
- Nişanyan / Şirince
TOP 3 PEOPLE TO FOLLOW
- Banu Altay / Architect
- Arman Acar / Entrepreneur
- Mustafa Yıldız / Painter