Imagine a classroom that nurtures each child's individual strengths, interest and imagination. Think about a classroom full of children making creative choices in their learning, while the classroom and teacher offer age-appropriate activities to guide the process and lead children to discover their maximum potential.
Although this type of education might seem unreal in the classical education system, its foundations were laid by Maria Montessori, one of Italy's first medical practitioners, in the 19th century. Now, the system Montessori founded and named after her is flourishing in Turkey through Palet Montessori Schools and its new project with Istanbul's Ibn Haldun University to train educators in the system.
This student-oriented education system was founded by Italian physician and educator Montessori, known for the philosophy of education named in her honor. Based on observation and experimentation, her system challenges traditional education methods by focusing on "the discovery of the child" as a guide for teachers.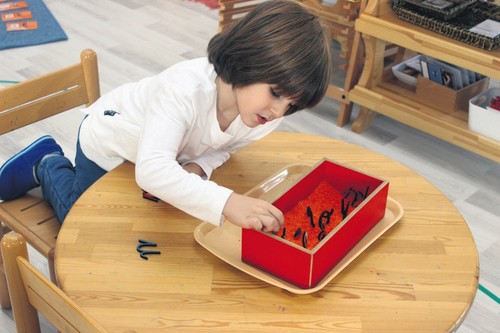 The Montessori Method encourages a child's self-discovery using play and activities that are highly individualized and allows students to make personal choices. This method disregards disciplinary systems, competition and the traditional classroom structure, instead including exclusively designed materials, a classroom designed as a living space and promotes cooperation. Another unique principle is that children are responsible for controlling their own mistakes and external intervention is avoided unless necessary. Through this method, children can theoretically learn from their mistakes and discover what is right and wrong individually.

Adopting this method, Palet Montessori Schools in Istanbul has a fresh take on the classic and project-oriented educational system in Turkey. As Sacit Ünal, the general director of the Palet Montessori School, put it: "This school attaches special importance to in-service training, and new developments are regularly shared with parents and teachers during sessions with experts from the U.S. Interested teachers or teacher candidates are sent abroad to learn the Montessori Method. The teaching staff at these schools attentively apply the principles to the Turkish educational system and syllabus."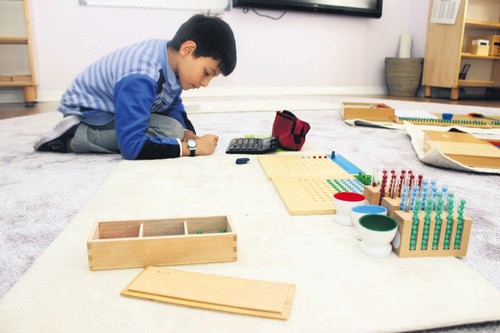 Education in this system has five basic parts. The first and probably the most important part of the education is Everyday Life Skills. During these classes, instructors guide children to develop physical and mental skills that will help them in later life through a series of workshops geared for each age group.
Sense classes focus on the senses. The Montessori Method encourages children to learn all the tastes, sounds and smells that they encounter, believing in the importance of understanding the senses at an early age.
The Montessori Method also has math classes, but it is much more interesting and mind broadening than in the classical education system. In the math course, students first learn addition and subtraction of four-digit numbers with special materials. An assistant teacher and an English teacher attend every class along with the class teacher. Students also practice English all day as the schools have a bilingual teaching system, which brings us to the most important part of the method: Language Education.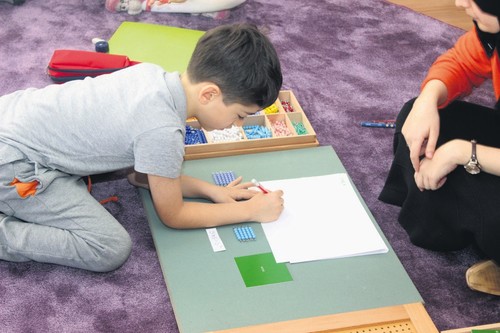 As said earlier, the Montessori Method is built on a child's willingness to learn. The school aims to teach children a second language other than their mother tongue as young as possible. As such, classes in the school are geared for bilingual education.
In one of his previous articles, Ünal compared the method to the Enderun system of the Ottomans, which helped the empire continue for more than 600 years.
To revolutionize the Turkish educational system, Palet Montessori Schools teamed up with Ibn Haldun University for a program to train instructors to work in the Montessori Method.
To introduce the program, an event on Dec. 2, overseen by the president's son Bilal Erdoğan, the founder of Palet Montessori Schools; Abdulkadir Çay, the general director of Turkish Youth and Education Service Foundation (TÜRGEV); Sacit Ünal; and professor Sefa Bulut, the project coordinator of Ibn Haldun University's Continuing Education Center.
In his speech, Erdoğan stressed the importance of creating an educational environment that does not prevent children from learning new things. Erdoğan also said the system in university faculties of education prevents future instructors from communicating with students in the classroom.
"The Montessori Method aims to bring up children who know themselves, can interact with their surroundings and are able to manage overcoming the challenges ahead," Erdoğan said.
Ünal shared his excitement for the project and meeting with future Montessori instructors. In his speech, Ünal offered insights into this education method and how they adopt the method in accordance with Turkish culture and values.
Following the opening speeches, instructors from Palet Montessori Schools shared their experiences and introduced the materials used in classes with participants. The participants were later given certificates for attending the first class in the program.