A plane that led the invasion of Normandy during World War II has been saved from a junkyard and is being carefully restored in Wisconsin.
The C-47, called "That's All, Brother," carried the first paratroopers who stormed the beaches of Normandy. The aircraft led the more than 800 other C-47s also carrying paratroopers.
The plane was lost for 70 years and was accidentally discovered by an Air Force historian at the Basler Turbo Conversions junkyard in Oshkosh in 2015, WLUK-TV reported . The historian was researching Col. John Donalson, the man who flew the plane on D-Day.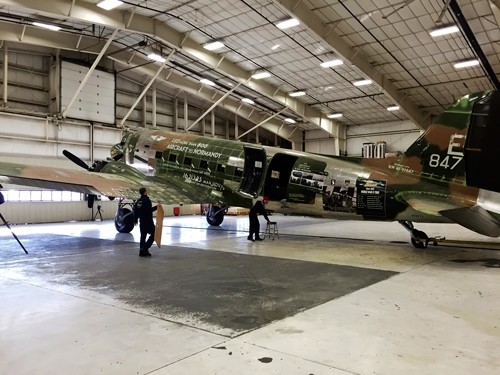 "The airplane is much more than an aircraft. It's a time machine," said Keegan Chetwynd, the curator for the Commemorative Air Force, a nonprofit that works to preserve aircraft.
The group started a campaign to restore the aircraft, raising about $380,000 in 30 days, Chetwynd said. Employees at Basler have spent more than 22,000 hours restoring "That's All, Brother" to former glory.
"(It) provides that tangible connection for the next generation of people so that they know, when they read it in a history book, that it was real," Chetwynd said.
Workers tested out "That's All, Brother's" engines for the first time in a decade on Thursday. Despite a hydraulic leak, the test was a major achievement, Chetwynd said. Crews will test the engines again today.
Their hope is to fly the aircraft over Normandy in 2019 for the 75th anniversary of D-Day.
"That's kind of why the rush is on and why we're doing all of this in the dead of winter in Wisconsin," Chetwynd said.
The aircraft is expected to conduct a European tour in 2019 and then will likely return to the U.S. to resume regular operations.