Hundreds of fans flocked to a Tokyo zoo Tuesday for the first public viewing of baby panda Xiang Xiang, after winning a lucky lottery ticket that a quarter of a million applied for.
Long queues formed outside the zoo as fans -- many wearing panda cub hats or gloves -- waited patiently for a brief glimpse of Xiang Xiang, whose name is derived from the Chinese character for "fragrance."
Such was the demand to see the hot new attraction that the zoo held a lottery and only those lucky enough to win the coveted golden ticket gained access to the panda enclosure.
Nearly 250,000 people applied to see Xiang Xiang and the zoo will limit the maximum number of visitors to 2,000 a day until the end of January to reduce stress on the animals.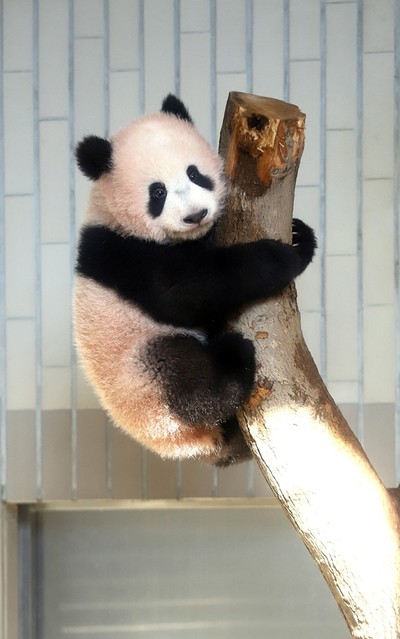 Inside, Xiang Xiang rolled around in her pen, munching on bamboo and scrambling up trees while her mother watched laconically.
To spare the pandas from overexposure, visitors were allotted only a few minutes to watch them in action before being moved on by a strict team of timekeepers.
But this did not dampen the enthusiasm of the fortunate fans who got to see Xiang Xiang on her first day on public display.
"Oh how cute," cooed university student Haruna Yamada, 21, dressed for the part with fluffy panda ears and matching panda accessories -- earrings, necklaces and rings.
"I've been a fan of pandas since high school. They are my favorite animal," enthused Yamada, pleased to see that Xiang Xiang was "really active, moving around".
Japanese media were no less obsessed with Xiang Xiang's first day, with television channels broadcasting live images of the panda and the crowds.
Images of Xiang Xiang were plastered over the front pages.
Merchandising shops were also cashing in on the craze, with panda goods flying off the shelves.
A particularly popular toy was a stuffed version of Xiang Xiang as a newborn that was popular with old and young alike despite an uncanny resemblance to a pink rat.
For avid panda fans who miss out, the zoo will offer a year-long live stream of Xiang Xiang's daily life starting from Tuesday.
Mum Shin Shin, who mated with Ri Ri in February, had previously given birth in 2012 -- the zoo's first panda delivery in 24 years -- only for the cub to die from pneumonia six days later.
Zookeepers have since given the adult pandas some private space in a bid to create an environment for the bashful creatures to mate successfully -- a notoriously difficult process.
Until recently considered an endangered species, it is estimated that around 2,000 giant pandas remain in the wild, in three provinces in central China.