Semester break starts on Jan. 22 and runs until Feb. 5 in Turkey. During break, students and their families looking for fun and educational outings should not pass up these three venues in Istanbul: SEA LIFE, Madame Tussauds and LEGOLAND® Discovery Center.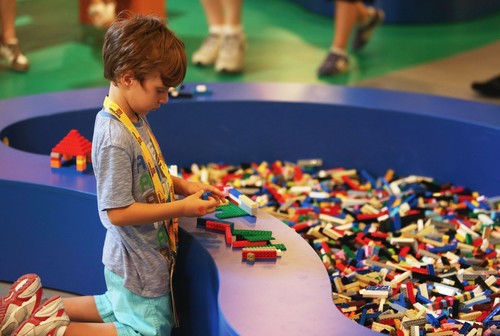 These places are all designed to offer entertaining, exciting and educational activities for children. At SEA LIFE, children will learn about life under the sea, at Madame Tussauds, they will get the chance to see the famous people they admire and at LEGOLAND Discovery Center, they will improve their creativity.
Discover underwater mysteries
Hosting visitors since 2009, SEA LIFE offers the chance to experience vast oceans in the middle of Istanbul. SEA LIFE boasts the largest shark family in Europe along with more than 15,000 sea creatures. It has 51 locations around the world and has accumulated 40 years of expertise and knowledge that is now available to Istanbulites at Bayrampaşa Forum Istanbul shopping mall. Between Jan. 8 and Feb. 8, the Istanbul aquarium, which has the largest ocean tunnel in Europe, is offering two-for-one entry for adults, students and children who come with IDO tickets.
Meet your favorite stars
Located on İstiklal Avenue in 2,000 square meters of the Grand Pera building, Madam Tussauds showcases wax sculptures of famous names in history, culture, arts, science and entertainment from Turkey and around the world.
Each star has been styled according to their character, from Bob Marley's authentic Jamaican hat to Albert Einstein and Mozart's wigs and to Michael Jackson's hat. Children and adults alike can spend hours playing digital games and taking questionnaires while interacting with the figures.
Children get to see the figure of Mustafa Kemal Atatürk, who they know from books and his photographs, and experience the fun side of science with the plasma sphere in front of Einstein's sculpture. They can also accompany Mozart on the piano. Visitors can take pictures with the sculptures to keep as memories.
Creative Building Fun
Founded in 2015 in over 3,000 square meters of Bayrampaşa Forum Istanbul shopping mall, ® Discovery Center has quickly become a favorite venue for parents who want to spend an entertaining and educational day with their children.
With 2 million Lego pieces, there is no limit to what you can create at Discovery Center, which includes activities that will improve children's imaginations. The center features Space M area offering an intergalactic adventure, a 4-D cinema, the factory tour for discovering the secrets behind the production of Lego pieces, workshops, rides and a MINILAND with mini models of famous buildings and structures from around the world, including: Hagia Sophia, the Bosporus Bridge, Galata Tower, the Egyptian pyramids, Big Ben and the Eiffel Tower.
Admission for these three entertaining venues is possible with "cluster tickets," good for one visit to each venue within 90 days of purchase, or with individual tickets.