Feb. 14, Valentine's Day, is just around the corner. It is not easy to decide on a gift, plan for a vacation or choose a destination. If you have not been able to make up your mind on what surprise to give your loved one, here are some recommendations for you.
My first recommendation is the Grand Tarabya, the cult hotel of Istanbul. The Grand Tarabya offers countless surprises along with cocktails and menus that include special messages for Valentine's Day for those looking for an unforgettable night. I had a pleasant conversation with this historical hotel's general manager Cansu Yörükoğlu, a real Istanbul lady, and got really excited about their Valentine's Day options. The well-known night club's 1980s themed menu welcomes guests at The Brasserie. The meal begins with marinated fresh prawns and continues with consomme royale served with quail eggs and chives. Pomegranate sorbet is followed by beef Wellington with chasseur sauce. And, for a sweet end, nostalgic recipes steal the menu with poached pears and Valentine-themed petit fours. Valentine's Day dinner at The Brasserie is accompanied by a trio jazz performance led by Antonio Rogenbuke, where the sounds of accordion, guitar and violin create fantastic harmonies. Couples staying at the hotel will wake up to a generous breakfast to enjoy while taking in Tarabya's unique view.
The teatime concept of The Grand Tarabya, which is easy to get addicted to, continues nonstop for the week of Valentine's Day, as well. The cookies and pastries offered during teatime at The R.E.A.D and T-Lounge are served with fun messages featuring catchphrases of
Yeşilcam movies until Feb. 14. Red velvet cakes, macarons decorated with rose leaves, churros and salty cookies combined with the catchphrases from Yeşilcam movies are sure to help you and your special someone create fun and romantic memories. If you really want to splurge, you can also pamper your loved ones in the hotel's spa. The over 2,500-square-meter facility provides the most authentic massage, skin care and body treatments in the city. The Bosporus views from the VIP rooms are truly amazing. Peaceful resting areas, private treatment rooms for couples and Jacuzzis are the little details that help turn Valentine's Day into a romantic and relaxing day in this venue.
My second recommendation is outside Istanbul. You will love İksir Resort Town located in Daday, Kastamonu. The resort offers an unforgettable "St. Valentine's Day" getaway weekend from Feb. 17 to 18 with its "Dance of Magical Love" tango event. The rich weekend program includes tango lessons, tango shows, a picnic by lake, paper lantern launches and more. In addition to the special events, spend time in front of the romantic fireplaces in their peaceful and comfortable rooms or get some one-on-one time by going on a refreshing hike.
Only a one hour flight from Istanbul, the facility is an ideal way to escape the chaos of the city. İksir Resort Town offers spectacular examples of local and world cuisine along with its entertainment. The special Valentine's Day menu prepared by Chef Evren using products grown at İksirli Farm is a nice touch. A romantic dinner featuring einkorn bread, bruschetta, sugar beet chips, olive oil, farm-fresh cheese, leek quiche lauren, İksirli farm salad and veal entrecote wrapped around seasonal vegetables. Likewise, a fantastic brunch prepared with Iksirli Farm products will make for a memorable Sunday morning.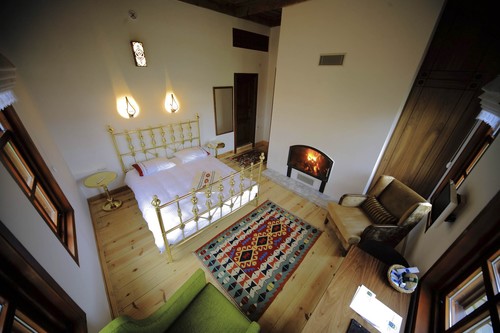 İksir Resort Town offers spectacular examples of local and international cuisine as well as entertainment.
Also, I recommend that you drop by İksirli Farm's pop-up restaurant in Eataly, Zorlu Center where you feel like you are dining in a country house in Kastamonu. All of the organically grown products are brought to Istanbul from İksirli Farm in Kastamonu. The decoration, plates and tables at the restaurant will take you on an Anatolian journey. Be sure to drop by in February so you do not miss out. You really cannot find fresh flavors like this anywhere else in Istanbul.
My last recommendation is an nontraditional, artsy hotel, Nabu Karaköy. It is both a hotel and a restaurant that offers fantastic dishes. Ideal for a pleasant night out in Karaköy, the venue is vibrantly decorated with art, designs and inspiration. The popular selfie-inspiring "Eat More Art" by graffiti artist Leo Lunatic is located right in front of Nabu Karaköy. As a result, the venue is hard to miss. With its hip hotel concept, Nabu also offers distinct flavors in its Italian Gastropub restaurant led by the Italian chef Matteo Bertuletti, one of the most famous names in the gastronomy world. As soon as you step into Nabu Karakoy, you are welcomed with chocolate-covered flowers. There are 30 rooms in four different categories: Deluxe, superior, quiet and smart. With its industrial-meets-Italian style and artistic touches, it is the best place to spend time with your love in the bohemian district of Karaköy. Happy Valentine's Day everyone!

Tips of the week

TOP RESTAURANTS OF THE WEEK
- Inari / Kuruçeşme
- Da Mario / Etiler
- Vogue / Beşiktaş
TOP HOTELS OF THE WEEK
- The Grand Tarabya / Tarabya
- Golden Key / Kartalkaya
- Sacred House / Cappadocia
TOP 3 PEOPLE TO FOLLOW THIS WEEK
- Sedef Aygün / Businesswoman
- Cansu Yörükoğlu /Tourism Expert
- Hasan Kale / Artist