Researching and writing about Turkish culture, Ikumi Nonaka first arrived in Turkey 25 years ago and fell in love with Antalya and decided to move. She became interested in the point lace handicraft and traveled to cities in Turkey that are known for their local products. Learning all about this handicraft, Nonaka wrote a book providing all the details of point lace making in Japanese. While touring various villages and towns to write her book, she collected thousands of wool socks that were kept in chests in houses and places she visited. She created a 700-piece collection from socks she collected mainly in Antalya, Adana, Mersin, Kahramanmaraş, Diyarbakır, Trabzon, Rize, Ankara, İzmir, Konya, Aksaray and Hatay provinces.
Speaking perfect Turkish to Anadolu Agency (AA) Nonaka said that these travels revealed her passion for wool socks, which are meticulously kept in chests by village women for harsh winter days. "I soon noticed that socks, just like point lace products, differ in terms of patterns and shapes from region to region. I learned that the socks contained symbols that reflect the spiritual state of the region or whoever has weaved the sock. For example, you can tell which village or town a person is from just by looking at their socks, which intrigued me even more, so I started researching sock motifs," noted Nonaka.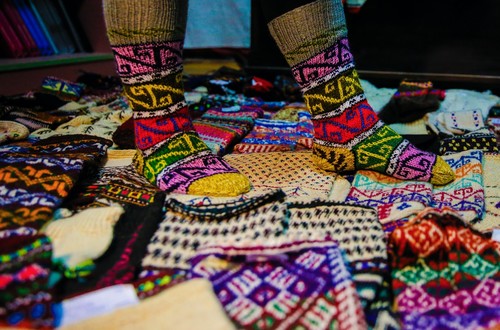 Colorful and patterned socks are worn by women and girls while white socks are for men.
Nonaka added that there might be wolf head or eagle motifs on socks, just like on rugs and carpets, on the socks. She gave an example from a village, which suffered from an earthquake. "When you see these socks, you can feel and understand what that village has gone through," said Nonaka.
She now has a collection of 700 socks made of wool or other types of threads, which include socks not just from Turkey but also Bulgaria, which also has a culture of weaving socks. Providing information on what the motives on the socks provide, Nonaka highlighted that colorful, patterned socks are worn by women and girls, while white socks are for men.
According to her research, the first sock was worn in the Arabian Peninsula, and sock culture in Turkey dates back a long time. The oldest sock she has seen and could collect is from the 1930s. She said the culture of weaving socks with motifs and patterns came to an end in the 1960s, and now it is almost complete dead.
Nonaka strives to promote Turkey's old sock culture in Japan where women her age weave socks in winter. According to Nonaka, socks are also important in Japan, and she wants to introduce Turkish style to Japanese women. She will conduct a seminar this summer.
Her Turkish friends were surprised at this hobby of hers but also thanked her for protecting these handmade socks. She is thinking of displaying her collection and noted that she is also introducing wool booties, which replaced socks, in Japan as well.