Everything started in a textile factory in New York. Each work day pushed the limits of women working in unbearable conditions. The severe work environment, long hours and low wages soon triggered an uprising, leading to a strike and demands: Better working conditions, 10-hour work days and equal pay for equal work.
On March 8, 1857, female textile workers in New York officially went on strike against 16-hour work days, low wages and inhumane working conditions.
Some 40,000 textile workers participated in the strike. However, after brutal attacks by police and workers being locked in and unable to escape a fire caused by faulty barricades near the factory, 129 women workers died. More than 10,000 people attended their funerals.
International Women's Day, which was banned in some countries during the years between World War I and World War II, gained recognition at the end of the 1960s when it was finally celebrated in the United States. In a show of support, the U.N. General Assembly officially declared March 8 International Women's Day on Dec. 16, 1977.
In Turkey, International Women's Day was first commemorated in 1921 as Laborer Women's Day. In 1975 and the years following, it gained popularity, with celebrations spreading to the streets. When the U.N. declared 1975 International Women's Year, sparking the tradition of celebrating International Women's Day on March 8 every year, Turkey held its own congress, "Turkey 1975 Women's Year". After the Sept. 12, 1980 military coup, celebrations for women's day ceased for four years. Since 1984, International Women's Day has been celebrated every year by various Turkish women's organizations.
Though women have proven themselves and been recognized in many sectors in Turkey, medicine proved a tough barrier to break. However, professor Zehra Kavak stepped up to the challenge and proved the value of Turkish women in the health sector. Head of Academic Hospital established by Marmara University doctors, Kavak is in love with her job. Stepping in when the establishment was struggling, Kavak collaborated with Harvard Medical School to transform her own hospital into an internationally recognized facility. She also added the rectorship of Kent University to her list of successes in the health sector.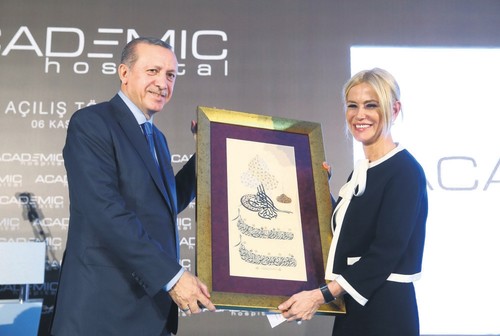 President Erdoğan receives a gift from Zehra Kavak.
Disappointed by the lack of high-power women in Turkey's health sector, Kavak said, "I hope to see more female CEOs in Turkey's health sector. Just because it's difficult doesn't mean it's impossible. I link the secret of my own success to my ability to blend follow-ups, leadership and management as well as always being open to learning something new and not giving up on my goals. The month of March and International Women's Day has always inspired me. Female doctors have many opportunities in the sector."
She added, "Turkey went through a revolution in the health sector. People can easily access health services everywhere in Turkey, even private hospitals treat everyone and help with medications. This is actually more than just reform. It's a revolution. As a woman in the health sector, I support all innovations and changes in our sector in Turkey. We have doctors from different disciplines, like university hospitals with 52 professors. We have also had an agreement with Harvard since 2012. A patient in our hospital can have analyses of his/her tests done at Harvard University."
Mentioning that Turkey has come a long way in medical tourism, she said, "Turkey continues to host patients from around the world. Hospitals in Turkey offer advanced technology, superior patient services and experience. Likewise for Academic Hospital, patients from Gulf countries, such as Libya, and war victims from Syria and Iraq are also treated. Terrorism and political crises in our region are temporary. Despite the turmoil, the Turkish health sector hasn't experience a decrease in medical tourism, and I'm sure it will continue to increase even more in the future."
Known as the "Queen of Health" in the sector, Kavak said she gets away from all this commotion by sparing time for her hobbies. "Every woman should have a hobby. Women also have the right to free time. Women are not slaves for their bosses, spouses or children. For me, my favorite hobbies are yoga, traveling and watching movies. It is a must for all women to spare time for themselves to both socialize and also to increase their world views. What I get upset about the most are women who don't appreciate themselves. As women go after their own rights, as violence against women ends and equality increases, I am sure many things in the world will change."