Alaska's famed Iditarod begins Sunday following a difficult year for the long-distance sled dog race that included a champion's dog doping scandal, the loss of a major sponsor, discontent among mushers and increasing pressure from animal rights activists.
But the focus of competitors is the trail ahead as they take off across frozen Willow Lake, about 75 miles (120 kilometers) north of Anchorage. They will travel over mountain ranges, dangerous terrain and icy rivers before reaching the wind-swept Bering Sea coast.
The winner is expected in the old Gold Rush town of Nome about nine days later.
The competition had its traditional ceremonial start Saturday with a short sprint through downtown Anchorage that gave fans a chance to get up close to the teams.
Sixty-seven teams are signed up to vie for a total purse of $500,000 in the 46th running of the nearly 1,000-mile (1,600-kilometer) race, with the winner's share to be determined later in the competition. The winner also receives a new truck.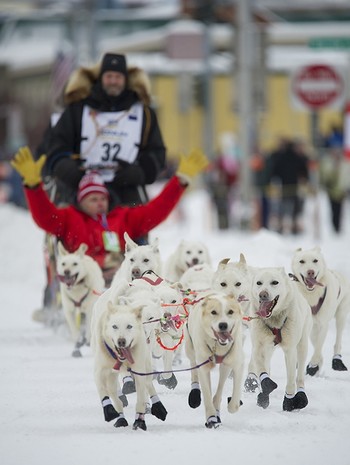 Perhaps the most high-profile issue for organizers in the past year was their October disclosure that four dogs belonging to four-time winner Dallas Seavey tested positive for a banned substance, the opioid painkiller tramadol, after his second-place finish last March behind his father, Mitch Seavey. The race's governing board faced criticism for the tardy release of the information.
The Iditarod didn't punish the younger Seavey, who has denied administering the drugs to his dogs. Race rules have since been changed to hold mushers liable for any positive drug test unless they can show something beyond their control occurred.
Dallas Seavey is sitting out this year's race in protest over the handling of the doping investigation. He is in Norway instead, gearing up to participate in another sled dog race.
Dog deaths in last year's Iditarod also played a role in increasing pressure from animal rights activists, who are protesting the race in person this year. The Iditarod went without dog deaths in several recent years.
Iditarod officials acknowledge they've weathered a challenging year but say it's been a learning experience and is not a sign that the race faces an uncertain future, as some critics believe.