Located on the Anatolian side, Çengelköy, without a doubt, is one of Istanbul's most historical neighborhoods. Its location overlooking the Bosporus, rowboats at its pier, those glamorous mosques and local food make this district very special. Stories that pass in the mansions, and the history on its streets take you on an epic journey. According to legend, Çengelköy's name used to be Sophianae during Byzantine times because Emperor Justinian built a palace named after his daughter Sophia. Evliya Çelebi's "Book of Travels" has many details about Çengelköy, which he calls the fruit garden of Istanbul and symbol of luxurious life.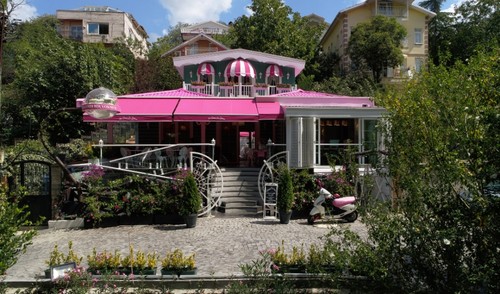 In this nostalgic district, Bir Varmış Bir Yokmuş (Once Upon A Time in Turkish) can offer you a fairy tale atmosphere. Located in a peaceful Çengelköy neighborhood quite close to the sea, it has pink and green paint, cute sunshades, a wide patio and decorative pool; it's pretty much like a fairy tale land. There are fairy tales in the kids' menu. There are birthday cakes, fairy tale characters and things especially for children all over the place. I especially liked characters like Keloğlan and Nasreddin Hodja from Turkish culture. The decoration is really meticulous. In particular, the chairs around the big table on the first floor resemble a king's throne. Likewise, the top floor of the place is also pretty cute. This attic with its purple ceiling is ideal for special activities like birthday parties. The playground on the ground floor is both fun and educational. Families are able to leave their children in this section and try the flavors of the place. While children spend time at the playground accompanies by tutors, parents can spend time by themselves.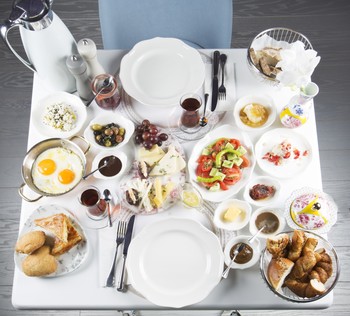 The founder of this fairy tale-like place is Nagehan Şaşmaz, a young entrepreneur and an absolute lady. She wants to position her brand locally and continue by branching off around Turkey, and then open branches abroad. When it comes to the menu, breakfast is particularly enjoyable. Dishes, linens and flowers are quite chic. The curd cheese with strawberry, honey and banana must be tasted. Besides, quinoa salad, curry sauce chicken and Chiabata bread sandwiches are very interesting options. There is also gluten free pasta for people who prefer it. The desert options are pretty substantial! Oreo Magnolia desert and Red Velvet Cake are my favorites. Custard desert with Pink Black Pepper is also among the options. Try the tea and coffee options. The presentations are also pretty chic. Believe me, you are going to love this place, which is warm as one of the homes in Çengelköy. Not only Bir Varmış Bir Yokmuş itself, but also the park section with a pool right in front of it will give you serenity. Try this place at your first chance. I congratulate Nagehan Şaşmaz and her team for their initiative. While in Çengelköy, there are no limits to what you can do: Take a walk on the seaside with your family or ride a bike, take photos of the wonderful Bosporus view. Have tea under the historical Çengelköy sycamore tree; buy fresh pastries from the historical Çengelköy bakery; buy finger size cucumbers from Çengelköy greengrocers. Enjoy Çengelköy while the weather is nice.