Mother's Day will soon be here. No matter what kind of present we buy for our precious mothers, nothing can truly express the special roles they play in our lives. Though a bouquet of flowers and gifts are always appreciated, time spent together is the most precious gift of all. So, I have compiled a list of places where you and your mother can spend some quality time together as well as some gift options to make the day even more memorable.
The Shangri-La Bosphorus, Istanbul, sits at the conjunction of two continents and promises an unforgettable day for mothers at the IST TOO restaurant, which offers a superlative brunch menu. I highly recommend their fish items on the brunch buffet and the dessert section. Their Mother's Day brunch integrates IST TOO's enjoyable and chic atmosphere with the Bosporus's captivating beauty.
The Shangri-La Bosphorus, Istanbul caters to the little ones as well as their mothers. While moms enjoy the brunch created just for them with special touches and live music, the little ones get to prepare handmade gifts to make the day even more special with the "Children's Activities" at IST TOO. IST TOO's modern atmosphere, perfect service and breakfast items on an open buffet will definitely impress your mother.
The Conrad İstanbul Bosphorus is inviting mothers and kids to make the day meaningful with a campaign and special activities prepared especially for Mother's Day. To start the day, Conrad Istanbul Bosphorus is hosting "Story Telling Atelier." This atelier combines the art of fairy tales with a bookstore in Turkey by collaborating with KidsNook. While moms revisit their childhood, kids will listen to stories, each better than the one before, and moms will enjoy spending a fairy tale-filled day with their children.
Conrad İstanbul Bosporus's Summit Bar&Terrace offers 270-degree views of Istanbul. On Mother's Day, the venue will host a special breakfast for those who would like to spend a relaxing morning with their mother. For attending the Mother's Day breakfast, mothers will receive a 30 percent discount for Conrad Istanbul Bosporus's Spa Soul treatments. If our dear mothers would like to get rid of the stress and fatigue brought on by city life in the spa, which offers massage and care with French "Charme D'Orient" spa products, they can use the 30 percent discount at any time until the end of May.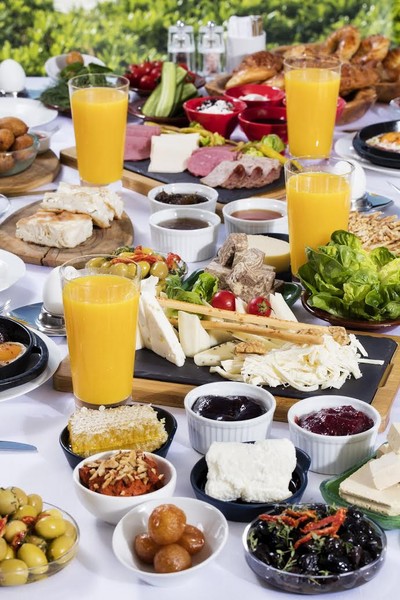 A special breakfast in Conrad Istanbul Bosporus's Summit Bar&Terrace can present you a relaxing morning with your mother.
The first of my gift suggestions is a bit different. Kaan Air, a company that has been involved in helicopter sales, leases, VIP transportation and air taxi services since 2002, is giving away Istanbul helicopter tours from May 7-13 to six mothers on social media with the slogan: "You always blew us high in the sky; now it's our turn!" To win this unforgettable experience for your mom, you only need to follow the social media accounts of Kaan Air. Even if you do not win, you can buy this special gift for your mother and take her on an once-in-a-lifetime journey above Istanbul.
By the way, you can also gift a social responsibility project to your mother on Mother's Day. Textile brand adL and the TOÇEV, an organization that has provided moral support to children for 20 years, got together for Mothers' Day and came up with a project. The TOÇEV and adL have joined forces to increase children's education and development. The adL team produced shawls designed by children and breathed life into their dreams. The shawls are now being sold in adL stores for Mother's Day. While you make a donation for education with each shawl you purchase from adL, you are also supporting one child's dreams. Not only is this gift beautiful, but meaningful as well.

Tips of the week

TOP 3 VENUES OF THE WEEK
- Any / Arnavutköy
- La Boom / Yeniköy
- Escale / Kanyon Mall
TOP 3 HOTELS OF THE WEEK
- Prima Donna / Antalya
- Bizim Ev / Datça
- Nişanyan / Şirince
TOP 3 PEOPLE TO FOLLOW
- Ece Kavran / Designer
- Gonca Karakaş / PR Person
- Hüseyin Vural / Chef