Some players believe World Cup success is earned through exercise, diet and endless practice drills - others are convinced it's a matter of wearing lucky underwear.
Players and coaches can be a superstitious bunch and often have a ritual or item of clothing they believe is a charm that has contributed to a winning run.
They range from former Colombian keeper Rene Higuita's insistence on wearing blue underpants to Germany's Julian Draxler giving himself a spritz of scent before a big match.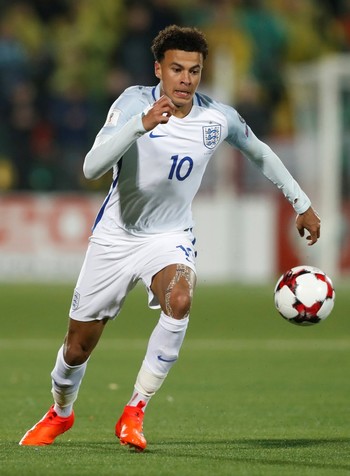 Dele Alli is using the same shin guards he has worn since childhood, believing they bring him good luck.
"Sometimes my teammates ask me if I'm not right in the head," the Paris Saint-Germain midfielder said.
"Every player has a ritual before a match and I usually hold my bag in my locker and I throw on two or three sprays of perfume. It gives me a feeling of happiness."
Sports psychologist Dan Abrahams, author of the book "Soccer Tough," said so many match-day factors are beyond a player's control that adopting a ritual or lucky charm provides something to focus on and take charge of.
"Logically, these kinds of rituals aren't linked to performance," he told Agence France-Presse (AFP).
"However, if a player creates the perception that they are, then the action can become a hinge factor for how a player feels," said the specialist, who works with Premier League club Bournemouth.
Best foot forward
​
England's Dele Alli is using the same shin guards he has worn since childhood when he plays in Russia, hoping they bring the good fortune that has long eluded the Three Lions at international tournaments.
"I've had the same shinpads since I was 11. They are battered (but) I am very superstitious," the Tottenham midfielder told Fifa.com.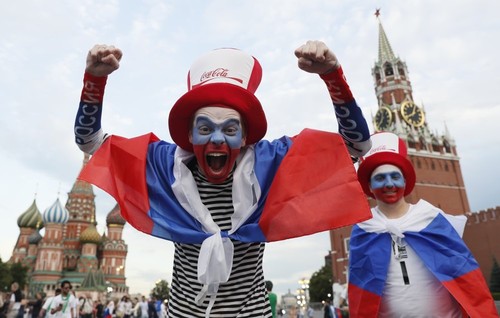 Russian football fans celebrate their team's World Cup success at the Red Square in Moscow, June 19.
Some players such as England's Phil Jones do not like stepping on white lines, while Brazil defender Marcelo always runs onto the pitch with his right foot first.The habit is so ingrained that during training in Rostov-on-Don he left the pitch and re-entered after realizing he had accidentally led with his left foot.
"Everybody likes to enter with the right foot, right? I'm no different," he laughed when quizzed by reporters.
Morocco coach Herve Renard has worn a white shirt on the sidelines since he took Zambia to a surprise victory at the Africa Cup of Nations in 2012.
He is doing so again in Russia, although it has not proved so lucky this time as Morocco will be heading home after the group stages.
France are convinced superstition played a part in their 1998 World Cup win, when Fabien Barthez's teammates rubbed the goalkeeper's bald head for good luck.
Defender Laurent Blanc planted a big kiss on Barthez's pool-ball pate before every match, right up to the final against Brazil.
Perhaps the strangest example of the power of suggestion helping a team to World Cup glory is Argentina's triumph in 1978.
The mo must go
​
In an era of short shorts and long hair, Argentina's star striker Mario Kempes was a dedicated follower of fashion, sporting a stylish horseshoe mustache and flowing locks.
But Kempes failed to find the net in the group stages, prompting coach Cesar Luis Menotti to offer a suggestion to the forward nicknamed "El Matador."
Menotti, who had omitted a teenage prodigy named Diego Maradona in favor of Kempes, pointed out that when he visited the striker in Spain before the tournament he was clean-shaven and scoring freely for Valencia.
Why didn't he get rid of the mustache and see if it brought a change of fortune?
The impact was immediate. Kempes scored two goals in his next match against Poland, then two more against Peru to seal a spot in the final.
Another two goals in the decider against the Netherlands saw Kempes claim the Golden Boot and gave Argentina their maiden World Cup title.
"The mustache had to go... that was the start of a new chapter for me," Kempes later said.
"After that, every time (Menotti) saw me he'd say 'You're due a shave today Mario, aren't you?'"